1 October 2015 Edition
British Ambassador joins Gerry Adams to launch Sinn Féin reconciliation initiative – John Hedges
UNCOMFORTABLE CONVERSATIONS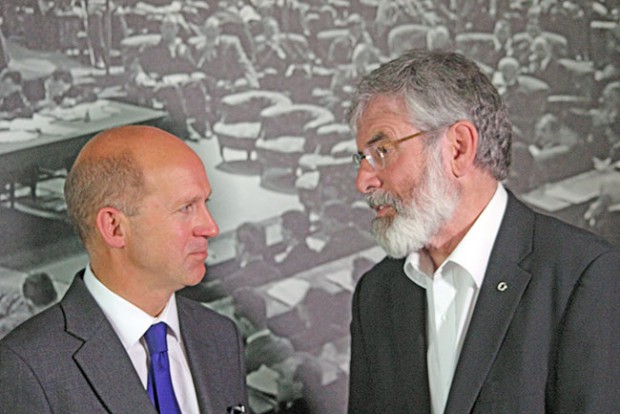 'For all of us with an interest in promoting peace and reconciliation across these islands, 'Uncomfortable Conversations' should be required reading' – British Ambassador to Ireland, Dominick Chilcott
THE BRITISH AMBASSADOR sharing a platform with Gerry Adams to launch Sinn Féin's booklet on "Uncomfortable Conversations for Reconciliation" put into perspective the crisis contrived by unionist parties exploiting the killing of Kevin McGuigan in Belfast five weeks earlier to try and exclude Sinn Féin from the Stormont Executive on the pretext that the party is linked to the murder.
The event was hosted and introduced by Ard Mhéara Bhaile Átha Cliath (Mayor of Dublin City) Críona Ní Dhálaigh in the historic Mansion House, meeting place of the First Dáil, and also addressed by Reverend Heather Morris (former President of the Methodist Church) and Declan Kearney (Sinn Féin's National Chairperson and the driving force behind the Uncomfortable Conversations initiative).
British Ambassador Dominick Chilcott congratulated An Phoblacht "for prompting these Uncomfortable Conversations" in a series of articles from March 2012 which have culminated in what he described as a "remarkable" book.
The audience was packed with Ambassadors and high-ranking government representatives from Cuba, the USA, Palestine, South Africa, Spain, China, Greece, Germany, and many others.
There was also a huge number of representatives from civic society, among them numerous campaigning peace and reconciliation groups (among them Glencree, Corrymeela and Co-operation Ireland) and activists, trade unions, the churches and the media.
Notable individuals included Beirut hostage Brian Keenan, former Supreme Court Judge Catherine McGuinness, TDs and senators, Donna Cooney from the 1916 Relatives' Association,  and "Conversations" contributors Orange Order member Rev Brian Kennaway, Rev Chris Hudson and Rev Earl Storey.
Legacy of our recent past
Introducing the event after a welcome by Ard Mhéara Críona Ní Dhálaigh, Declan Kearney noted:
"Whilst the Good Friday Agreement drew a line under political conflict in Ireland, we have not dealt with the legacy of our most recent past. Events such as the bombings of Dublin and Monaghan, at Mullaghmore, on the Shankill Road, and in Warrington; the killings on Bloody Sunday, at Loughgall and Loughlinisland; and many more, all caused huge suffering and pain."
The Sinn Féin National Chairperson acknowledged that many families on all sides and across Ireland and Britain continue to suffer and, regrettably, that pain cannot now be undone. Then, he added, without any ambiguity:
"I am sorry for the hurt experienced by members of British military forces and civilians during the war; the suffering of unionist people in our society; and equally for the pain of the families of IRA Volunteers and Sinn Féin activists killed; as well as many other nationalist citizens also killed and injured. 
"Unless we make reconciliation, healing and forgiveness our future, society and politics will remain trapped by the pain and resentments of the past."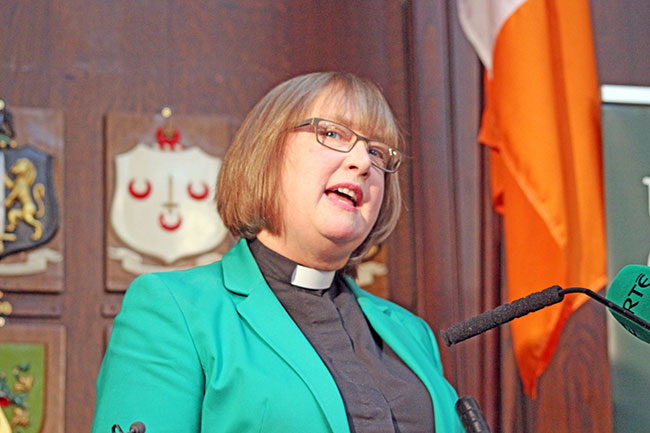 • Reverend Heather Morris
Church leader's personal plea
Reverend Heather Morris said that "Uncomfortable" doesn't seem like an adequate word any more in the process of building peace.
"Words like painful, heart-breaking, frustrating feel more adequate.
"My personal plea is that everyone (because moves can be made by every side) does whatever it takes to get us back at the table, to get conversations started again.
"We have come too far to let peace slide like sand through our fingers."
Acknowledging that "commitment to Uncomfortable Conversations demands astounding grace, especially from those who are victims", the recent President of the Methodist Church said:
"It has been good to see more voices coming into this particular conversation in the pages of An Phoblacht, even since the publication of this book.
"I hope that that will continue and that the still-silent voices will be heard."
'We must all rise to the challenge'
The British Ambassador to Ireland opened his speech with a frank admission.
"Not being a regular subscriber to Sinn Féin's monthly newspaper, An Phoblacht," the British Ambassador said with a smile, "I confess to not having read any of the articles in Uncomfortable Conversations before picking up the book.
"These short essays were a revelation. The reader may be surprised by how well written, astute and generous spirited the articles in this book are. 
"For all of us with an interest in promoting peace and reconciliation across these islands, this book should be required reading."
The British Ambassador quoted Declan Kearney in one of his essays reminding people that the two governments (in London and Dublin), and republicans and unionists were not bystanders to the conflict when the Sinn Féin National Chairperson wrote that, "None of us is absolved of responsibility to ensure that future generations grow up in a better place than we did."
"He is right," the British Ambassador declared. "We must all rise to the challenge.
"The great collective task for political leaders on these islands is to overcome the legacy of the past and to build together a better future for everyone, based on mutual respect, parity of esteem, social justice and equality of opportunity.
"The road to this better future begins with giving the other side a fair hearing. This is not about trying to convert unionists into republicans or vice versa. But it is about restoring the humanity of the other side; developing, as it were, a sense of empathy with them."
The British Ambassador concluded:
"We all have a strong interest in promoting reconciliation. It is the key to our common, shared future, in whatever constitutional disposition that future is lived.
"This book, Uncomfortable Conversations, like the example of successive Irish Presidents, the Queen and Prince Charles, as well as many others, can inspire all of us to be morally courageous, open-minded and generous spirited in working to make the future a much better place than was the past."
• Declan Kearney, Ard Mhéara Críona Ní Dhálaigh, British Ambassador Dominick Chilcott and Gerry Adams TD
'Orange  is one of our national colours'
Gerry Adams emphasised that victims and survivors of the conflict who are still seeking justice and truth must be given the strongest possible support and assistance.
"Whether they were bereaved by the IRA, by British state agencies, or through collusion with unionist paramilitaries or by unionist paramilitaries, the victims and their families and communities deserve justice. That is an essential ingredient in the reconciliation process.
"I know only too well from speaking directly to families of victims of the conflict, including victims of the IRA, that the past is part of their present.
"I also know from talking to these families that closure and healing is possible."
Departing from his script to share two personal anecdotes, he continued:
"For that reason, the Stormont House Agreement, which deals with these matters, must be implemented."
The Sinn Féin leader noted that, during her historic visit to Ireland in 2011, Queen Elizabeth "made clear her desire to be part of a process of reconciliation and healing". The subsequent meeting between Martin McGuinness and Queen Elizabeth in Belfast and the state visit by President Michael D. Higgins to Britain were widely acknowledged, quite rightly, as groundbreaking, he added.
In another departure from his script, Gerry Adams revealed that he had personally and privately approached Ambassador Chilcott ahead of the visit to Ireland by Prince Charles to Ireland in May of this year to seek a meeting.
Commending the British Ambassador, the Sinn Féin President said: 
"He immediately saw the importance of that. I don't know what machinations or negotiations went on in between then and the actual meeting, but he had the imagination, the wit and the wisdom to realise that this was an important initiative."
Gerry Adams, Martin McGuinness and Senator Trevor Ó Clochartaigh met with Prince Charles in Galway. The conversation, Gerry Adams recounted, was "cordial, relaxed, it was positive despite the fact that we dealt with difficult issues", including the assassination of Prince Charles's uncle, Lord Mountbatten, by the IRA of the coast of Sligo in August 1979.
"We acknowledged that Charles and his family had been hurt and suffered great loss at Mullaghmore by the actions of Irish republicans.
"We spoke also of the hurt inflicted on our friends and neighbours, and on our own communities in Derry and Ballymurphy and Springhill by the actions of the Parachute Regiment and other British Army regiments."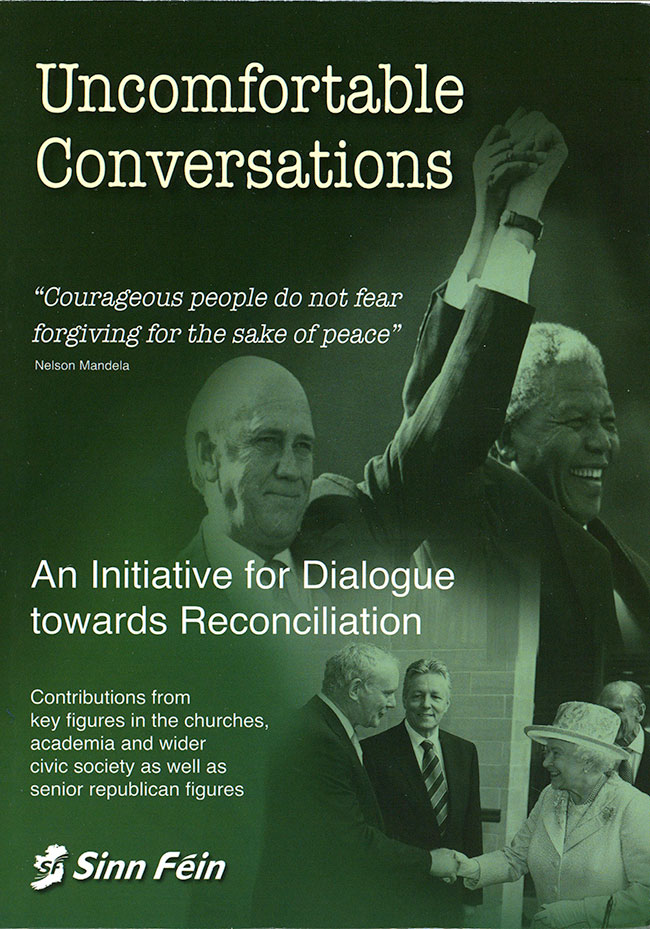 Prince Charles shared his own memories of the conflict starting in the 1960s. "It was obvious to me," Gerry Adams said, "that he wishes to play a positive role in making conflict a thing of the past."
Although, thankfully, the conflict is now over, the Sinn Féin leader said:
"The past is not another country; it shapes our lives, our politics and our present. The sense of loss remains with families and communities."
He said he was mindful that two of 'The Disappeared' were buried that week, that 1916 leader Thomas Kent was to be given a state funeral the following day, and one of the British Ambassador's predecessors, Christopher Ewart Biggs was killed by republicans in 1976.
"We cannot undo these things but we can work to ensure that they are never repeated," the republican leader said.
"The resolve and responsibility of all political leaders now must be to ensure this; to ensure that no else suffers as a result of conflict; that no other family is bereaved; that the experience of war and of loss and injury is never repeated.
"This means all of us working together. It requires generosity and respect from all and for all."
And, he added:
"Reconciliation must go beyond the big houses and palaces. It must be felt on the streets of Belfast and Derry and elsewhere."
Noting that "Orange is one of our national colours" and that "there will be Orange parades in a united Ireland", the Sinn Féin leader appealed directly to the Orange Order "to begin palying its part in the Peace Process by following the example set by Queen Elizabeth".
He said that republicans need to be "open, imaginative and accommodating" in our approach to achieving Irish reunification and listening to unionists about what they believe the Union offers them. 
"We need to look at ways in which the unionist people can be comfortable and secure; ways in which they have real ownership in a new Ireland."