1 September 2015 Edition
Another Europe is possible – Treo eile don Eoraip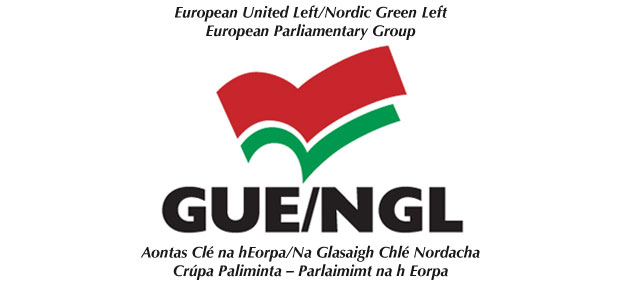 Funded by the European United Left / Nordic Green Left (GUE/NGL). Aontas Clé na hEorpa/Na Glasaigh Chlé Nordacha Crúpa Paliminta – Parlaimimt na h Eorpa
Eurostat ruling eliminates economic argument for Irish Water
Matt Carthy MEP
THE European Union's official statistical office, Eurostat, announced on 28 July that Irish state funds spent on Irish Water (more than €500million) must remain on the state's balance sheet. The decision was made on the basis that the Irish Government was required to show that half of Irish Water's revenue came from customers – it was unable to do so.
"Having already lost the political and democratic arguments on Irish Water, the  Eurostat ruling that the state funds spent on Irish Water will have to stay on the balance sheet mean the Irish Government has now categorically lost the economic rationale as well," said Matt Carthy MEP, a member of the European Parliament's Economic & Monetary Affairs Committee. 
The decision confirms that Irish Water has been a complete blunder for the Government since the start, he said.
"From the get-go, Irish Water has lurched from blunder to disaster, highlighting the complete incompetence of the Government. I hope that this ruling will be the final nail in the coffin for the utility.
"The fact that over 50% of people have not paid their bills demonstrates further that, as a revenue-raising measure, Irish Water has failed utterly.
"All of this originates from the fact that the current Government is completely out of touch with the people and failed to understand the huge and overwhelming opposition to water charges.
"Their scrambled attempts to make water charges more palatable to the Irish people have not only failed here at home but appear to also have failed in the eyes of the European Institutions.
"Sinn Féin has consistently argued that water services should be retained in public ownership and investment in our water infrastructure should take place through direct Government spending and through sensible Government borrowing if required.
"It is time for the Irish Government to accept the wishes of the Irish people and scrap water charges once and for all.
"They had long ago lost the political argument – now any semblance of an economic rationale for the establishment of Irish Water is in absolute tatters."
Call for 'Boycott Israel' campaign to aid Palestinian prisoners
Martina Anderson MEP
THE collective of Palestinian prisoners issued a joint letter on 4 August urging the international boycott, divestment and sanctions (BDS) campaign against Israeli policies to "put prisoners on the agenda". The appeal came in the context of escalating Israeli repression and violence (including torture and the force-feeding of hunger strikers) against Palestinian political prisoners.
The attempt by Israeli prison authorities to use the new force-feeding law against 31-year-old Palestinian lawyer and administrative detainee, Muhammed Allan, has triggered widespread Palestinian protests and condemnation by the UN and human rights organisations.
Irish MEP Martina Anderson, Chair of the European Parliament's Delegation to the Palestinian Legislative Council, has backed the call for campaigning against Israeli and international corporations violating the rights of the political prisoners to be intensified.
Martina Anderson said:
"The national leadership of Palestinian prisoners sent a letter to the global BDS movement asking to prioritise the cause of the prisoners and to intensify BDS campaigning against Israeli and international corporations that are most complicit in the crimes committed by Israel.
"As a result of this appeal, a call has been made for the international human rights organisations to initiate and/or escalate boycott and divestment campaigns against the companies that are most complicit in Israeli crimes.
"This call from the prisoners, which I echo, adds another dimension to the campaign. 
"I ask you to redouble your efforts to boycott corporations that are most deeply involved in Israel's violations of international humanitarian law and prisoners' rights."
The global BDS campaign body has identified six key partners in Israel's repression and torture of Palestinian prisoners. Number one on the list of security company G4S, which runs several prisons. HP (Hewlett-Packard), Volvo, Siemens, Ashtrom and Shamrad are also on the list. 
Deaf community deserve equal treatment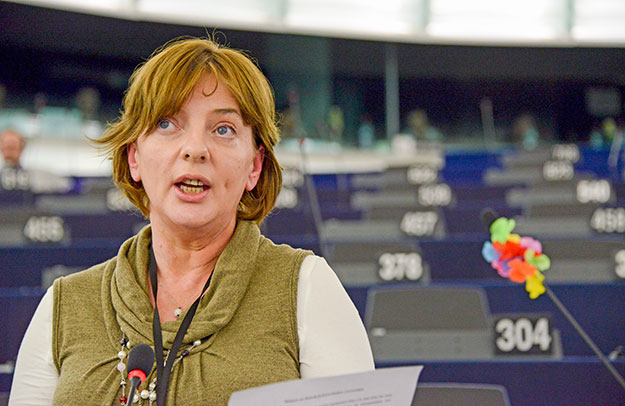 Liadh Ní Riada MEP
MEP Liadh Ní Riada has called on the Irish Government to give full official recognition to Irish Sign Language (ISL), which is used by upwards of 45,000 members of the deaf community in Ireland. The language already has official recognition in the North and members of the deaf community are campaigning for similar recognition in the South.
Speaking on 13 August, Liadh Ní Riada said:
"The Irish Deaf Society has been campaigning for more than 30 years to have Irish Sign Language officially recognised by the state to ensure equality for deaf people in accessing services, stating informed and participating fully in our society.
"ISL is the indigenous language used by the deaf community in Ireland and is part of a unique, rich and valuable culture. It is distinct from British and American sign language and has no connection to spoken English or Irish."
She pointed out that the deaf community rightly view themselves as a linguistic minority and take pride in their distinct language and culture "which in itself is part of the great cultural diversity of our country". She added: 
"It is high time that their language was given the recognition it deserves.
"In the wake of the recent marriage equality referendum, I am calling on the Irish Government to strike while the iron is hot and bring forward legislation to give full official recognition to ISL. Acquiring this status will lead to greater awareness of the language and also enforce the rights of deaf people to access essential information in their own language.
"It will also provide far more certainty that deaf people could access ISL interpreter services for essential situations such as job interviews, using health services, education and court hearings.
"If we want to build a fair recovery for all we need to commit to ensuring a level playing field for all our people. Giving recognition to ISL will be a strong and positive step on the road to a fair recovery."
Dublin MEP visits Ibrahim Halawa in Egypt as he enters third year in jail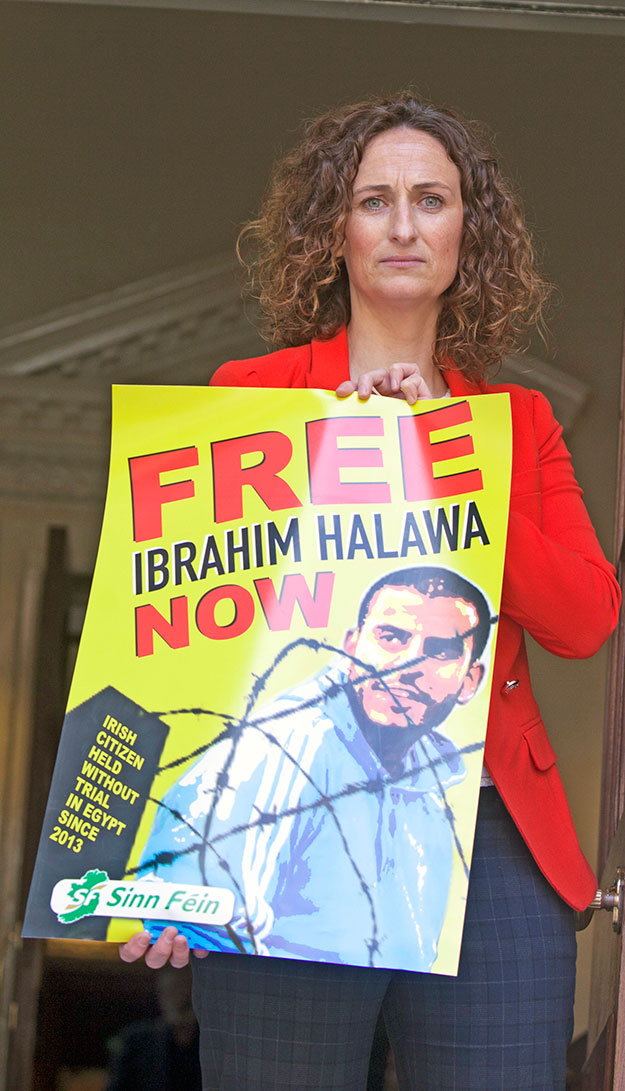 Lynn Boylan MEP
DUBLIN MEP Lynn Boylan visited Egypt on 2/3 August for the scheduled trial of Irish teenager Ibrahim Halawa, who has been held without trial in an Egyptian jail for two years for attending a protest in 2013. Ibrahim's legal representative, Darragh Mackin from KRW Law, also flew to Egypt for the trial.
However, the mass trial was postponed yet again and the judge stated that nobody will be released before 4 October with no chance of bail for Ibrahim before that date.
Lynn Boylan expressed her frustration as an Irish MEP at the further postponement of the trial until 4 October. 
"This is devastating news for Ibrahim's family who are in Egypt today for his trial. It's undeniable now that Ibrahim will never receive a fair trial," she said. Lynn and family members were not allowed in to the court for the hearing.
On 3 August, she met with Ibrahim in jail and later expressed her concern for his health.
"Ibrahim, who suffers from a medical condition, has been denied medical treatment despite repeat requests by his lawyer," she said.
Speaking on 6 August at a press conference back in Dubin, Lynn Boylan said: "When we visited Ibrahim last Monday, despite his spirits rising considerably on seeing his sister, his health is not good.
"He needs to see a specialist doctor as a matter of urgency.
"There is also a pressing need for an Irish Ambassador to be appointed to Egypt as soon as possible to ensure that cases like Ibrahim's receive as much support as possible.
"Ibrahim is convinced the publicity campaign for his release, spearheaded by his family and friends here is Dublin, is paramount to ensuring his safety in the Egyptian prison.
"I will be sending a report to and I am available to brief the Foreign Affairs Minister's department, the Oireachtas Foreign Affairs Committee and the EU High Representative, Federica Mogherini, directly on my experience to see is there anything I can offer to help with Ibrahim's case.
"It's time to bring Ibrahim home."