1 September 2015 Edition
Two years in an Egyptian prison
Irish teenager's trial postponed for 10th time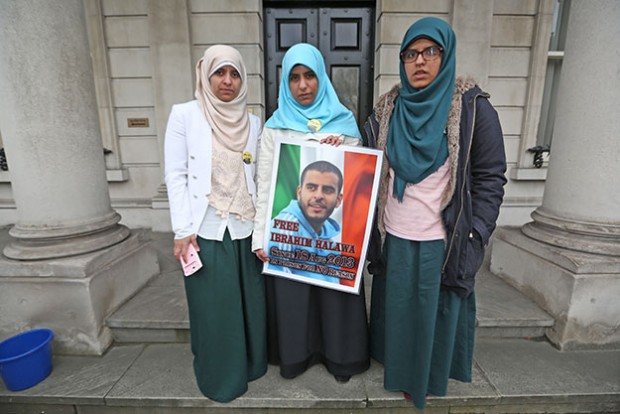 Amnesty International has listed Ibrahim Halawa as a 'Prisoner of Conscience' and says he has been detained 'solely for peacefully exercising his right to freedom of expression and assembly'
IT IS NOW TWO YEARS since Tallaght teenager Ibrahim Halawa was arrested by Egyptian security forces in the aftermath of the overthrow of President Mohamed Morsi in a military coup. If convicted, he could face the death penalty. 
This August, the 19-year-old was able to hug his sister Khadija for the first time since 2013 during a visit in which she was accompanied by Dublin Sinn Féin MEP Lynn Boylan and solicitor Darragh Mackin.
"He hugged his big sister for a very, very long time. It was the first human, physical contact Ibrahim has had with family relatives for almost two years. So it was a very emotional visit, it would break your heart," Lynn Boylan told An Phoblacht. 
On her return to Ireland from Cairo, the MEP criticised the conditions in which the Irish citizen is being held while Ibrahim told how he had been beaten by prison officers with rods.
"He has been refused outside medical treatment, though he still suffers from injuries sustained during his arrest and has developed breathing difficulties and chest pains due to mistreatment while in captivity," Lynn said.
The Dubliner has been held for two years alongside 493 other protesters who are facing various charges in relation to a protest in August 2013. 
Ibrahim had travelled to Egypt with his sisters and mother for their annual family holiday several weeks before President Mohamed Morsi was overthrown by the Egyptian Army in July 2013. While there, they took part in rallies against the military coup.
More than 800 demonstrators and 43 police officers were killed in the protests that August in Cairo. In the Ramisis area, where Ibrahim and his sisters were, 97 people died in violence while the Halawa siblings and others barricaded themselves in the Al-Fateh mosque to escape the chaos. Eventually, the mosque was stormed and those inside arrested. During this incident Ibrahim was shot in the hand by security forces.
Amnesty International has since listed Halawa as a 'Prisoner of Conscience' and says he has been detained "solely for peacefully exercising his right to freedom of expression and assembly". 

Police claim protesters had fired from the grounds near the mosque but Amnesty International observers who were on the scene say "there is no way" those who were subsequently arrested could have been involved as "they were all locked inside the inner part of the mosque" when the attack occurred.
In August, Ibrahim was told his trial was suspended for the tenth time and is now due to take place on 4 October. Lynn Boylan says it is her opinion that Ibrahim will never receive a fair trial in Egypt.
"During court appearances, Ibrahim is tried alongside 490 other prisoners and may not hear the evidence presented against him or make representations for his own case. He has never met the solicitor for his defence."
While the Irish Government insists it is doing everything it can to secure his release, Lynn Boylan has questioned their strategy.
"I think a more public approach to this would be more helpful, especially given the fact that Ibrahim was a juvenile when arrested and has been in arbitrary detention for such a long period of time. The Government's behind-the-scenes strategy is clearly not working."
In a statement, the Halawa family praised the work of Lynn Boylan and others and called on the Irish Government to intervene immediately:
"Our family wouldn't have held hope for this long if it wasn't for the great support received from those we know and others such as solicitor Darragh Mackin, Lynn Boylan MEP and Senator Mark Daly, who all did their ultimate best to make a difference in Ibrahim's case.
"Darragh and Lynn stood in  44 degrees celsisus heat out of humanity. Although they were unable to attend the hearing they witnessed the mockery of the judicial system of Egypt and how family members were not allowed to enter the hearing."
The family said the Government needs to intervene.
"Ibrahim has been mentally destroyed and is gradually being physically destroyed.
"At what point will our government realise that no judiciary system exists under military rule and what more does the Government expect from a military coup?"
Lynn Boylan says the ongoing campaign for his release back in Ireland has "meant the world to him" and she called on citizens to get involved in the campaign and to write to him to show he is not forgotten.
Write to:-
Ibrahim Halawa
Wadi el-Natrun Prison
Mansheya El-Masry
Qesm Torah
Beheira Governorate
Egypt