1 September 2015 Edition
Sue the people!
'Every person has a right to protect their good name and reputation. This protection includes taking legal action'
 Denis O'Brien, 2012
WORRIED you can't keep up with the litigation trail of billionaire businessman Denis O'Brien? Well so are we at An Phoblacht as we try and track a growing list of legal letters, "cease and desist" requests, actual court cases and a lot of appeals.
It is a list of journalists, newspapers, politicians, public inquiries, the Revenue Commissioners, Dáil committees, the Dáil itself, the odd multinational and now – in the form of Ross O'Carroll Kelly in the Irish Times — we have a fictitious threat of legal action by a caricature Denis O'Brien.
O'Brien's legal actions fall into four groups.
There are those against media opinion writers, targeting specific journalists.
Then there are at the least four challenges to the Moriarty Tribunal.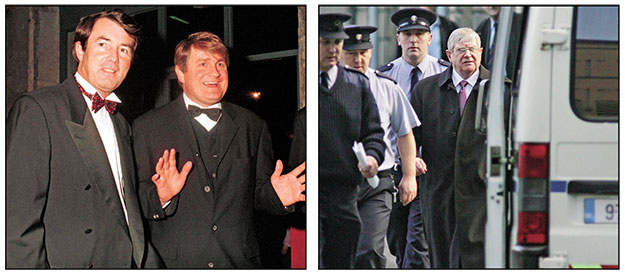 • Denis O'Brien with Fine Gael former Communications Minister Michael Lowry and (right) Fianna Fáil's Ray Burke
Next are issues around O'Brien's business interests, an example of which would be the 2010 Cable and Wireless case and an attempted 2013 injunction against The Sunday Times from printing details of a loan from the Irish Bank Resolution Corporation (IBRC). 
Finally, there is the O'Brien challenge to our political representatives citing the European Convention on Human Rights!
A dozen, two dozen – more?
So how many O'Brien legal actions are there? Twenty-four said a recent Sunday Times article, citing a trail that began in 1998 but didn't name them all. A 2013 Village magazine article quoted former Sunday Independent Editor Anne Harris as stating: "Seventeen journalists have received legal letters from Denis O'Brien in the last ten years."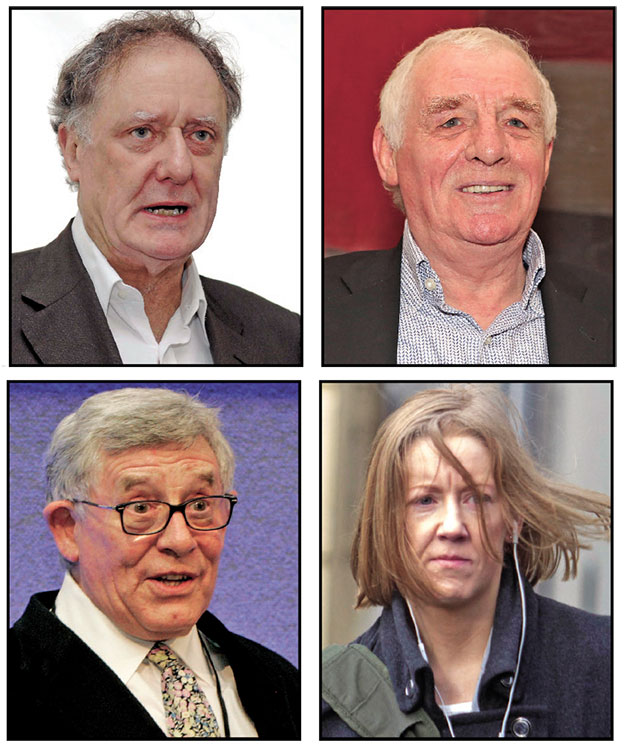 • Journalists Vincent Browne, Eamon Dunphy, Sam Smyth and Elaine Byrne all received legal letters
Journalists we know who have received letters from Denis O'Brien include Vincent Browne, Eamon Dunphy, Sam Smyth and Elaine Byrne. 
In 2012, O'Brien threatened the Irish Times and Transparency International (TI) Ireland over a reported statement by TI CEO John Devitt to a UN Human Rights Special Rapporteur. Devitt had informed her of O'Brien's legal threats against a number of journalists and columnists. Devitt's statement repeated findings of the Moriarty Tribunal, specifically that the granting of the second mobile phone licence had been influenced by the then Fine Gael Communications Minister, Michael Lowry.
O'Brien's legal cases are not limited to Ireland.
In 2012, he began legal action in a Californian court against what news media claimed was his cousin Donald McAllister. O'Brien accused McAllister of a deliberate "pattern of misconduct" the aim of which was to "expose Denis O'Brien to hatred, contempt, ridicule and disgrace".
In 2010, O'Brien lost a three-year case against Cable & Wireless who had accused of impeding Digicel's entry into Caribbean markets. The Guardian estimated that O'Brien faced a £25million legal bill.
The first O'Brien media libel case that went to court was in 2000 against the Mirror Group. O'Brien won €317,000. Then Mirror journalist Karl Brophy had written an article, based on anonymous sources, claiming that, in 1989, O'Brien had given IR£30,000 to then Fianna Fáil Communications Minister Ray Burke.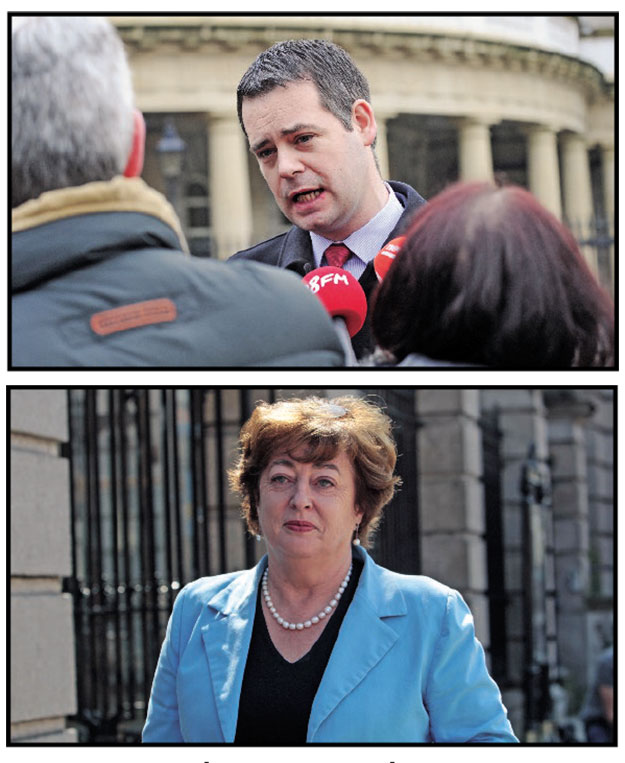 • Sinn Féin TD Pearse Doherty and Catherine Murphy TD
The Mirror libel case wasn't finished yet. The Supreme Court set aside the original €317,000 award as excessive and the case went back to the High Court – where a new jury awarded O'Brien €750,000.
In 2013, the Daily Mail and journalist Paul Drury lost a defamation case to O'Brien. The jury found a Mail opinion column by Drury had misrepresented the charitable work of O'Brien in Haiti after the 2010 earthquake. O'Brien was awarded €150,000. It was the first judgment given under the 2009 Defamation Act.
In 2014, O'Brien won an appeal in a long-running case against the Revenue Commissioners who had been pursuing him for Capital Gains Tax of €57million following the sale of his share in ESAT Digifone to BT in 1999. This case is ongoing.
In 2015, Denis O'Brien has taken a series of cases to the High Court and Supreme Court, all relating to his attempts to stop either media discussion or political comment under privilege on his banking relationships with IBRC. (The Irish Bank Resolution Corporation was the name given to the entity formed in 2011 by the court-mandated merger of the state-owned banking institutions Anglo Irish Bank and Irish Nationwide Building Society.) Initially it was an RTÉ report that O'Brien attempted to halt.
Billionaire sues Parliament
O'Brien is now threatening to sue the Dáil Committee on Procedure and Privileges on the ground that it failed to properly investigate complaints against Sinn Féin TD Pearse Doherty and Catherine Murphy TD . O'Brien has also started legal action against the Irish state and the Houses of the Oireachtas!
In August, O'Brien turned his attention to the online satirical Waterford Whispers and Broadsheet.ie, threatening "all necessary steps to vindicate our client's good name and reputation" if a spoof about  "20-Year Jail Sentence for Mobile Phone Licence Bribe in Parallel Universe" wasn't taken down.
All that's left now is a Denis O'Brien legal action against his fictional character in the Ross O'Carroll Kelly column. Would he really sue over a storyline involving someone wearing a Denis O'Brien wig?
Time will tell.