1 September 2015 Edition
Farming needs support to be sustainable
The future sustainability of the Irish farm is dependent on farmers receiving a fair and equitable return for their produce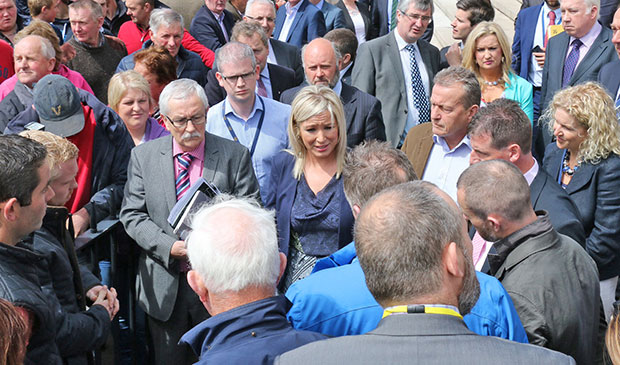 Sinn Féin representatives – including the North's Agriculture Minister, Michelle O'Neill, Martin Ferris TD and our MEPs – have been consistent in calling for emergency intervention by EU Commissioner Phil Hogan
PROTESTS by dairy farmers at supermarkets in the North and the Irish Creamery Milk Suppliers' Association (ICMSA) predicting an average milk price of 24c per litre for the rest of the year in the South has captured news headlines across the island. 
In the North, the return that farmers have been receiving has dropped to 19p per litre, with a further drop anticipated. This is well below the cost of production at approximately 24p per litre.
The dairy crisis is impacted by a global market which is contending with an over-supply of produce and a weakening demand, further compounded by the Russian import ban on EU products, exchange rates and the decline in Chinese trade. The scrapping of the EU dairy quotas earlier this year has also encouraged a greater milk production across EU regions.
Sinn Féin representatives – including the North's Agriculture Minister, Michelle O'Neill, Martin Ferris TD and our MEPs –have been consistent in calling for emergency intervention by EU Commissioner Phil Hogan, who seems to fail to recognise that there is a genuine crisis.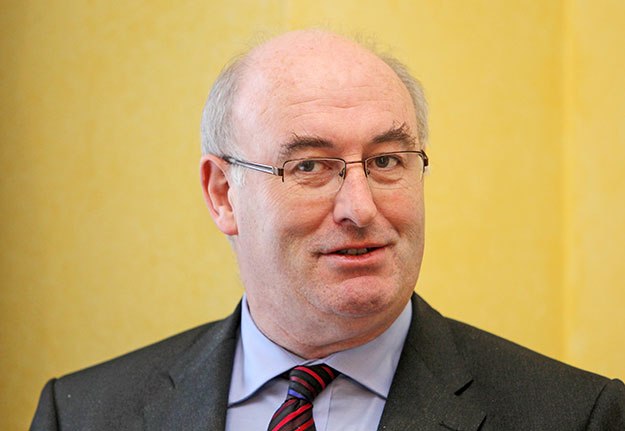 • EU Commissioner Phil Hogan
Meanwhile, Fine Gael/Labour Agriculture Minister Simon Coveney should be following Michelle O'Neill's example by talking to the banks about offering leniency to those farmers who were encouraged to invest in stock and facilities prior to the end of quotas last March and who now find themselves unable to make repayments between plummeting prices and, in some cases, payment of a super levy.
While the dairy industry crisis is estimated to take €1billion from the economy in the South, other sectors are struggling too.
Farmers in sectors such as beef, lamb, pork and arable have also fallen victim to market volatility across the island. Despite this variety of competing external factors, there is still much we can do locally to assist farmers.
The future sustainability of the Irish farm is dependent on farmers receiving a fair and equitable return for their produce. This is a message which Sinn Féin representatives in the Assembly, Leinster House and the European Parliament have been championing. Central to this is ensuring robust communication between all elements of the food chain. This means putting greater focus on all-island branding by taking advantage of the worldwide renowned quality and standard of Irish produce, as opposed the two parts of our island competing against each other for new markets.
•  Long-term economic predictions forecast a positive future for the dairy market but short-term support is required during the current crisis to cushion the financial loss to farmers
To help alleviate the pressures of dairy farmers during the current crisis, Minister Michelle O'Neill has also taken a number of initiatives, including:
Meeting with local banks to encourage flexibility and leniency while dealing with farmers in financial distress;
Engaging other Farm Ministers, including Minister Simon Coveney and the British Minister Liz Truss for support in calling for EU intervention;
 Providing resources through her department to assist farmers with advice on efficiency, benchmarking and managing cash flow; and
 Developing a Farm Business Improvement Scheme which will allow local farmers to make necessary investments and upgrades to their farms.
The imposition of partition in Ireland is adding to the seriousness of this crisis. The weakness of the euro against the sterling is making exports from the North less attractive, while a potential British exit from the European Union is also putting into jeopardy the future of European subsidies for Northern farmers.
Sinn Féin engages closely with farming bodies, discussing and assisting with a variety of issues which impact on the industry such as cross-border trade, animal health, CAP reform, etc.
There is recognition that as well as farmers being the primary producers of agri-food produce in what is one of our largest export markets on the island, they are also the environmental custodians of our countryside and the backbone of rural Ireland who need our support.