1 June 2015 Edition
Everywhere Man
Seán Tyrrell's unique voice and lyrics make him stand apart from other artists
SEÁN TYRRELL is unique among Irish singers, refusing to sing the same old songs, always looking for songs that transcend the ordinary – an artist with a flawless repertoire.
Brian Eno, the man behind Roxy Music's idiosyncratic Seventies sound and many of the soundtracks of the past 40 years, has a faith that is not religious. It might be described as a 'one world faith', the kind science fiction writers describe when their protagonists arrive at an alien planet and find themselves confronting a single empathic consciousness.
One world, one mind, one sensibility!
The story in song has traditionally been set in the form of a ballad: Black Velvet Band, Follow Me Up to Carlow, Rising of the Moon, Whiskey in the Jar. It is why they remain with us, especially if the theme is popular, but when the song is both idiomatic and idiosyncratic a whole new world is revealed.
Seán Tyrrell, the Galway town son of a taxi driver who went to America to find his muse and then discovered it in the land of poetry and other lyrical landscapes, has always known instinctively what Brian Eno knows, what those sensitive souls understand when they hear music of a particularly kind.
Like Eno, Tyrrell is unique. His sound, his voice, his lyrics, his music are unique to him and make him stand apart from other artists. And, like Eno, Tyrrell is an acquired taste. But there is always more to their music than first impressions, especially when the layers are like an onion. As they peel off they reveal an inner core that tastes sublime.
That taste has the sweetness of a pomegranate and the bitterness of a lemon when Tyrrell interprets the work of John Boyle O'Reilly, a "good man" from Drogheda whose works have enriched the world.
Tyrrell's 2009 Message of Peace album is a tribute to O'Reilly, featuring the lyrics and words of the 19th century Fenian poet and singer who was thrust out into the world and didn't like what he saw.
The songs feature the work of several other lyricists including John Frazier (Song for the Twelfth of July), Phil Gaston (Game Over), Francis Ledwidge (Dead Kings and The Lament for Thomas McDonagh), John Lennon (Working-Class Hero), Charles Weaver (Bad Luck to the Marching), Little John Nee (Wee Moroccan) and Bobby Sands (The Woman Cried).
Actor Donal O'Kelly said: "We travel and Seán is our guide. We see new things, we see old things anew. We discover, we peer, we walk on in, his voice around us, and his voice is true."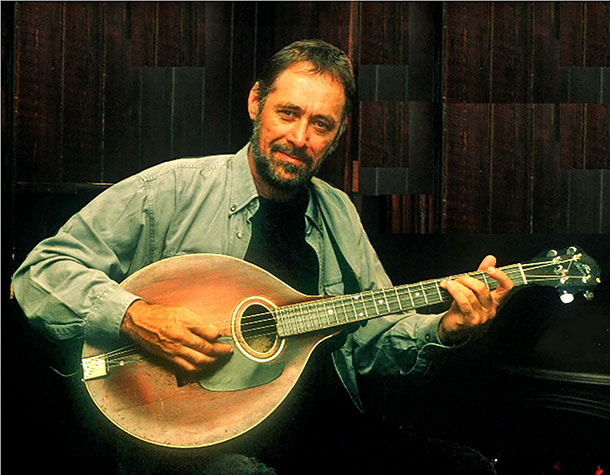 Comber to the Catskills
Seán Tyrrell's journey began when he encountered the folk music of Jack Geary, Seánín Conroy and John Henry Higgins during his time in University College Galway in the Sixties.
"I had always been fascinated by two buskers, tinkers, the Dunnes brothers, who used to come to Galway, they used to busk at the Galway races. I was fascinated by the banjo player and I thought I want one of them," he recalls.
"I asked my dad and he didn't want to buy it because of my failed attempts with the guitar, but once I got the banjo in my hand I was in the deep end. I used to play night, noon and morning, driving people crazy for those first couple of years."
Tyrrell and his friends had got a residency in The Enda Hotel, Dominic Street and gradually he began to pick up the musical influences of other players, like Donal Standún from Spiddal. Then he got a job teaching in Belfast and met Bobby Davey from Comber.
He bought a four-string forcing banjo and some finger picks. Jack Geary told him he was playing it all wrong. "I often wonder if he had left me alone what sort of style I would have developed," says Tyrrell, who determined to develop his own style. 
When Geary announced that he was going to America, Tyrrell went with him. They took jobs as 'bartenders' at Mullins' Mountain Spring Hotel in the Catskills and when the one-man band (a hillbilly from West Virginia) took a break, they jumped at the chance to perform. They auditioned for The John Barleycorn, a club that served food and music, in New York City. Then he found himself performing solo in San Francisco, returning to the east coast, to New Hampshire, where Apples in Winter, a band he thought might go places, was short-lived.
Tyrrell returned to Ireland, working for the university in the Burren, where in Lisdoonvarna he was "apprenticed to magician Miclin Conlon" and fell in with some great musical companions. He provided the lyrical soundtrack for Galway City throughout the Eighties when he played gigs in Monroe's and the Roisín Dubh. 
His journey continued, and eventually, in 1990, he released a collection of ballads, poems and songs under the title Cry of a Dreamer, singing the words of O'Reilly, David Callinan, Johnny Mulhern, Louis McNiece and John Frazier.
And when the album And the Story Goes with Dubliners Kevin Glackin and Ronan Browne was released in 2011 the journey had swung back to the starting point, enclosing several generations of genuine Irish session music. He was now the magician, and his life's work was out of this world.
Poems to music
When his personal life changed in the late Eighties, and allowed him to play five or six nights a week, the process of setting poems to music came naturally again. 
Tyrrell had come across Time You Old Gypsyman, by English poet Ralph Hodgson, in the Seventies. It was the first poem he set to music. 
"Taking down a thousand years of Irish poetry, when I began to come out to play professionally again, I was looking for a repertoire of songs. I was fed up of hearing the same ones over and over again and restarted the process," he says, explaining the method behind the selection of songs for Cry of the Dreamer. 
"I don't know if it was Louis McNiece's poem to bagpipe music or John Boyle O'Reilly's Message of Peace that caught my attention first. I kept looking and I couldn't believe my eyes at what I was finding."
He found Charles Lever's Bad Luck to the Marching, an amazing anti-war song from the mid-19th century.
"Because of my interest, people send me books from all over the planet. I was sent two rare books on Lever and I found out that he was a songwriter. 
"So all I am doing is bringing back into the tradition what were once songs and this is my question: why were they forgotten? I am perplexed why these songs were left behind and became part of the poetry tradition."
As good as anything Bob Dylan did
During a trip to Cobh he came across John Frazier's Song for the Twelfth of July in an obscure book. He set it to music, a slow lament for his children who had returned to America with their mother, and recorded it for Cry of a Dreamer.
"To me it is a symbol, the daffodil, orange head/green stalk, one can't survive without the other," he says, recalling how he had set it to music with the tune for his children and then discovered that it had been originally coupled with The Boyne Water, an old march, and astounded that it included snatches of the music that would become known as The Sash and the National Anthem.
"Of all the songs, that would be the closest to my heart because of my time in Belfast. It is an incredible image. Frazier was a cabinet maker from Birr in County Offaly and wanted to write a song for peace."
Cry of the Dreamer contains a remarkable set of songs which Tyrrell believes should be universally known.
"David Callinan and Johnny Mulhern are among the greatest songwriters I've come across in modern times. Callinan's House of Delight, Fortune for the Finder and November Rain are as good as anything that Bob Dylan did lyrically and melodically, up there with anybody's, as Johnny's are.
"I started to find such amazing lyrics," he says of the reason why he did not develop his own lyrical skills, which are evident in The Black Hole, a song he wrote in response to the desperate social conditions in Ireland of the Eighties, and eventually recorded for his last studio album, Walker of the Snow.
He says he got lazy because other songwriters gave him 'incredible songs'. 
At the close of the millennium he put more of these incredible songs on his second album, The Orchard, and found that those who liked what he was doing were outside his homeland, whose natives were slow to appreciate his work.
"I ask people to think when they listen to my music," he says, acknowledging the sorry scenario that exists with the mainstream Irish media, who want to play it safe and make sure that their listeners and readers never make connections.
"What astounds me is that this material I have been so lucky to find and to record is being missed. And it is not just me. There are loads of musicians and artists out there, who are ignored. Without airplay."
And this lack of exposure baffles him because his music, especially the songs on Cry of the Dreamer and The Orchard, convey messages of belonging and hope and love and peace, all the elements that are the essence of traditional music, not least the title tracks.
Cry of a Dreamer is a passionate paean that makes the listener realise that dissent has always been with us. O'Reilly was sentenced for sedition and transported to Australia only to escape and arrive in America where he continued to act and speak for the dispossessed.
I am sick of the showy seaming
Of a life that is half a lie
Of the faces that are lined with scheming
In the throng that hurries by
From the sleepless thoughts endeavour
I would go where the children play
For a dreamer he lives forever
And a thinker dies in a day
Seán Tyrrell is the everywhere man you need to hear because his genius, like Eno's, is rarely seen these days. 
When he sings Phil Gaston's The Lights of Little Christmas, a song about emigration and returning, the hope is heartbreaking. "Each little light that I pass by says right here's your promised land!"
Seán Tyrrell is at the Galway Bay Pubs Irish Festival, Ocean Shores, Washington, in October 2015 and has a tour of the USA and Canada scheduled for March and April 2016.