4 May 2015 Edition
The burden of expectation
Between the Posts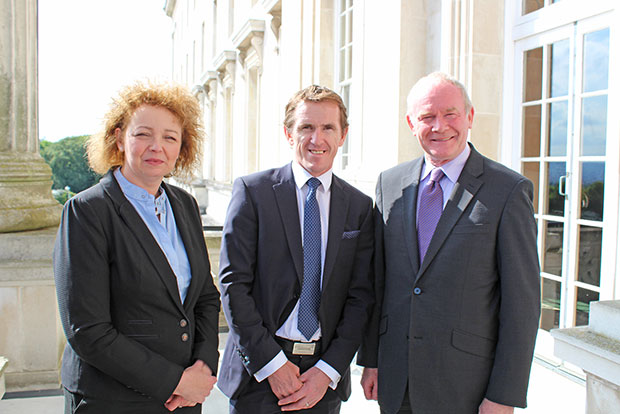 You don't get to decide when the tide comes in or goes out
AS IRISH CHAMPION JOCKEY Tony McCoy dismounted from his ride at the British Grand National this year, he looked chastened and dejected. Having announced his retirement earlier this season, McCoy had raised the expectation that this year would be his year to win. At the end of the race, he looked a long way from home.
McCoy hails from the village of Moneyglass, in the heart of south-west Antrim. The drumlins above the top of the village provide a great vantage over Lough Beg and Lough Neagh. Nearby, the River Bann cradles the heritage of a community which stretches back to the Stone Age. When the Bann was dredged in my grandfather's time, axe-heads and flints were uncovered in large quantities, bearing witness to the civilisation which once used the river and lough as their transit.
As a boy, I once saw their mode of transport at firsthand. One Saturday morning, my parents loaded my two younger brothers and myself into the family car and travelled to the area. Upon arrival, my brothers and I found ourselves crouching in a huge hollowed tree, carved into a boat, unearthed in farmland in townland of Gortgill, beside Moneyglass. The hand-made wooden vessel would have been used a thousand years before. Silently, it served as a reminder of our place in time, of the people and culture from whom we were most likely descended.
Like the boat at Gortgill, Tony McCoy's last ride at the British Grand National had got stuck in the mud a few furlongs from the finish. The weary, forlorn expression on Tony McCoy's face at the end of his last Grand National race told another story. Already branded by bookmakers as favourite, McCoy himself added to expectation by saying the race was an opportunity to make amends to fans for past defeats at Aintree. He added that if he won the British Grand National he would retire immediately, not at the end of the season as first intended. These sudden changes of belief and objective inevitably influenced his racing.
Turn for a moment to another sportsperson who found himself at sea amidst the tides of public expectation. 
Rory McIlroy ventured onto the golf course at Augusta amid hyperbole about his renewed rivalry with Tiger Woods and McIlroy's unfulfilled desire to win the US Masters. Some sports commentators would have had you believe that McIlroy was the only serious contender for the title. In public comments, McIlroy did nothing to eschew the favourite tag. Events prove otherwise. McIlroy nearly didn't even make the cut. After four days of golf, the US Masters winner, Jordan Speith, had smashed every course record at Augusta. He led from start to finish. His unorthodox putting style on the green even confounded TV commentators. In the end, it was English golfer Justin Rose who shadowed Speith most closely, finishing in second place. Rose quietly went about his work while McIlroy struggled in the spotlight. Justin Rose's mindset is one skilfully shaped by sport psychology.
"If I ever felt myself getting out of what mattered for hitting a good golf shot my attitude was : 'So What?' . . . Let's just run the process . . . I also accept that golf is a game where you're gonna win some you're gonna lose some. I knew that this didn't have to be my time."
Public expectations don't predict performance. In fact, sometimes they can hinder it, as Dublin's senior footballers learned in last summer's All-Ireland Semi-Final against Donegal (which they were expected to win at a canter). Comments and expectations of supporters and detractors do impinge on performance. However, more important are the beliefs and responses of players. The biggest pressure comes from within.
The people who carved the boat at Gortgill couldn't tell the future. They couldn't know that one day it would be stranded inshore in a farmer's field. It's the same in sport. You don't get to decide when the tide comes in or goes out. All you can do is be as well prepared as possible and set out with a clear destination in mind, accepting that surprises happen.
As Tony McCoy retires, his wife publicly said that she would swap all his victories for the safe return of her husband:
"He goes to work with an ambulance following behind him."
That places sport in the proper context. Yet, no other son of south-west Antrim has exceeded all that was expected of him in the fashion and completeness of Tony McCoy. Defeats and disappointments are actually to be expected. Perfection is not what sporting performances are about. McCoy's legacy is excellence. Like the hull of the boat in Gortgill, it will last long after the tide goes out.