4 May 2015 Edition
We are growing stronger by the day
1916 Easter Commemorations 2015
'Austerity policies imposed by an Eton-educated English elite are no more in the interests of people of the Shankill Road than they are for residents of the Bogside'
REPUBLICANS are moving Irish society closer to the principles contained in the 1916 Proclamation every day, Sinn Féin MLA Gerry Kelly said at the Belfast Easter Commemoration held at the Republican Plot in Milltown Cemetery.
"Easter Week 1916 inspired generations of Irish republicans but also peoples throughout the world who rose up against the tyranny of colonial rule, imperialism and oppression," the H-Blocks prison escapee said. "It is a fire still burning bright in the heart of every Irish republican today. That fight is carried on by Sinn Féin today in our fight for equality for all.
"Austerity isn't working. Sinn Féin wants equality, not austerity.
"The British Tory party, with the support of some local parties, wants a mandate to continue with austerity.
"We are standing firm against policies which seek to cut our public services and force our citizens into further hardship.
"The Tories have already cut £1.5billion out of the public service budget and tried to impose additional cuts on the most vulnerable.
"Sinn Féin opposed these policies and protected families with children with disabilities, adults with severe disabilities, large families and the long-term sick.
"Sinn Féin ministers are fighting to protect frontline public services from the worst of Tory cuts and we will continue to do this. But the magnitude of these cuts is putting real pressure on public services, on school budgets and on community groups.
"It is clear that austerity is the cost of the Union and both have failed.
"We want change. We want the budget in the North restored and we want the powers to create and sustain economic growth.
"This will be a battlefield in the time ahead.
"There will be many challenges for Sinn Féin and others who want maximum change, equality and fairness.
"Equality is a red line issue for Sinn Féin, so is the need to end austerity."
He added:
"Support for Sinn Féin is growing. Support for the core republican principles of equality and sovereignty as enshrined in the 1916 Proclamation is also growing.
"We remain guided by the noble ideals of the 1916 leaders but we struggle in the context of 2015. We are now in a phase of nation building.
"Let us send out this political message – not only have we not gone away but we are getting stronger by the day."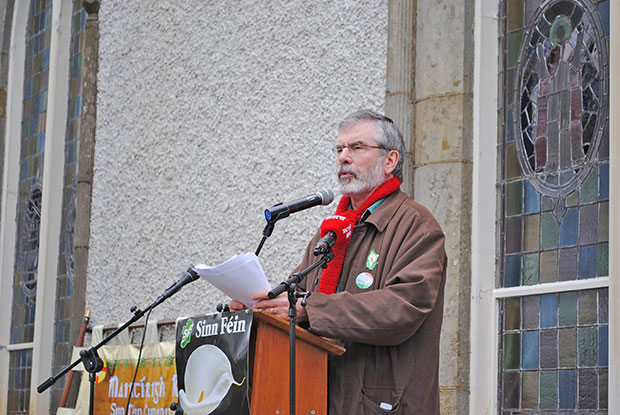 • Gerry Adams TD delivers the main oration at the Easter Rising commemoration in Roslea, County Fermanagh
Gerry Adams
And in Roslea, County Fermanagh, Sinn Féin leader Gerry Adams said:
"Ireland today needs another Rising – a peaceful rising to take control of the ideals of the Proclamation and to put them into practice."
He explained further:
"Partition has retarded and distorted the political, social and economic life of this island. But politics in both parts of this island is now in flux.
"Many people now realise that it makes no sense to have two economies, two education systems, two health systems, two tax codes, two currencies on one small island.
"There is a growing recognition by the business community of the economic sense of an all-island economy with joined-up agriculture and health sectors.
"The people of this island, whether urban or rural, from whatever background or tradition, share a common history and our futures are bound together.
"The message of the Proclamation, the symbolism of our national flag and the challenge for republicans today is to unite Orange and Green in equality and mutual respect.
"I appeal directly to working-class unionists and loyalists to examine the economic and social price now being paid for the Union.
"Austerity policies imposed by an Eton-educated English elite are no more in the interests of people of the Shankill Road than they are for residents of the Bogside.
"I believe next year's centenary events should be a catalyst for a national conversation on these issues.
"Sinn Féin is committed to securing, in the time ahead, a referendum on Irish unity so that each and every one of us, working together, can build a new, dynamic country.
"Such a referendum should not be seen as threatening to any section of our community.
"All political objectives can now be pursued peacefully and democratically and in mutual respect.
"That is the great success of the Peace Process."