4 May 2015 Edition
'Uncomfortable Conversations' collection launched in Linen Hall Library – John Hedges
An Phoblacht series of articles hailed as important initiative for dialogue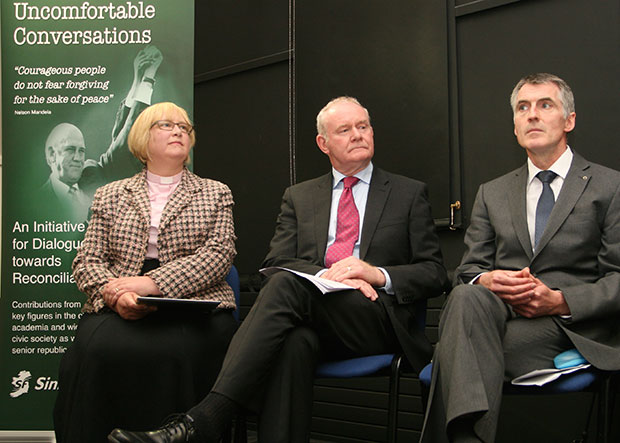 'My personal hope is that this book isn't an end point, the full stop on a project, but that it sparks more conversations' – President of the Methodist Church, Dr Heather Morris
A SMALL SELECTION of the contributions in the 'Uncomfortable Conversations' series carried in An Phoblacht since March 2012 to foster dialogue across communities was launched in booklet form in April by Sinn Féin in Belfast's Linen Hall Library, an institution with a proud history of radical thought, ideas and voices.
The second Librarian, Thomas Russell, was a leading United Irishmen activist who was arrested on the Library premises in 1796 and later executed.
The book was launched to a packed audience of key figures from the churches, academia, the media and wider society as well as senior republican figures and voices from the unionist community.
Uncomfortable Conversations: An initiative for Dialogue Towards Reconciliation carries the legend from Nelson Mandela: "Courageous people do not fear forgiving for the sake of peace."
An Phoblacht's importance as a platform for views beyond republicanism was  emphasised by Declan Kearney, the public face most associated with this party initiative, who said that reconciliation and healing represent our only future.
"It is a vision which can be inspired with important deeds and gestures. Comfort zones have to be abandoned. 
"Examples of leadership are demonstrated when individuals or sides take hugely important risks to build new relationships.  
"Yet single moments or events, no matter how symbolic, are also not enough in themselves."
They are important signposts for our overall direction of travel and must be built upon as part of a strategy, he said.
"Goodwill needs to be harnessed and then actively mobilised to ensure the reconciliation vision is not simply a theoretical ambition and is instead anchored in an unstoppable, forward momentum."
• Part of the crowd at the 'Uncomfortable Conversations' book launch at the Linen Hall Library in Belfast
Dr Heather Morris, the first woman President of the Methodist Church, whose address to a Sinn Féin Republican Youth Congress is included in the book, said:
"One of the reasons I welcome this book is that it is not a theoretical piece on the need for uncomfortable conversations, or even solely a call for participation in those conversations – it is a record of those conversations. The contributions are part of a real process."
She added:
"My plea, my personal hope, is that this book isn't an end point, the full stop on a project, but that it sparks more conversations. Martin Magill and Steve Stockman and indeed Mitchel McLaughlin in his response stress the need to move beyond soundbites. The commitment to the building of relationships which this book evidences must continue and push into deeper more uncomfortable conversations and into action.
"There are more conversations to be had and I want to encourage all to engage in those conversations."
Sinn Féin Chief Negotiator and deputy First Minister Martin McGuinness MLA spoke of the 'Uncomfortable Conversations' he has been involved in, including republicans and the IRA as well as with former RUC officers, the British Government and Queen Elizabeth – and the British monarch's 'Uncomfortable Conversation' with him, as a former leader of the Irish Republican Army.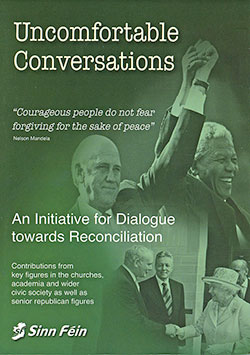 Both he and Queen Elizabeth could have come up with any number of reasons as to why they shouldn't meet and face those 'Uncomfortable Conversations', Martin McGuinness said – but they didn't.
"Regrettably, the past cannot be changed or undone," Martin McGuinness. "Nor can the suffering, the hurt or the violence of the conflict be disowned by republicans or any other party to the conflict.
"The challenge for all of us engaged in the Peace Process and the political process in Ireland – and indeed for the British Government also – is to ensure that there can never be a repeat of what went before. 
"Reaching out the hand of friendship, taking initiatives and working together in a spirit of generosity doesn't mean surrendering any allegiances.
"It is not always easy but it is the right thing to do. For our part, republicans are prepared to enter into dialogue and have the 'Uncomfortable Conversations' with others but those conversations also present challenges to republicans. 
"Reconciliation needs to become the next phase of the Peace Process. That is the future. We may never agree on our past but the future belongs to all of us.
"Dialogue, building trust, making political compromises are the seeds to achieving this new beginning."