4 May 2015 Edition
Mícheál Martin's hysterical attacks on Sinn Féin
Fianna Fáil's lame-duck leader struggles to make himself relevant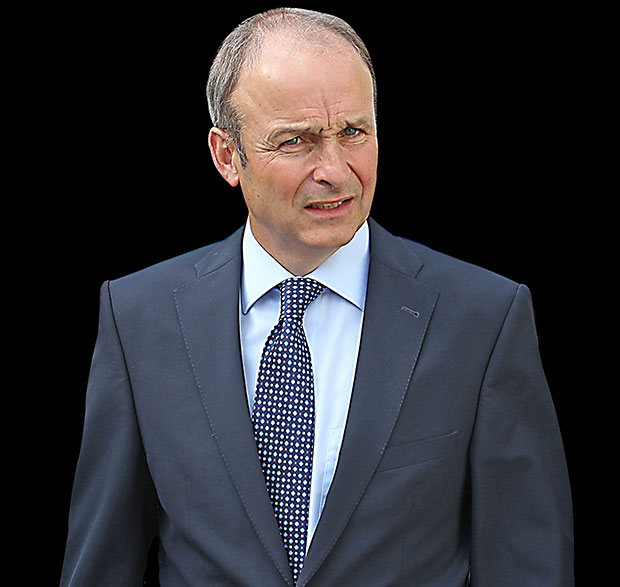 'Those of us who lived through the recent conflict do not need lectures from Mícheál Martin about conflict. We did not go to war. The war came to us'
RECENT hysterical attacks by Fianna Fáil leader Mícheál Martin on Sinn Féin reveal a deep desperation within his party's senior ranks as it fails to attract voters, stagnates in opinion polls, and Martin eyes the vultures circling his rudderless leadership.
Listening to recent media commentary and speeches from Fianna Fáil TDs, you could be forgiven for thinking that you'd hit a time-warp and landed back in the mid-1980s, well before a Fianna Fáil-led Government – which included then Education Minister Mícheál Martin – was party to the Good Friday Agreement which ended almost 40 years of armed conflict in the North.
Recently Fianna Fáil have even resurrected the use of the term "Sinn Féin/IRA" – something long ago abandoned even by the DUP and only still used by the most fervent unionist hardliners.
Mícheál Martin's speech at his party's low-key 1916 Commemoration in Arbour Hill, in which he stated that Sinn Féin is "not fit for democratic government", exposes the profund arrogance of a party which seems to believe it has the right to preach at the people and tell them who they may or may not vote for. This attitude is in keeping with the indifference and contempt which Fianna Fáil has for the electorate. 
At the end of the day, it will be the Irish people who choose their Government, not Fianna Fáil.
If anybody has proven themselves completely unfit for Government – with a track record of more than a decade of incompetence and blundering – then it is the current crop of Fianna Fáil TDs. Most of them (including Bertie Ahern's loyal lieutenant Mícheál Martin) held ministerial positions when Fianna Fáil crashed the Irish economy, drove it off a bridge, and then handed over the keys to a cohort of foreign unelected capitalists in the form of the Troika.
• Mícheál Martin at Arbour Hill
What is even more galling is the blatant partitonist mentality Martin's hysterical attacks expose. Fianna Fáil was happy to laud itself as vital to the Peace Process and the establishment of the power-sharing Executive in the North. Now it appears they are keen to ignore that there was ever a Good Friday Agreement. When it suits them, Sinn Féin sharing power in the North is a good thing – but God forbid those Shinners should get anywhere near the reins of power in the South.
Unlike Fianna Fáil, Sinn Féin has a mandate in both parts of Ireland. If Fianna Fáil truly believe their own rhetoric that they are a republican party then why do they not stand for election in the North? Why did they abandon the nationalist people to an undemocratic, sectarian state? Why do they still refuse to put themselves before those communities on whose behalf they have appointed themselves spokespersons in the South?
As is always the case with parties in the South, Fianna Fáil almost only ever engage or deal with the North when it is politically expedient for them to do so. The exploitation of the suffering of a society emerging from decades of repression and 40 years of conflict has become par for the course for Mícheál Martin. Unfortunately for him, it doesn't seem to be paying dividends.Voters see through the faux outrage and crocodile tears for the shameful electioneering it is.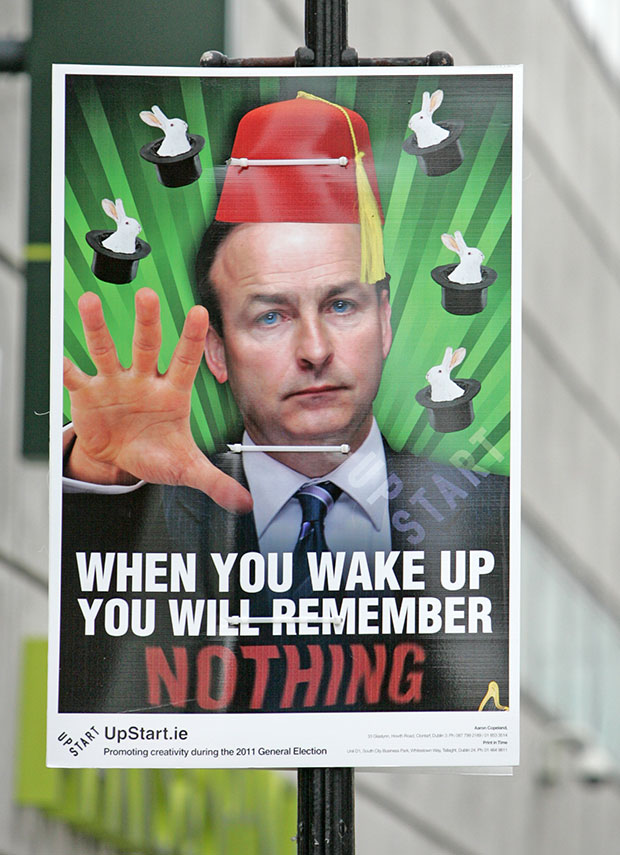 • An UpStart poster depicting Fianna Fáil leader Mícheál Martin during the 2011 election 
Gerry Adams TD – who had family members killed, was himself interned and survived an attempted assassination by a unionist death squad in which he was shot a number of times – told Fianna Fáil:
"Those of us who lived through the recent conflict are the ones who have worked to ensure that conflict is ended for good and that we never go back there. That is why Sinn Féin was pivotal to the Peace Process. Those of us who come from communities that were ravaged by conflict, those whose neighbours were killed, those who buried our friends and family members, who carry injuries to this day, those who endured the prisons, do not need lectures from Mícheál Martin about conflict.
"We did not go to war. The war came to us."
But in the words of Mícheál Martin, there "was no war" in the North, just a "campaign of murder" by the Irish Republican Army. Of course, at the same time Martin and his party are happy to glorify the deeds of the IRA during the Tan War. Like all wars, the Tan War saw the deaths of civilians and horrific acts by all sides. There is no such thing as a 'good' or 'clean' war.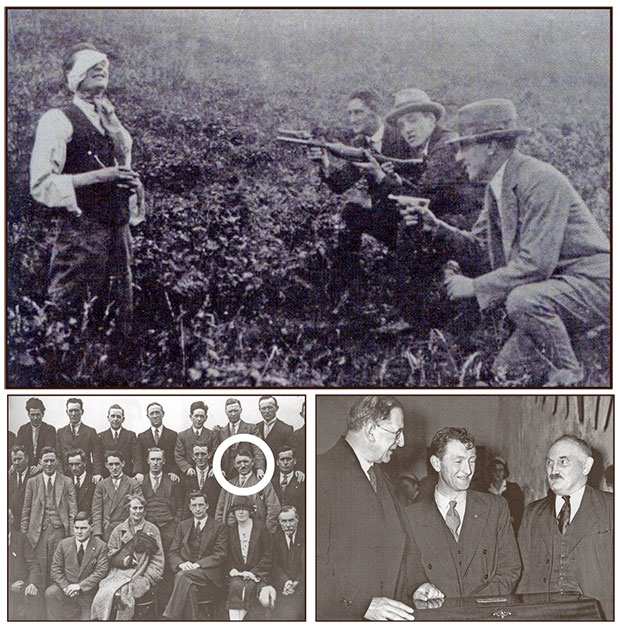 • A mock execution by the Cork IRA in 1922;  Fianna Fáil founder and TD of 40 years Martin Corry is believed to have executed 27 people; (right) Corry pictured with Éamon de Valera
In audio first aired in the TV3 documentary In the Name of the Republic in 2013, Fianna Fáil founder Martin Corry (who served more than 40 years as one of the party's TDs) was heard chuckling as he recalled his time as "chief executioner" for the Cork 1st Brigade of the IRA. The Fianna Fáil TD is believed to have executed as many as 27 people accussed of being British agents, informants and spies and had them buried in unmarked graves in bogs near Knockraha. Many of the bodies have never been recovered. Corry even reportedly laughed about how the local gravediggers objected to the number of people they were being asked to bury. One wonders what Mícheál Martin makes of this Fianna Fáil stalwart's actions? How can Martin with one breath describe the founders of his party such as Corry as "heroes which any nation would be proud of" while at the same time denigrating the memories of brave republicans such as Bobby Sands and Maireád Farrell?
The attacks by Fianna Fáil need to be seen for what they are – a distraction tactic. 
Fianna Fáil lacks any real policies and under Martin it is in the doldrums. It cannot articulate how it would do things differently from the disastrous Fine Gael and Labour Government. 

• Mícheál Martin was at the right-hand of Bertie Ahern and others during the disastrous Fianna Fáil regime which served to benefit the elites
It cannot escape the fact that its mismanagement of public finances caused the crash, forced tens of thousands to emigrate, forced thousands into mortgage distress and caused unemployment levels to skyrocket. Not once during this period of gross incompetence did Mícheál Martin raise his voice in opposition to what was going on. Instead, he was an active participant in a calamitous regime which served only to benefit the elites at the top of Irish society and was happy to sacrifice ordinary people when things went wrong.
The days when Fianna Fáil ruled the roost are over. Now they are becoming increasingly politically irrelevant. 
As Gerry Adams said in his response to Mícheál Martin:
"For decades Fianna Fáil posed as 'the republican party' while wielding power in the interests of visitors to the Galway Tent as opposed to those of ordinary hardworking citizens. 
"But there now exists a genuine and growing Irish republican party focused on uniting Ireland, and bringing about a real republic on this island."