4 May 2015 Edition
Vote Yes for equality
Sinn Féin urges positive votes in two referendum questions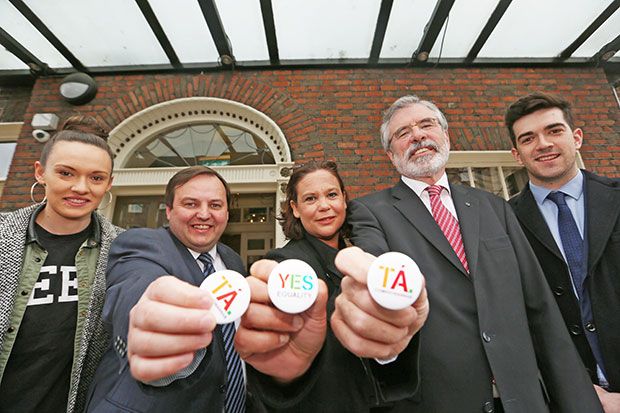 'An overwhelming show of support for marriage equality would ensure that every young person who wants to come out can do so knowing that legislative equality is there' South Dublin Mayor Fintan Warfield
SINN FÉIN is campaigning for a 'Yes' vote in both referendums which will be put to the people of the state on 22 May. 
The first referendum relates to the eligibility age for candidates in presidential elections while the second deals with the right of same-sex couples to civil marriages.
A 'Yes' vote in the Marriage Equality Referendum is about ensuring that our gay and lesbian citizens have the same right to marry the person they love as everyone else, said Sinn Féin's referendum campaign co-ordinator, Pádraig Mac Lochlainn TD, the party's Justice and Equality spokesperson.
Launching the campaign in Dublin on Tuesday 14 April, the Donegal TD said: 
"For Sinn Féin, as a republican party, equality is at the core of what we represent. We are committed to building a real republic where social and economic equality are among the main measurements of our nation's success."
There were also warnings about complacency setting in. While opinion polls have consistently shown support for the 'Yes' campaign above 70%, a poor overall turnout could disproprtionately benefit the 'No' campaign.
"We are not taking anything for granted and we will have canvass teams out on the doors across every constituency in the state," said Pádraig Mac Lochlainn.
Sinn Féin's Mayor of South Dublin, Fintan Warfield, says a 'Yes' vote would send a strong and reassuring message to young people coming to terms with their sexuality that it is "Okay to be gay." He pointed out:
"This referendum gives Irish people a genuine say in shaping the society we want to live in and that we want our young people to grow up in. An overwhelming show of support for marriage equality would ensure that every young person who wants to come out can do so knowing that legislative equality is there."
Mary Lou McDonald TD said the referendum is about a recognition of equality and respect for people's identity.
"It is an affirmation that we want people to be free, equal and happy – and have the right to pursue happiness," she said.
The Dublin Central TD said that while some people need to be convinced or reassured on the issue, those whose opposition to same-sex marriage is rooted in bigotry need to be directly challenged.
"It is the right thing, and the republican thing, to vote 'Yes'," she said.
Sinn Féin leader Gerry Adams TD said:
"Many of us will have a member of our family or extended family who is gay. All of us, whatever age we are or wherever we live or work, knows someone who is gay. They want what we want – the right to live their lives as full and contributing citizens and to share in the love of a family of their own."
He asked people to speak with their families, friends and work colleagues and ask them to vote 'Yes'.
The 'Yes Equality' campaign, the independent broad-based campaign for civil marriage equality, said:
"Mothers and fathers want all of their children to grow up in a country where they can have the same aspirations in life. The parents of gay and lesbian children want the same. Nobody wants second best for their child. Civil partnership was a significant advance, however civil partnership falls short of full constitutional equality. Only civil marriage equality can achieve this."
Presidential candidates should be judged on merit, not age
Sinn Féin is also supporting the referendum on the 'Age of Eligibility for Election to the Office of President' which, if passed, would see the minimum age of candidates eligible to stand for election as President from 35 to 21.
Sinn Féin's Kathryn Reilly, who was elected as a senator aged 22, said the referendum would serve to empower young people and increase the awareness and participation of young people in politics:
"Why should I, or any other young person in Ireland, be discriminated against by ageist policies? We would not discriminate against people because of skin colour, religion, or sex so why should we accept discrimination against people because of their age? We should judge each candidate on their merit and not on their age."