4 May 2015 Edition
A decade of broken promises
O'Devaney Gardens
'Homeless families need a permanent solution, not some half-baked proposal to refurbish some dwellings in an area that desperately needs full redevelopment'
THE WELLINGTON MONUMENT in Dublin's Phoenix Park looms over the rooftops of nearby houses and blocks of flats in O'Devaney Gardens. O'Devaney was built in the 1950s as one of a number of social housing projects to rehome families during Dublin Corporation's programme of slum and tenement clearances. It was named after Bishop Conor O'Devaney, a friend of Tyrone's rebel chief, Hugh O'Neill, who was hanged at nearby Arbour Hill by the British in 1612 for treason, aged at least 80.
Like the former flats complexes in Ballymun, O'Devaney Gardens had an extremely close-knit community but had become a byword for bad planning and developed a reputation for anti-social behaviour.
Today, only four of the original thirteen blocks of flats remain standing – all the others have been demolished. A handful of families remain in three of the blocks; the fourth is completely abandoned. The remaining residents have been forced to endure living next to these abandoned units for a decade while promise after promise to them on regeneration of the area has been broken.
Janice Boylan is a Sinn Féin councillor for the North Inner City ward who grew up in O'Devaney. In recent weeks she has been on TV and radio as the authentic voice of the residents who feel they have simply been abandoned by council management and Government. As we walk through the courtyard of one of the blocks, a couple of women in jovial mood shout over to say 'Hi' and ask her about some of her recent appearances in the media.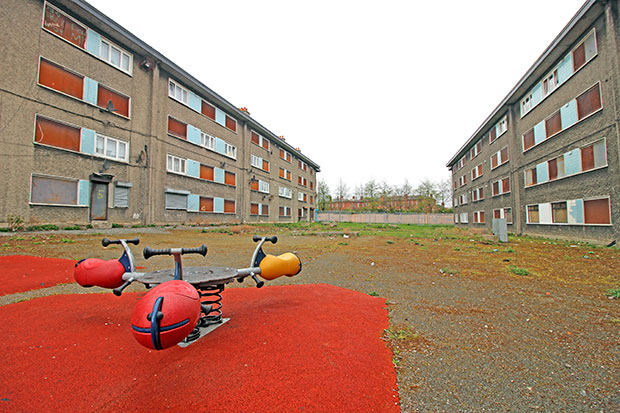 • Dublin City councillors do not believe O'Devaney Gardens is an appropriate place to house young and vulnerable homeless families
The sheer dereliction of the site is plain to see. Most windows are boarded up, those which aren't are smashed in, and the buildings have become a roosting space for flocks of pigeons. Broken glass is strewn across the courtyards. Janice tells me that young people have taken to organising illegal all-night raves in the complexes. "It's worse than living in the centre of Temple Bar," she says pointing to a stairwell piled-high with empty beer cans and bottles.
In 2008, the developer, supposedly leading the regeneration as part of a public-private partnership, pulled out and the regeneration was put on hold. At the time, Gerry Adams described the move as "deplorable and disgraceful" while commending the resilience and patience of the residents and "their determination to rebuild a vibrant community in the heart of the city". In 2012, the regeneration board was told there was no money and to step down. People realised the plan was going nowhere.
Following the tragic death of homeless man Jonathan Corrie near the Dáil in December, a plan was put forward by Housing Minister Alan Kelly to review the demolition of hundreds of units around Dublin and the possibility of using them to house homeless people. A proposal put to Dublin City Council was that 64 homeless families be placed in the abandoned units in O'Devaney Gardens. 
• Nine of the original 13 housing blocks have been demolished
Essentially, €4.7million would be spent to temporarily make the derelict sites liveable, before tearing them down further down the line. Dublin City councillors overwhelmingly rejected the idea. Janice Boylan says she is unhappy with how some sections of the media portrayed the decision.
"My concerns were that the usage of these flats was going to cause problems. We spoke to the residents here and in nearby areas. It was obvious people want the full regeneration of O'Devaney Gardens to go ahead. Some people have tried to spin it that residents here are simply opposed to homeless families in the area – that is absolutely untrue. The reality is that these people recognise that homeless families should not be put into an area in such terrible conditions. Homeless families need a permanent solution, not some half-baked proposal to refurbish some dwellings in an area that desperately needs full redevelopment.
"We took the stand we did to protect vulnerable homeless families. The people here are scourged with anti-social behaviour and are unable to get any help from the council in the upkeep of their properties."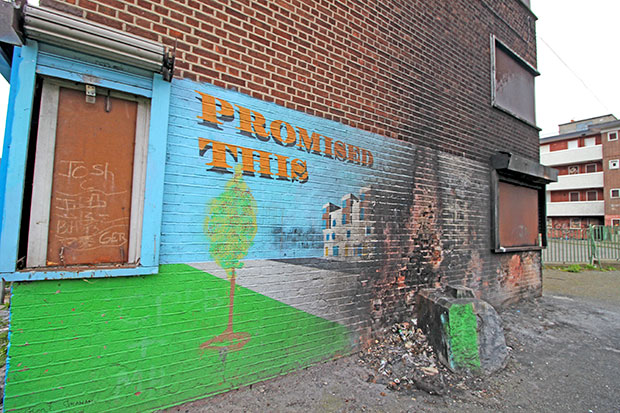 • O'Devaney Gardens residents were promised a full regeneration scheme, a decade later and they feel they have been completely abandoned
She says hundreds of ex-residents of O'Devaney are still holding out hope that they will be able to rebuild their former community at sometime in the future.
"The community has been literally torn asunder. Some of it has established itself in Cabra and Finglas. People feel vulnerable and forgotten about. I still have people from far afield contacting me and saying, 'Janice, if the regeneration is going ahead please make sure we are the first to get the offer to come back in'."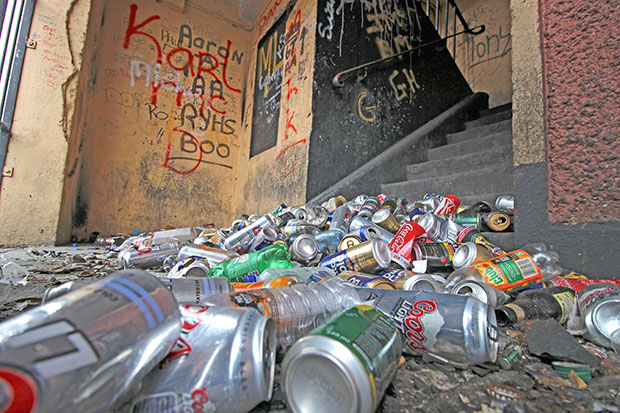 • O'Devaney Gardens is plagued by anti-social behaviour with illegal raves being organised in the area