4 May 2015 Edition
Every vote counts
Sinn Féin contesting all 18 Westminster constituencies – 'Equality, not austerity'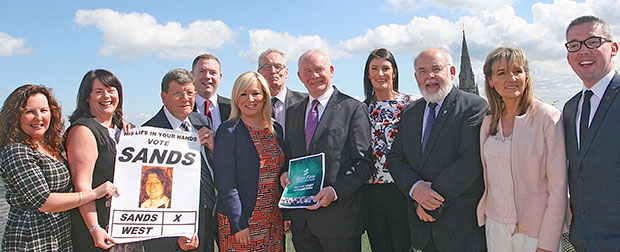 'There is a momentum building and the notion that a nationalist can claim the North Belfast seat for the first time in 130 years is attracting interest' Gerry Kelly MLA
THE Westminster election campaign goes down to the wire with canvass teams knocking doors across all 18 of the North's constituencies right up until polling day on 7 May.
At the time of writing, eyes are starting to shift from Jim Wells, the DUP Health Minister whose post-dated resignation was announced on Monday 27 April and who fell on his biblical sword four days after being exposed expressing homophobic remarks at a hustings on Thursday 23 April and despite being backed by DUP leader and First Minister Peter Robinson.
Yet Wells's remarks and the focus they are bringing on the DUP's long history of homophobia and intolerance could well have a bearing on the outcome of the election in some constituencies.
The main focus for Sinn Féin is on the Fermanagh & South Tyrone nail-biter.
Michelle Gildernew held the seat in the 2010 contest by a single vote and if republicans need reminding of the old adage that 'every vote counts' then they need look no further.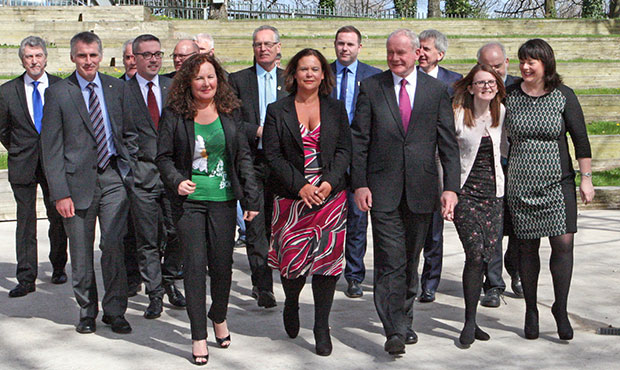 • Sinn Féin Westminster election candidates with Martin McGuinness MLA and Mary Lou McDonald TD – see pages 6 & 7
Now, as then, Gildernew is facing a single unionist and Tory austerity candidate in the figure of former Ulster Defence Regiment soldier Tom Elliot, the beneficiary of the Ulster Unionist Party/DUP pact.
To give their unionist soul mates an extra boost, the Tory party, which is fighting in 16 of the 18 Northern constituencies, opted out of Fermanagh & South Tyrone and North Belfast, backing Elliot and DUP deputy leader Nigel Dodds respectively.
The jury is still out on the uninspiring Elliot with questions being asked about his lacklustre previous leadership of the Ulster Unionist Party and whether he can convince DUP voters to back him.
Gerry Kelly is up against the pan-unionist front set up to 'Save Private Dodds'.
The UUP, TUV, PUP, UKIP and now the Tories are determined to keep Dodds in the seat he first won in 2001 – or rather they are determined to keep Kelly out.
The task for Kelly is twofold in that he needs to maximise the  republican vote and attract the votes of SDLP supporters who see Dodds in the same light as Jim Wells and Edwin Poots: backwoodsmen whose bible-thumping bigotry is the cornerstone of their politics.
It will be interesting to see how the refusal by Alban Maginnes, the SDLP runner in North Belfast, to vote on a Sinn Féin motion calling for marriage equality in the Assembly on Monday 27 April affects his vote, aligning himself to the DUP and its fundamentalism.
Speaking to An Phoblacht, Gerry Kelly said:
"We can win this seat. There is a momentum building and the notion that a nationalist can claim this seat for the first time in 130 years is attracting interest."
In South Belfast, some bookies have cut the odds on Sinn Féin's Máirtín Ó Muilleoir from 25/1 to 7/1 in a constituency that was once a unionist stronghold but is now represented by the lacklustre and unrepentant double-jobbing leader of the SDLP, Alasdair McDonnell, who defiantly declared he is holding on to his Assembly seat come what may.
In 2010, Sinn Féin's Alex Maskey withdrew from the race to give McDonnell a free run but this time round (and after the SDLP refused to join Sinn Féin in a progressive, pro-equality, anti-austerity pact) Ó Muilleoir was selected to fight the seat.
Ó Muilleoir's barnstorming year as Belfast Mayor appealed to people across the city and society and he's getting positive feedback on the doorsteps.
An Phoblacht has been told that SDLP voters are disillusioned by McDonnell while the negative fall-out from DUP rants has liberal unionists considering voting for the enlightened Ó Muilleoir rather than the UUP no-hoper Rodney McCune.
Another lively race is that of Upper Bann. Sitting DUP MP David Simpson is playing on the fears of unionists, saying Catherine Seeley could win the seat if the UUP's Jo-Anne Dobson polls strongly. While the task ahead of Seeley is a big one, the reality is that Sinn Féin is the dominant nationalist force in the constituency and with the SDLP represented by Dolores Kelly struggling for political relevance the Sinn Féin councillor will be prominent.
The difficulty for the SDLP is that in constituencies such as Foyle and South Down with SDLP MPs (and others such as North Antrim, East Antrim and East Derry where Sinn Féin polled 6,700 votes in 2010) it is clear that the predominant voice of nationalism is that of Sinn Féin.
Gearóid Ó hEára will do well in Foyle, as will Chris Hazzard in South Down.
Daithí McKay is building in North Antrim while Oliver McMullan in East Antrim is breaking new ground all the time.
Caoimhe Archibald is certain to build on Cathal Ó hOisín's East Derry total from 2010.
As for Paul Maskey (West Belfast), Francie Molloy (Mid-Ulster) and Mickey Brady in Newry & Armagh (replacing Conor Murphy), they are campaigning as intensely as anyone and taking nothing for granted.
Said Maskey:
"Sinn Féin doesn't do complacency, Sinn Féin doesn't take the electorate for granted. We are fighting for every vote."

The Sinn Féin candidates
East Derry – Caoimhe Archibald
Strangford – Shiela Bailie
Newry & Armagh – Mickey Brady
West Tyrone – Pat Doherty
Fermanagh & South Tyrone – Michelle Gildernew
South Down – Chris Hazzard
South Antrim – Declan Kearney
North Belfast – Gerry Kelly
West Belfast – Paul Maskey
North Down – Treasa McCartney
Lagan Valley – Jacqui McGeough
North Antrim – Daithí McKay
East Antrim – Oliver McMullan
Mid Ulster – Francie Molloy
East Belfast – Niall Ó Donnghaile
Foyle – Gearóid Ó hEára
South Belfast – Máirtín Ó Muilleoir
Upper Bann – Catherine Seeley