4 May 2015 Edition
Living wage policy launched by Sinn Féin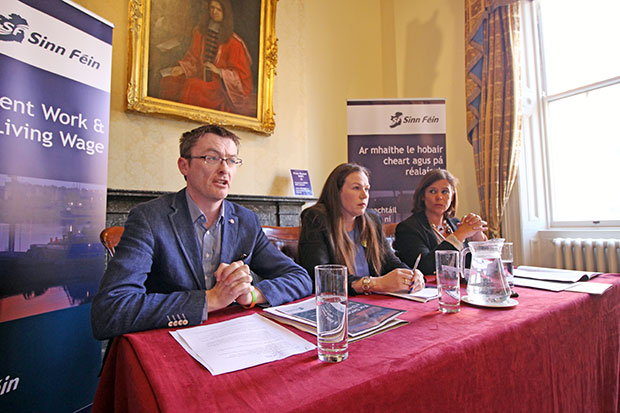 'I don't see how anyone can oppose a living wage' Senator David Cullinane
"TALK IS CHEAP, and that's all we've gotten from this Government in terms of workers' rights," says Senator David Cullinane speaking to reporters at the launch of Sinn Féin's For Decent Work and a Living Wage document in Dublin.
"Any promises of substance that were made in the Programme for Government in relation to workers' rights have not been delivered. They have built their recovery on low pay and precarious work."
The proposals outlined in the Sinn Féin document include an immediate increase of the minimum wage by €1 per hour and an incremental move to a living wage of €11.45 per hour, introduction of collective bargaining and robust anti-victimisation legislation, a ban on zero-hours contracts, an increase in tax for those earning in excess of €100,000 as well as increasing supports for workers such as childcare.
Mary Lou McDonald TD said specific steps need to be taken in relation to women workers:
"There is still a gender pay gap in this state of just under 14% despite equal pay legislation dating back to the 1970s. Certainly if you looked to the ranks of the Dunnes Stores workers striking recently you couldn't but be struck by the fact that very large numbers of them are women. Women workers are struggling to making ends meet. Up to 50% of women earn an average income of €20,000 or less."
Noting that while Irish politicians frequently call for the regularisation of undocumented Irish in the USA, there is a need for a programme of regularisation for long-term undocumented migrants in Ireland, Mary Lou said:
"We look pretty hypocritical having a one-sided argument on this issue. If we are serious about protecting workers' rights then you have to do it across the board.
"There is somewhere in the region of 24,000 undocumented people working in this state. One of the largest criticisms you hear at grassroots level is people frustrated that some immigrants will work for a lower rate of pay. Some of these people are being exploited to the point of slave labour. They are very vulnerable and no Government serious about dealing with pay and insecure employment can lose sight of this."
Responding to claims by IBEC that an increase in the minimum wage would damage jobs, David Cullinane said:
"Nobody should have any concerns about workers having a living wage. How can we stand over a situation where we have workers who don't have the ability to meet basic needs? That is not fair or sustainable.
"I am saying to IBEC: It isn't just about increasing wages. If people have access to decent public services such as universal childcare and healthcare that would lessen the need for wage increases. These moves can only happen by having fair, just and progressive taxation and reinvesting into core services. We want to end exploitation in the workplace. I don't see how anybody could oppose that."