1 April 2015 Edition
Another Europe is possible – Treo eile don Eoraip
Funded by the European United Left/ Nordic Green Left (GUE/NGL)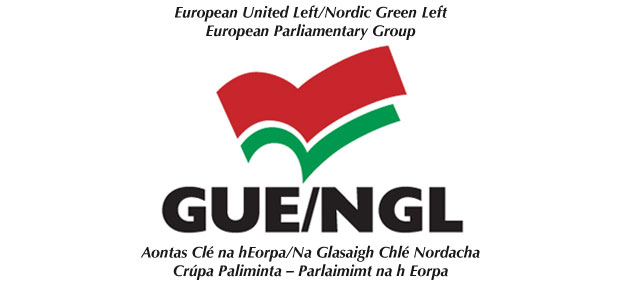 Aontas Clé na hEorpa/Na Glasaigh Chlé Nordacha Crúpa Paliminta – Parlaimimt na h Eorpa
GUE/NGL condemns Israel's continued refusal to grant MEPs entry to Gaza
• Martina Anderson MEP meets Dr Nabil Shaat, Commissioner of International Relations for Fatah
GUE/NGL MEPs Martina Anderson and Neoklis Sylikiotis, who are taking part in a cross-political delegation of MEPs to Palestine, were held for questioning for over two hours in Tel Aviv Airport on 17 March before being told that they would not be able to visit Gaza – with no justification given to explain the refusal.
The official delegation, which was set to visit Gaza the following day, aimed to assess the extent of destruction after the 2014 war and identify areas in dire need of public services.
Irish MEP Martina Anderson, the chair of the Delegation, commented:
"It is unacceptable that an official EU delegation to Palestine has been denied entry to inspect the humanitarian situation and the destruction in Gaza given that the EU is the largest donor of finance to Palestinians.
"Despite stating clearly that the remit of this delegation was to identify areas in dire need of vital public services such as schools, health centres and food distribution centres – with a purely social, economic and humanitarian focus – we continue to be blocked."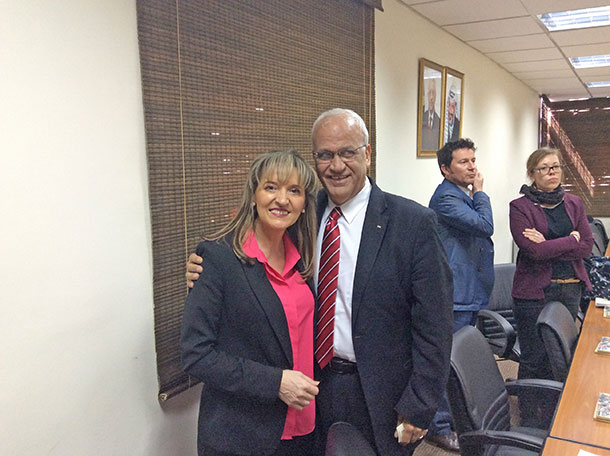 • Martina Anderson MEP and Palestinian Chief Negotiator Saeb Erekat
In September 2014, a previous delegation of 13 GUE/NGL MEPs was denied entry to Gaza.
Cypriot MEP Neoklis Sylikiotis said:
"These are blatant attempts to deter us from our mission but we will take this opportunity to visit East Jerusalem which has been experiencing a lot of tension over the last year particularly over illegal settlements, house demolitions and access to the Al Aqsa compound. We will also meet UNRWA representatives. We will continue our fight to free Gaza and end Israel's illegal apartheid."
Martina Anderson concluded:
"It is unacceptable that an official EU delegation to Palestine is refused entry to inspect the humanitarian situation and the destruction in Gaza given that the EU is largest donor of finance to Palestinians. This has to stop.
"Refusing MEPs entry to Gaza has become a worrying trend. What is Israel so keen to hide from the world?"
The other MEPs on the delegation were Margrete Auken (Greens/EFA, Denmark) and Edouard Martin (S&D, France).
Europe must fight all forms of racism and extremism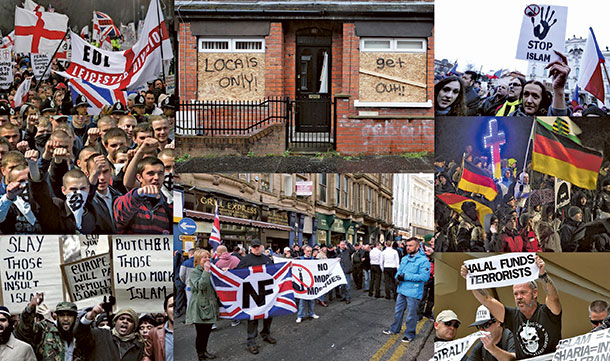 GUE/NGL MEPs have strongly condemned all acts and forms of racism, anti-Semitism, Islamophobia and xenophobia. They also called for perpetrators to be punished and for all forms of stigmatism to be eradicated from our societies.
Speaking in a European Parliament debate on 11 March, Greek MEP Kostas Chrysogonos warned: 
"Anti-Semitism, Islamophobia and extremism are particular forms of a racist mentality and in the worst cases perpetrators shed all vestiges of humanity in their hate. We must condemn these phenomena in the same way as we condemned the Holocaust after the Second World War. Public condemnation and public punishment of racism is absolutely necessary so that it can be eradicated from Europe."
French MEP Marie-Christine Vergiat said: 
"Over the past few years a climate of hatred has been rising in the EU and there have been some stop-gap solutions on the political level. But we have to combat racism together. Anti-Semistism and Islamophobia feed into each other. Muslims have been stigmatised after 9/11 and anyone with the wrong colour skin is discriminated against whether they are believers or not. We participate in this stigmatisation. We need more awareness, the separation of religion and politics and the possibility for people to express themselves religiously as if they were expressing an opinion."
Evoking racist and anti-semitic events in Dresden over the past year, German MEP Cornelia Ernst said:
"It's not religion, it's the fact that people are stigmatised, they are alienated and humiliated. They can't express their individuality. That's what happened in Auschwitz – the lesson from Auschwitz should be that the alienation of people is anti-human. We've got to get rid of racism. We've got to take social cohesion seriously within the European Union."
Spanish MEP Marina Albiol Guzmán condemned the fact that Islamophobic and xenophobic discussions have been held in this Parliament. 
"On 15 January, a French Front National MEP made declarations here talking about the Islamisation of France and linking Islam with terrorism. This is hate discourse and feeds intolerance and violence. GUE/NGL asked President Schultz to penalise this but nothing was done. Not penalising this type of xenophobic activity is giving wings to hatred and intolerance."
French MEP Younous Omarjee expressed his concern that European societies are getting closer to rupture.
"The demonic threat that is breaking up our societies and the plague that is closing in on our democracies is something we have to defy. The only way we can do that is to act together, to build on the bases of our values and fight tooth and nail against all forms of racism, religious fanaticism and fascism. It also means we have to make culture prevail over ignorance."
Energy Union must put people before energy companies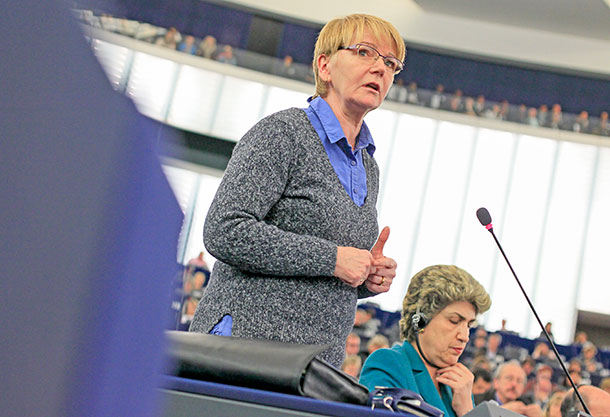 • GUE/NGL President Gabi Zimmer MEP
IN TERMS of access to energy supplies, the  security of supply with citizens' needs and interests of people should be put before those of multinational corporations, GUE/NGL President Gabi Zimmer said ahead of EU leaders meeting to discuss plans for an Energy Union.
Gabi Zimmer said: 
"I get the impression that the Council and Commission have not really addressed the basic issues behind the Energy Union: access to energy supplies and the fact that people should be centre-stage. Security of supply and stability should not be addressed from the point of view of corporations but from that of human beings.
"While the Council says it wants the EU to be both number one when it comes to renewables and less import-dependent, what it puts forward does not go in this direction. We are not moving towards change."
Speaking about the link between Energy Union and the ongoing negotiations for an EU-US trade deal (TTIP), MEP Zimmer added: 
"Fracking is the issue that connects TTIP and the Energy Union. Fracking is one of the topics that will serve as a basis for discussions and that is why you want to accelerate TTIP. As far as we are concerned, fracking is not appropriate and will lead to even more climate change. We want something different."
GUE/NGL Vice-President Neoklis Sylikiotis reiterated that energy is a basic common good and that it should not be something that allows multinationals to make soaring profits.
"The Energy Union package must address energy poverty first and foremost. It should allow equal access to all and establish an energy infrastructure that will support the people. We need to look at energy agreements between the EU and third countries. We need to adopt specific measures so that certain member states can solve their energy supply problems. We need an Energy Union that will be supported by an end to austerity policies."
Medicines research must serve public heath priorities, not big-pharma profits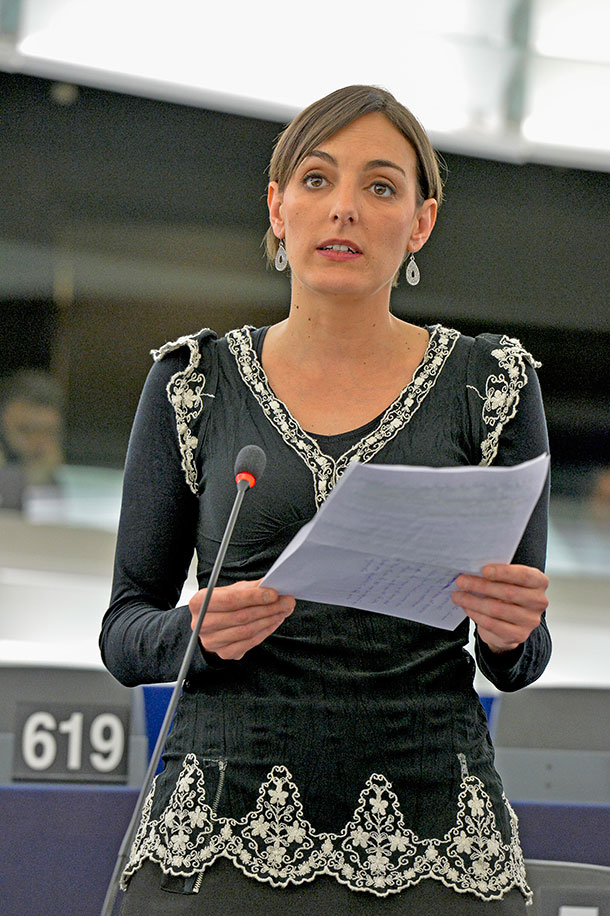 • Lola Sánchez Caldentey MEP
GUE/NGL MEP Lola Sánchez Caldentey has spoken in a European Parliament debate on the Ebola crisis and the flaws in the global biomedical research model.
The Spanish MEP said:
"Ebola clearly illustrates how patents and licences prevent people from getting access to medicines. Ebola essentially got out of control because it was not profitable to research and develop medicines to treat it.
"The current biomedical research model enriches a minority and is detrimental to global health – the logic of this model is that those with the money can get the medicine and those without are effectively left for dead.
"Patents mean that we don't develop the necessary medication for Ebola. Research into new medicine is not oriented by public health needs, but rather by profit and the interests of big-pharma. We need to research things that are beneficial to all society. The EU should show leadership in promoting new forms of biomedical research."
She concluded:
"We are talking about lives here – whose side is the Commission on?"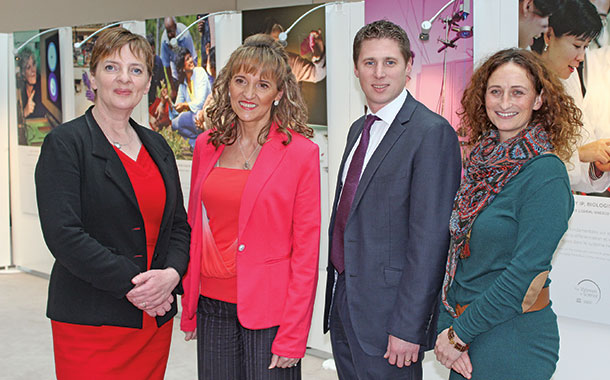 • Liadh Ní Riada, Martina Anderson, Matt Carthy and Lynn Boylan are MEPs and  members of the GUE/NGL Group in the European Parliament