1 April 2015 Edition
Former political prisoners still criminalised even after Good Friday Agreement
The QUB report recognises the centrality of the prisoners' issue to the nationalist community in particular, which saw up to 25,000 people go through prison during the conflict with a total time served estimated at 100,000 years
CONTRARY to the requirements of the Good Friday Agreement, people imprisoned for conflict-related offences are still being criminalised, according to a report commissioned by ex-prisoners' organisation Tar Isteach.
Queen's University Belfast Professor Pete Shirlow and researcher Ciarán Hughes carried out a Survey of Conflict-Related Prisoners' Experiences. The findings are contained in their report An Unaddressed Legacy (January 2015) which says that the exclusion of ex-prisoners from the debate around issues of "victims and the past"  is effectively excluding them from "normal social activities".
The research was carried out among republican former prisoners in north Belfast in 2014. It included a survey of 51 prisoners, men and women, who spent an average of seven years in jail with one in eight of those surveyed serving at least 16 years.
This continued "criminalisation", states the report's findings, "is contrary to the Good Friday Agreement and the costs of those exclusions are labour market exclusion, penury and reliance upon benefits". This consequently undermines the ex-prisoners' "good health and creates a financial burden on the state".
The research also found that respondents who are unemployed are more than twice as likely as those who work to take anti-depressants or medication for anxiety or sleeping difficulties, say the authors.
This is compounded by the fact that, for those with conflict-related convictions, there is no equality of treatment within fair employment legislation.  
Section 2(4) of the Fair Employment and Treatment (Northern Ireland) Order 1998 states:
"Any reference to a person's opinion does not include an opinion which consists of or includes approval or acceptance of the use of violence for political ends connected with the affairs of Northern Ireland."
This section has been used to exclude former prisoners jailed for conflict-related offences from employment.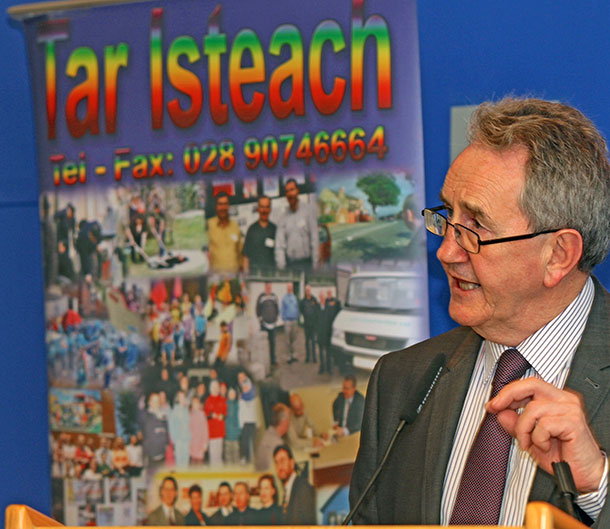 • Coiste na nIarchimí Chairperson Michael Culbert
According to Michael Culbert, Chair of Coiste na nIarchimí, the national republican ex-prisoners' umbrella organisation:
"This legislation means that employers are legally entitled to discriminate against ex-prisoners who, to a large extent, are from deprived and marginalised communities in the first place."
The report emphasised that issues affecting former prisoners are "not merely personal issues as they influence family life, community development and the speed at which transitional progress occurs".
It recognises the centrality of the prisoners' issue to the nationalist community in particular, which saw up to 25,000 people go through prison during the conflict with a total time served estimated at 100,000 years.
Contrary to what many people might believe – that the situation for former prisoners has been resolved or is less relevant in the process of building the peace – the report finds that "the social, welfare and health needs of such persons are largely unaddressed, which means that welfare dependency is worsening".
It is in this context that the threat to the future of groups dealing with issues affecting the lives of former prisoners must be seen.
Cuts to the funding of these groups will basically "leave significant sections of those within the most deprived communities in the North without sites in which to gain representation of issues, advice and valuable counselling and emotional support", the report argues, adding:
"Protecting and developing the capacity of ex-prisoners' groups is crucial to sustaining forms of post-conflict development and service delivery to a constituency containing many who are vulnerable, susceptible to ill-health and exposed to ongoing exclusion."
Examples of this "ongoing exclusion" includes difficulties acquiring home and car insurance, restrictions on international travel, and "difficulty in accessing certain roles in society due to increasing security checks".
The crucial role as a service provider to the ex-prisoner community by groups such as Tar Isteach is underscored by the sheer number of queries and contacts (upwards of 4,000 a year) that they deal with.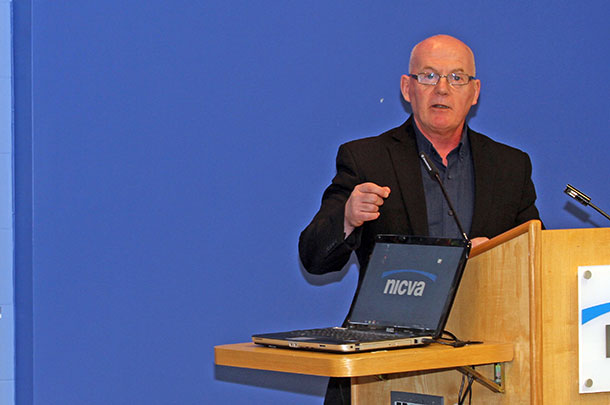 • Tar Isteach Chairperson Paul O'Neill
Speaking at the report launch, Tar Isteach Chair Paul O'Neill, said that were Tar Isteach and the other ex-prisoner groups to lose their funding "the communities that they serve would suffer, including an estimated 10% of people from the Protestant, unionist and loyalist community who come through our doors".
It is ironic then, that 17 years after the signing of the Good Friday Agreement, former prisoners see themselves, according to one respondent, as "second-class citizens . . . demonised day and daily in the press" and scapegoated by unionist politicians with the support of the SDLP.
"Ultimately," according to report authors Shirlow and Hughes, "peace-building in Ireland rings hollow if any section continues to experience emotional, physical and exclusion problems and issues. That is all the more important if we conclude that many of those issues are worsening."