1 April 2015 Edition
Cat among the pigeons
Deputy Mayor of Craigavon Catherine Seeley in Upper Bann election contest takes inspiration from Sheena Campbell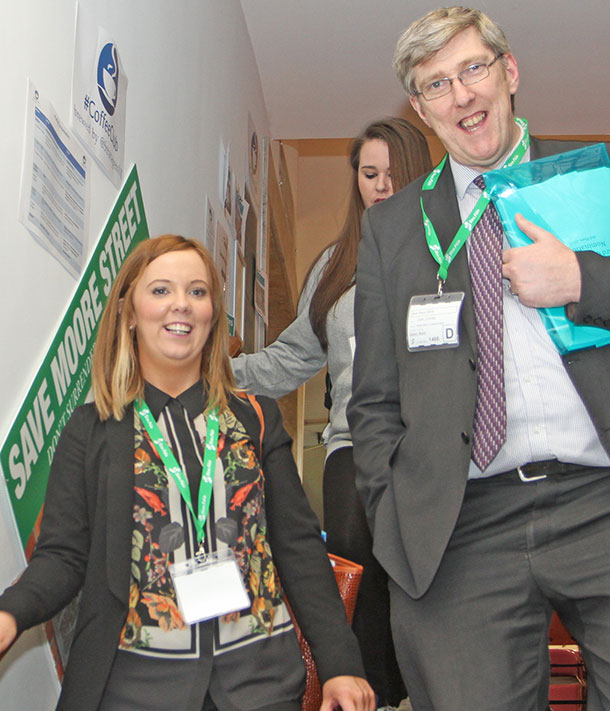 The Protestant Coalition waged a sectarian hate campaign to drive the young Catholic teacher out of her job at a Protestant boys' school – her students praised her
CATHERINE 'CAT' SEELEY is flying the Sinn Féin flag in the Upper Bann constituency in the Westminster elections on 7 May. She is under no illusion that the task she faces is a massive one.
"To win the seat," she points out to An Phoblacht, "Sinn Féin will need to overturn a huge unionist majority in a constituency that has consistently returned Ulster Unionist Party politicians of the calibre of David Trimble and, before him, Harold McCusker."
The Upper Bann constituency was formed in 1983 and its first MP, McCusker, won at a canter, polling 24,888, which gave him a majority of 17,081.
"Sinn Féin's Brendan Curran attracted 4,110 votes," Cat says, smiling at the enormity of the challenge.
The constituency centres on north Armagh and includes Lurgan, Portadown and Craigavon.
After Harold McCusker's death from cancer in 1990, David Trimble was the Ulster Unionist Party candidate and he retained the seat for the UUP.
In 2005, however, Trimble, by then the leader of the UUP, lost the seat to the Democratic Unionist Party candidate, David Simpson. 
That 2005 Westminster election saw Ian Paisley's party eclipse the Ulster Unionists, who ended up with no Westminster representation at all.
Trimble has all but disappeared off the political map, the UUP is on a life-support system and the DUP is in the driving seat of unionism.
With Upper Bann being seen through the prism of the unionist politics that dominates the constituency, it should be no surprise that the sea-change taking place in nationalist politics would go unnoticed. Well, almost unnoticed.
Catherine Seeley says:
"In 1983, the SDLP candidate in the constituency was James McDonald. His 7,807 total was almost twice that of Sinn Féin's.
"In the 2010 contest, though, John O'Dowd (now Sinn Féin Minister for Education in the Executive) polled 10,237, almost double that of SDLP deputy leader Dolores Kelly.
"Clearly the swing from the SDLP to Sinn Féin is an indication that more and more nationalists see the republican party as the only party that can seriously challenge unionist hegemony, not just in Upper Bann but right across the North."
It is against this backdrop that CATHERINE SEELEY spoke to An Phoblacht's PEADAR WHELAN.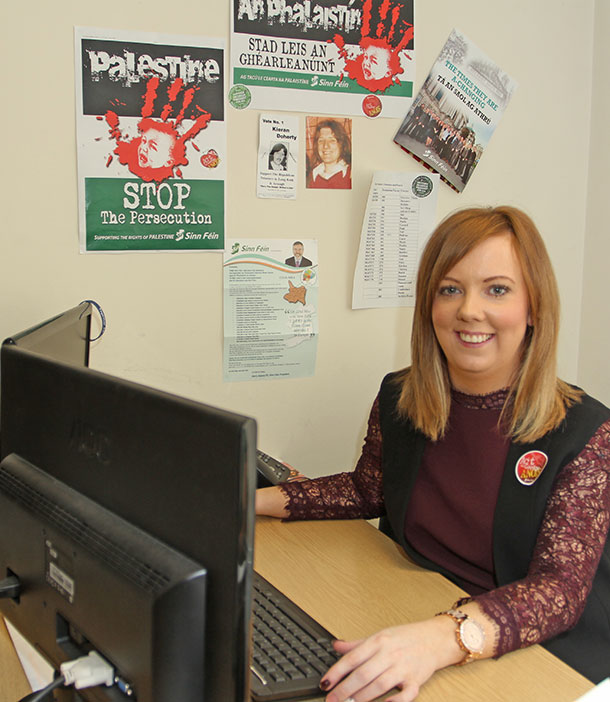 • Catherine Seeley: The DUP's David Simpson is alarmed at the challenge posed by Sinn Féin
THE 27-year-old from Lurgan, who graduated from Queen's University Belfast with a degree in Politics and History before she qualified as a teacher, comes from a strong republican background.
Her uncle, John Francis Green, was shot dead on 10 January 1975 in County Monaghan.
His assassination is believed to have been carried out by members of the infamous Glenanne Gang, a unionist death sqaud which included serving and former members of the British Army/Ulster Defence Regiment and the RUC police working hand in glove with unionist paramilitaries, particularly the Ulster Volunteer Force. Among those who worked with it were Military Intelligence and SAS operatives, including Captain Robert Nairac, based in Portadown's Mahon Road barracks.
Catherine Seeley's other uncle, Leo, was imprisoned for 16 years in the H-Blocks of Long Kesh and spent four years on the Blanket Protest. He was one of seven prisoners to embark on hunger strike in 1980 and went 53 days without food.
Talking about her experience of frontline politics to date, Seeley explains that after she was co-opted on to Craigavon Borough council to replace sitting Councillor Johnny McGibbon (who stood down in January 2014), she found herself in the eye of the proverbial storm.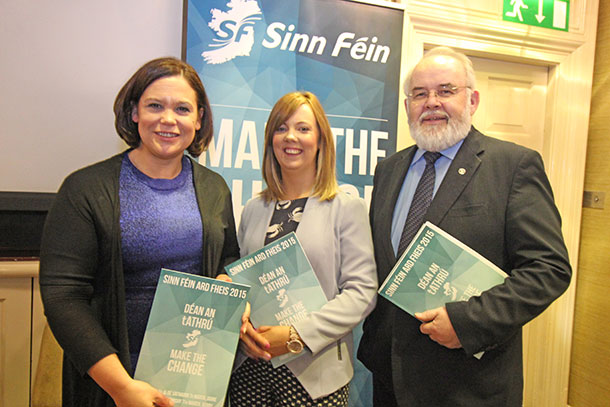 • Mary Lou McDonald TD, Councillor Catherine Seeley and Francie Molloy MP
Catherine was teaching in the Belfast Boys' Model Secondary School in north Belfast at the time.
She was targeted in an online, sectarian hate campaign primarily through a Facebook site run by the Protestant Coalition that led to death threats. 
Within two weeks (and despite the courageous public support of her students, their families and trade unions) she had little option but to give up the job she loved at the state-run secondary where she taught Learning for Life and Work.
The Protestant Coalition, closely associated with Armagh serial publicity-seeker Willie Frazer, was the driving force behind the flag protests which brought loyalist mobs onto the streets of the North, resulting in many instances of serious rioting and street disturbances.
One post aimed at Catherine Seeley read: "Get these pro-republican supporters and perverted RC teachers out of every Protestant school in Northern Ireland."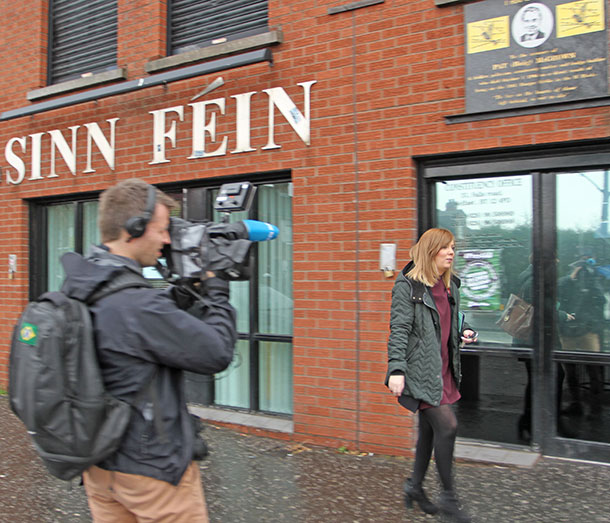 • Catherine Seeley left her teaching job shortly after an online hate campaign against her by unionists
Shortly after she left her post, Seeley addressed the Sinn Féin Ard Fheis in Wexford. She thanked her students for their support:
"I want to take this opportunity to publicly send a message of gratitude to those pupils who have courageously offered me their full support.
"They are a testimony to the values that should permeate not just education but every aspect of society. They inspire hope and confidence in me for the future."
Later in 2014, Catherine Seeley was elected as Deputy Mayor of Craigavon with the votes of the Ulster Unionist Party, an election that raised the hackles of the DUP (Mayor Colin McCusker, son of the late Harold, was elected with the support of both Sinn Féin and the SDLP).
"This is a sign that even Craigavon Council is changing," Catherine says with hope. "Since it was established in 1973, there have only been two nationalist mayors as both unionist parties have dominated the positions.
"This came to a head in 2012 when, despite Sinn Féin being the second-largest party on the council, unionists refused to use the d'Hondt mechanism when electing the mayor and deputy mayor, thus excluding the party from the posts.
"There is an interesting dynamic on Craigavon Council now and across the constituency as the Ulster Unionist Party seems more open to co-operating with Sinn Féin."
Seeley is also quick to point out that her Ulster Unionist Party rival in May's election, Jo-Anne Dobson, "is very hard-working and takes a genuine interest in issues that are brought to her".
She adds:
"It is also interesting to see the DUP's David Simpson doing a good bit of canvassing this time round. I think he took voters for granted but sees a threat to his seat so he's out and about more. It'll be interesting to see where it goes.
"When Martin McGuinness proposed an electoral pact with the SDLP and mentioned Upper Bann as one of the constituencies that could see Sinn Féin unseat a unionist it caused Simpson no small amount of concern.
"He blogged that it would be a travesty if Sinn Féin took the seat, writing that it was 'a unionist seat'.
"David Simpson needs to know that it's the people's seat and the days of unionists seeing Upper Bann as a safe seat are over", asserted the Sinn Féin candidate.
"With more and more people throughout the constituency accepting that Sinn Féin is the only nationalist party with a realistic chance of seriously challenging for the seat, then we can make serious inroads.
"The SDLP even accept that and their candidate, Dolores Kelly, is waging a negative campaign against me in particular and Sinn Féin in general. It seems she is more focused on retaining her Assembly seat than anything else. Hers are the politics of desperation" said Seeley with a grin.
A bubbly, smiling Catherine speaks enthusiastically of the inspiration she takes from one of the constituency's more celebrated activists, the late Sheena Campbell.
• Sheena Campbell, John O'Dowd and Brendan Curran
Sheena made her mark in Sinn Féin when she masterminded the electoral strategy that saw Francie Molloy elected to the Torrent Ward of Dungannon District Council in November 1990. In organising the campaign, Sheena restructured Sinn Féin's entire approach towards elections and election canvassing. In October 1992, Sheena, a 29-year-old law student at Queen's University, was shot dead by a unionist death squad as she sat in the York Hotel, Belfast.
"I am so inspired by her commitment and activism and in fighting this election," Catherine says, "I hope to honour her memory with a result that sees Sinn Féin stronger and more effective in our work."