1 April 2015 Edition
Sinn Féin Bill on voting rights for emigrants and 16+ passes
'There is no credible reason for delay in putting the question of emigrant voting rights to the people' – Sorcha Ní Mhealláin, We're Coming Back
A Sinn Féin Bill which will see a referendum on the extension of voting rights in Presidential elections to the Irish Diaspora and Irish citizens in the North – as well as the lowering of the voting age to 16 – passed first stage in the Dáil in March. 
While Government deputies did not oppose the Bill, concerns have been raised that the Bill will now sit in limbo after Fine Gael and Labour deputies confirmed it would not be dealt with in the current Government's term.
Moving the Bill, Sinn Féin's Michael Colreavy TD said the silencing of Irish voices from north of the Border and those of young people was not acceptable:
"Some people will say that this is the thin end of the wedge and I would unashamedly say, 'Yes, it is the thin end of a wedge.' I and my party would argue that all Irish people should be represented in this Parliament and in Áras an Uachtaráin, and representation in Áras an Uachtaráin is an important step on that journey."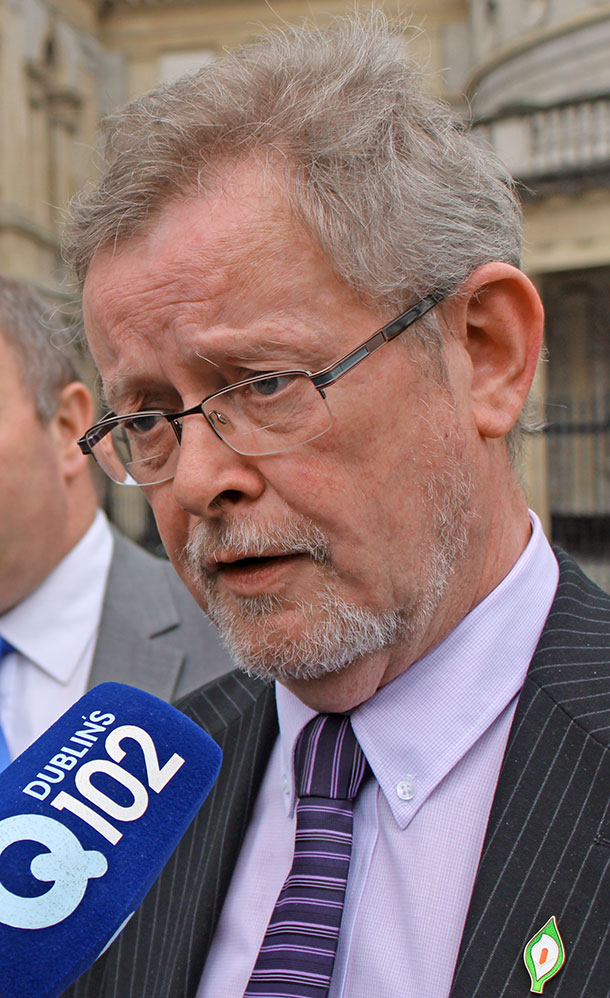 • 'My party would argue that all Irish people should be represented in this Parliament and in Áras an Uachtaráin' – Michael Colreavy TD
During the debate it was highlighted how more than 100 other states have extended voting rights, of some form, to their diaspora. Cork East Deputy Sandra McLellan TD said: 
"It is simply not good enough for the Taoiseach to say now that the issue of presidential voting rights is for the next Government to address."
Sinn Féin's Caoimhghín Ó Caoláin TD accused Fine Gael and Labour of being "afraid of giving a voice to those citizens who were effectively exiled".
The Sinn Féin Bill received widespread support from Irish emigrant groups as well as backing from Fianna Fáil, Independent deputies and smaller parties.
Though not opposing the Bill, some within Government ranks were clearly unhappy with the proposal. 
Labour's Eamonn Maloney TD said:
"I do not think there is a yearning or a burning ambition to have a say in the election of a President in a country in which they do not live."
'16-year-olds in many cases are probably more clued-in than many of us older people' – Seán Crowe TD
This is something which is disputed by emigrant groups, including the We're Coming Back campaign, who say high rates of emigrants over the past six years have put the issue firlmly back on the table:
"We believe that all Irish citizens living abroad deserve the right to vote and to be included in the democratic dialogue."
Both Seán Crowe and Mary Lou McDonald hit out at the Government's use of the Diaspora as a cash-cow to drive business and tourism while ignoring their calls for voting righs.
"It is not a one-way street," said Seán Crowe. 
He also criticised arguments being used to deny 16-year-olds a vote. Some TDs claimed that there is no interest amongst young people in politics and that young people do not know anything about such issues.
"The same argument previously used against extending voting rights to women is now being put forward in respect of 16-year-olds, who in many cases are probably more clued-in than many of us older people," he said.
Speaking to An Phoblacht after the Bill passed first stage, Sorcha Ní Mhealláin of the emigrant rights We're Coming Back campaign welcomed its passing. Reacting to fears the Bill may now be left in limbo, she said: 
"We firmly believe that there is no credible reason for delay in putting the question of emigrant voting rights to the people and working towards listening to the voice of our Irish people overseas."
Sorcha also highlighted the failure of succesive governments to deal with this issue:
"In March 1991, our current Taoiseach, President and Minister for Diaspora Affairs all voted in favour of emigrant voting rights but, 14 years on, they have continued to fail, to ignore and to exclude our citizens abroad."
The Thirty-Fourth Amendment of the Constitution (Presidential Voting) Bill 2014 has now been referred to the Select Sub-Committee on the Environment, Community and Local Government which will debate changes and amendments.