1 April 2015 Edition
SDLP stands idly by as DUP/UUP axis threatens progressive politics
"Unionist election pact aimed at preventing equality and imposing a Tory austerity agenda" – Gerry Adams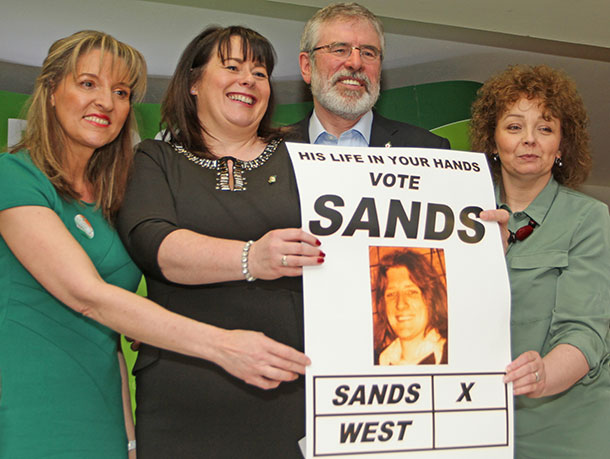 SDLP leadership has actively facilitated DUP/UUP axis by refusing to talk to Sinn Féin about how to counter the threat to pro-Agreement politics
SDLP LEADER Alasdair McDonnell has made "a monumental strategic blunder" by refusing point-blank Martin McGuinness's invitation to discuss the Westminster election pact by the Democratic Unionist Party and the Ulster Unionist Party, Gerry Adams has said.
The pact covers four constituencies: East Belfast, North Belfast, Fermanagh & South Tyrone, and Newry & Armagh. (See Peadar Whelan's analysis on opposite page.)
Gerry Adams was speaking at the election launch in County Tyrone on 22 March for Michelle Gildernew when the Sinn Féin leader said:
"The recently-announced unionist electoral pact for the Westminster election is a negative alliance.
"It is aimed at preventing equality of citizenship, frustrating political progress and imposing a Tory austerity agenda.
"Unfortunately, the SDLP leadership has actively facilitated this by refusing to talk to Sinn Féin about how to counter the threat to pro-Agreement, progressive politics.
"It is a monumental strategic blunder by Alasdair McDonnell to spurn engagement with Martin McGuinness on this crucial issue.
"His elevation of petty self-interest above the wider needs of society and the future of the political process is a failure of political leadership.
"For Sinn Féin's part, we are focused on continuing the process of political and social change, not just in the North but throughout this island.
"Talks have intensified this week in an effort to secure the implementation of what was agreed at the Stormont House Agreement and key to this for us is to achieve the protections agreed for the most vulnerable in society."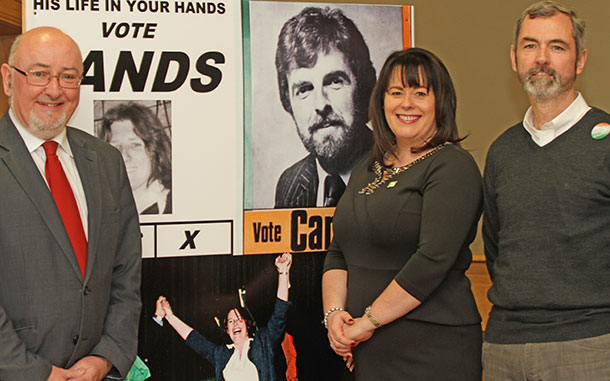 • Caoimhghín Ó Caoláin TD and Monaghan Councillor Seán Conlon with Michelle Gildernew MP
Michelle Gildernew said at the launch of her Westminster election campaign at the Ryandale in the Moy, that she has held the iconic Fermanagh & South Tyrone seat won by Bobby Sands in 1981 since 2001. She said said is "still extremely humbled and proud to be following in the footsteps of Bobby Sands and Owen Carron – two of the greatest revolutionaries the Republican Movement has ever had".
Having held off the challenge of a 'unionist unity' candidate in 2010 by a margin of just four votes on polling day and subsequently reduced after a court battle ruling out three votes to one single vote.
"In no other constituency does the 'every vote counts' motto carry such relevance," Michelle Gildernew emphasised
"Eyes from right across the world, not just the North, will be on this constituency in the next eight weeks. 
"We need to send them a clear, unambiguous message that Fermanagh & South Tyrone is staying Sinn Féin."

• Martina Anderson MEP, Michelle Gildernew MP, Gerry Adams TD and Carál Ní Chuilín MLA listen as Bik McFarlane sings 'Song for Marcella' in tribute to his friend and comrade Bobby Sands
She urged republicans and other supporters of progressive politics to rally round the election campaign to have Michelle Gildernew returned as MP on 7 May:
"You have already given up your Sunday to come here today. 
"So I am asking each and every one of you to play your part in the third election campaign to keep the Fermanagh & South Tyrone MP seat a republican one; one with an MP that fights against austerity, 
"One with an MP that will not make the rich richer and the poor poorer. And one with an MP that will swear allegiance to the people of Fermanagh & South Tyrone, not to any foreign government but to work for the sovereign right of the people of Ireland to determine their own destiny."
She had a message for her opponent, former Ulster Defence Regiment soldier Tom Elliott, ex-leader of the Ulster Unionist Party:
"Tom Elliott would like to turn this election into a sectarian headcount but I have news for Tom – Sinn Féin doesn't do sectarianism, I don't do sectarianism, and I will continue to represent everyone, regardless of creed, colour or sexual orientation.
"Tom can make open pacts with his fellow unionists and silent pacts with those parties whose leadership can't even remember if they have selected a candidate yet for Fermanagh & South Tyrone," Michelle said to laughs, "but it will not stop the forward growth of Sinn Féin.
"Sinn Féin's three senators, four MEPs, five MPs, 14 TDs, 29 MLAs, 264 councillors, over ten thousand members and half a million votes across this island make us the largest party in Ireland. Let us in Fermanagh & Tyrone make that even bigger."
• Playwright and ex-prisoner Laurence McKeown chats to Foyle candidate Gearóid Ó hEára