2 February 2015 Edition
She shoots, she scores, the media 'phwoars'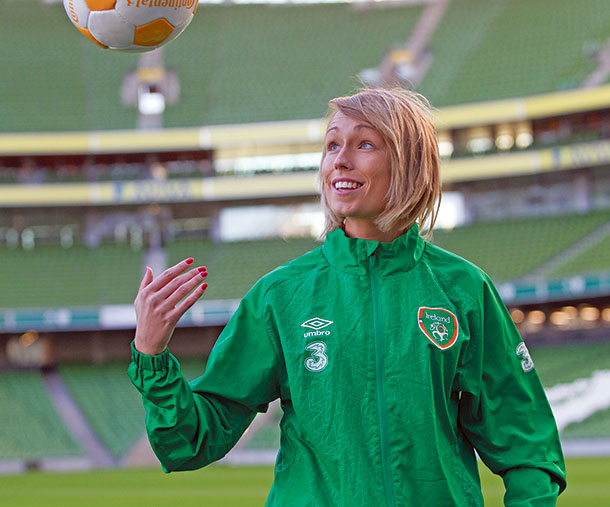 The enduring image selected to represent Stephanie Roche's phenomenal success was that of a poised, beautiful woman being 'checked out' by Christiano Ronaldo
IT WAS 'INTERESTING' that Stephanie Roche's second place in FIFA's Puskás Award for 2014 Goal of the Year against competition such as Robin van Persie and James Rodriguez (an amazing achievement in itself) was celebrated in the same way on the front pages of most papers. 
The enduring image selected to represent her phenomenal success at the awards at the FIFA Ballon d'Or Gala in Zurich was that of a poised, beautiful woman being 'checked out' by Christiano Ronaldo.
And what harm? Fair play to Stephanie, a proven footballer of great talent, 'a woman in a man's game'. Stephanie scored the best goal but did not win. So the story the mainstream media carried was that of Stephanie's consolatory triumph – the approval of world famous footballers for her appearance.
But is this really a winning story? Or does it just serve to reinforce the trope that a woman's value is tied to her looks? 
It is telling that other (technically superior) images of Stephanie on the night, such as that of her and Ronaldo beaming at each other as contemporaries, were pushed to one side. This underlines the discomfort in the portrayal of women in the media, especially young women, as more than just objects for our appraisal.
The result of this constant focus on appearance means that the true achievements of women such as Stephanie are sidelined. This often obscures a more compelling narrative, such as in Stephanie's case, that of a girl who at one stage was not allowed to play soccer with the boys but who had the passion and determination to follow her ambition. 
The media focus after the awards was typified by questions such as 'How did you feel when they looked at your legs?' It was patronising beyond belief.
Young people are incredibly vulnerable as to what norms society expects them to uphold. These messages are not subtle and they are so terribly pervasive. 
Stephanie Roche is a brilliant role model but if media emphasis is on her winning looks and relegating her sporting achievement, then her ability to empower young girls to follow their goals (particularly in male-dominated areas of society) is sadly diminished, a disservice to all, and not least to 'The Beautiful Game' itself.