2 February 2015 Edition
IRA leaders Emmet Dalton and Frank Aiken
Book Reviews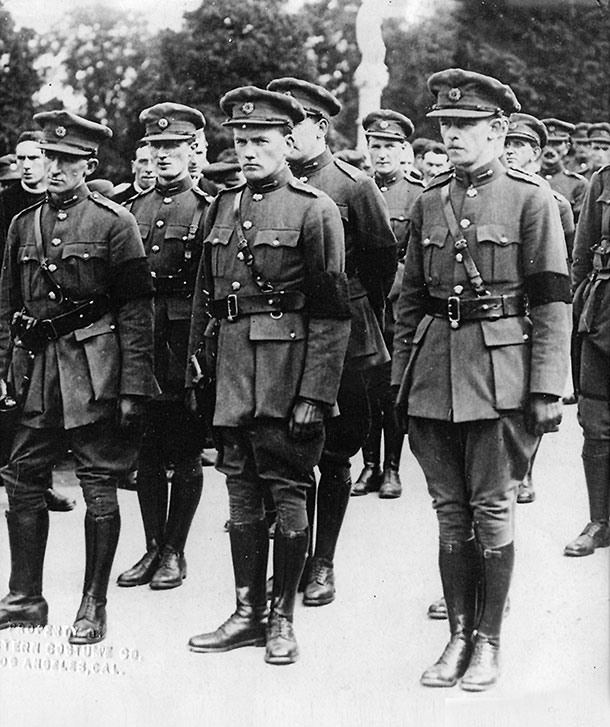 Awarded the Military Cross in person by King George V from the Battle of the Somme, Dalton became IRA Director of Training, went to London with Michael Collins in the Treaty delegation, and commanded the British field guns that shelled the Four Courts
A dedicated Free State soldier
Emmet Dalton: Somme Soldier, Irish General, Film Pioneer
By Seán Boyne. Merrion Press. Price €25.99
SEÁN BOYNE was a journalist with The Irish Press. He was also Political Correspondent with the Sunday World. One imagines that the latter position would have left him with a considerable amount of free time in which to research this book.
A reasonable degree of research is evident but it is the relentlessly uncritical tone of adulation in this biography that is such an irritant. Emmet Dalton is, without doubt, a most interesting character but the flaws he exhibited in his lifetime are either exonerated or airbrushed out of existence. 
Born in Boston in the United States to fairly prosperous Irish-American parents, the family moved to Ireland when Emmet was an infant. His family was staunchly nationalist but in the Redmondite tradition, which explains the young Emmet's decision to seek a commission in the British Army in late 1915.
His first active role as a lieutenant appears to have been guarding strategic British positions in Wexford, and rounding up 'Sinn Fein sympathisers' for internment in the wake of the Easter Rising.
Transferred to the Western Front, he won a Military Cross during the prolonged Battle of the Somme and which was awarded in person by King George V at Buckingham Palace. Never, at any time, does Emmet Dalton appear to express any misgivings about his time in the British Army. Whilst his brother, Charlie, was becoming immersed in IRA activities, Emmet appeared content to bask as a returned war hero. It wasn't until he was lifted in a raid on his parents' home in lieu of his absent brother that he appears to have adopted a more critical attitude towards the British Army and the political status quo. 
Emmet Dalton's entry into the IRA was facilitated by Charlie's activism, enabling him to overcome distrust of his British Army background and immediately assume the role of Assistant Director of Training in IRA GHQ Staff and rise to become Director within months.
Dalton appears to have become something of a favourite with Michael Collins who inducted him into the Irish Republican Brotherhood and brought him to London as part of the Treaty delegation. Throughout his life, Dalton remained a staunch defender of the Treaty. Unlike many others who accepted it grudgingly, Dalton always denied that it had been signed under duress, insisting that it was a negotiating victory for the Irish side. 
Dalton was a key figure in the Free State military leadership. It was he who obtained and commanded the British field guns that shelled the Four Courts. He was instrumental in recruiting large numbers of ex-British Army servicemen into the new Free State Army. He was with Michael Collins at Béal na Bláth. He organised amphibious attacks and used aircraft against republicans. His star was definitely in the ascendancy when he suddenly resigned. No reason was given then but the author says that, in later years, Dalton claimed that it was in protest at the execution of prisoners. This would be plausible if only Dalton had not called for executions without trial and had been placed on a death list by Ernie O'Malley for abuse and murder of prisoners. 
There are major unanswered and unexplored questions here.
The book dwells on Dalton's commercial ventures (private detective, film pioneer, horse racing enthusiast and golf fanatic) but it is all curiously unsatisfying. One gains a superficial view of Dalton but never his real motivation. Perhaps the seeming superficiality of this book is merely a reflection of the character of its subject.  
A Frank Aiken analysis
Frank Aiken's War: The Irish Revolution 1916-23
By Matthew Lewis. University College Dublin Press. Price: €28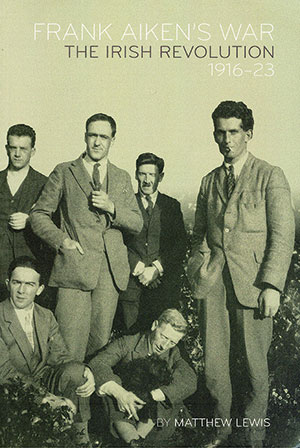 THIS is one of two major works on Frank Aiken to be published recently. The reason why books such as this are now appearing is explained in Matthew Lewis's introduction to his work. He reflects that historians thought it unwise to consider republican politics and violence in the Six Counties during the Tan War in case it legitimised or glorified physical force republicanism (as if partition, pogroms and repression by the sectarian, anti-democratic Orange State wasn't enough). 
A quick glance at histories of this period show them to be almost exclusively concerned with Munster and Dublin. Only now are historians analysing republican activity in the North, both political and military, in an objective fashion.
This book does not purport to be a comprehensive biography. It is a detailed, forensic analysis of the Tan War and Civil War periods. Its origins in Matthew Lewis's doctoral thesis are apparent in its profoundly academic tone and meticulous research. It is without judgements, either moral or political, or its own pre-packaged agenda.
Matthew Lewis offers a definitive analysis of the infamous killings at Altnaveigh. He states that the killings were both reprisal and deterrent but that their motive was in no way sectarian. "The victims of Altnaveigh . . . were not targeted as Protestants but as (real or perceived) members of the dominant unionist community." The problem, of course, being that because all the victims were Protestant, the shootings were portrayed as an attack on the Protestant community rather than on unionists. Thus the killings could be branded as sectarian in the Protestant consciousness rather than a politically-motivated act.
This is an interesting little book, absolutely stuffed with facts and offering new insights into a long-neglected aspect of this pivotal period of Irish history.