2 February 2015 Edition
Another Europe is possible – Treo eile don Eoraip
This is funded by the European United Left/ Nordic Green Left (GUE/NGL)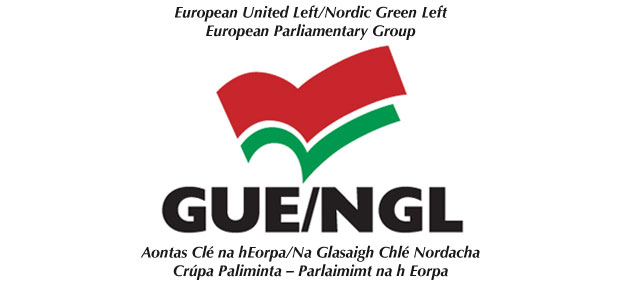 'Those who armed the extremists and nurtured the Islamic State find themselves fighting on ruins . . . EU foreign policy is not dictated by logic but by self-interest, militarism and interventionism'
Stop the warmongering and give peace a chance
IN a European Parliament debate in January on the EU's common foreign and security policy, GUE/NGL MEPs called for an end to increasing militarism and interventionism.
"Rather than providing solutions to conflicts, the EU actually contributes to many wars," said Sabine Lösing, GUE/NGL Co-ordinator on Parliament's Foreign Affairs Committee. 
"The increasing use of arms and militarisation means that NATO and the US will ensure that war becomes a normal state of affairs again."
She added: 
"The road to peace must begin with a genuine effort to fight poverty. We should try to feed the world. We should no longer use development money for military aid. If we continue to fail to correct warmongering in the world it will be impossible to stop people fleeing poverty and suffering to try to reach Europe."
Pablo Iglesias told the EU's foreign policy chief, Federica Mogherini, during the debate:
"Given the circumstances we're in, and given the fanaticism and the attacks in Paris, we shouldn't be talking about a clash between West and East. You said we are a superpower – it would be desirable for Europe to become a superpower of peace."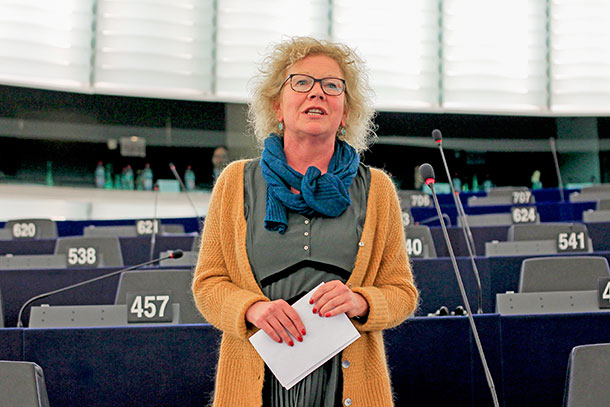 • Sabine Lösing MEP  Pic: Olivier Hansen/GUE/NGL
Speaking about the conclusions of the EU council on Common Foreign Security Policy (CFSP), Javier Couso said:
"We cannot get into this debate without looking at the whys and wherefores of the recent tragic events in Paris," said Takis Hadjigeorgiou. "Europe finds itself staring into the abyss, which has its roots in the West's policies in Iraq, Syria and Libya."
He continued:
"Those who have bred this monster now want to exterminate it. Those who armed the extremists and nurtured the Islamic State, find themselves fighting on ruins. This does not mean that there is any justification or explanation for the cowardly murder of the Charlie Hebdo journalists. EU foreign policy is not dictated by logic but by self-interest, militarism and interventionism."
Welcoming news that that Palestine will be joining the International Criminal Court on 1 April, Martina Anderson said: 
"This political, peaceful and legitimate course of action by the Palestinian Authority grants jurisdiction to the ICC over any crimes and crimes against humanity committed in the Occupied Territories and applies to all parties in the conflict."
She continued: 
"Member states need to be clear that Palestine's joining of the ICC is a legitimate step and is in no way an attempt to aggravate an already tense situation and therefore no one should try to stir up the flame of confrontation."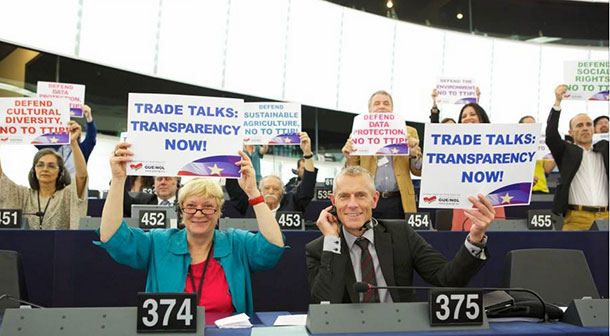 Pic: Olivier Hansen/GUE/NGL
European Parliament gears up for key discussions on TTIP
Commission can't sidestep around ISDS concerns
IN DEBATES in Brussels, GUE/NGL has reiterated its demand that Parliament's stance on TTIP reflects citizens' concerns over the aims and contents of the negotiations.
As the crucial May plenary vote on TTIP approaches, MEPs on Parliament's International Trade Committee were discussing an input paper to the EP's eventual position on the controversial EU/US deal.
MEP Helmut Scholz, shadow rapporteur for the group on TTIP, said: 
"As MEPs we must act in the interests of those we represent. The TTIP agreement has to be ratified by the European Parliament before it can enter into force. We must categorically reject the idea that public goods, commons, and citizens' democratic rights become subject to commercial interests.
"The public needs clarification on the regulatory co-operation being targeted as the current positions directly undermine the democratic rights of legislators to decide on future economic, social and commercial development – on both sides of the Atlantic."
ISDS concerns
97% of citizens who responded to the Commission's consultation process on an investor-to-state dispute settlement (ISDS) mechanism said they were against handing corporations the power to take action against sovereign governments. Yet the Commission seems intent on ignoring these concerns by simply including it anyway, with some slight modifications, with a revised proposal on ISDS to come from Commissioner Malmström in the spring.
Scholz reacted: 
"We heard Jean-Luc Demarty, Director-General for Trade at the European Commission, tell us that most citizens only opposed ISDS in the consultation because they don't understand it. This is hugely insulting to citizens, not to mention simply not true. We don't want a revised proposal, we want it thrown out.
"But it is not just TTIP. We want ISDS out of all trade agreements, such as CETA and the Singapore/EU agreement. If there is ISDS in CETA, American companies would be able to use their affiliates in Canada to sue European states. I strongly deplore that during the debate the Latvian Presidency refused to reopen negotiations on CETA to get rid of ISDS."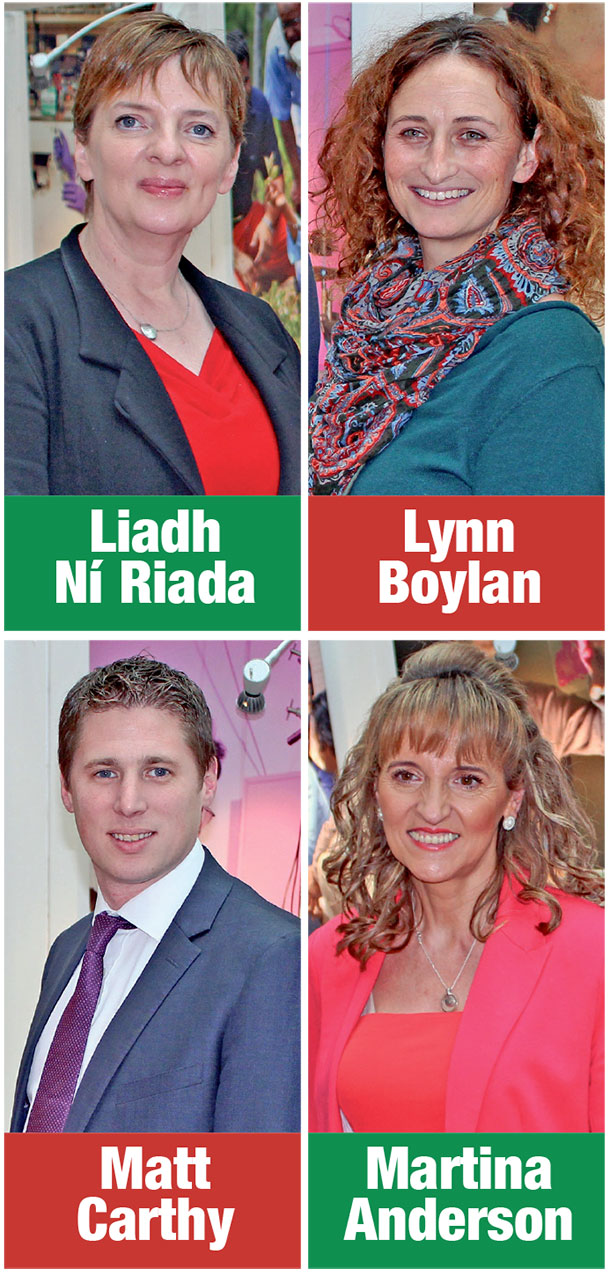 • Liadh Ní Riada, Lynn Boylan, Martina Anderson and Matt Carthy are MEPs and  members of theGUE/NGL Group in the European Parliament
GUE/NGL MEPs deplore migrant 'ghost ships' in Mediterranean
Humanitarian corridors, legal channels and safe access urged for refugees and asylum seekers
"IT IS HORRENDOUS when traffickers in the Mediterranean abandon a ship with 450 refugees on the high seas, from whom they have previously extorted up to 6,000 euro," said Cornelia Ernst, GUE/NGL Co-ordinator on Parliament's Civil Liberties Committee, during a European Parliament debate on recent events in the Mediterranean.
"And it is even more disgraceful to use an old cattle transport freighter with hundreds of refugees in cattle pens as a new business idea," she continued.
MEP Ernst said: 
"EU asylum policies and FRONTEX [borders security agency] encourage profit-hungry human smuggling and bear ultimate responsibility for the current situation. And the more member states believe that they do not have to change their repressive border protection policies, the worse methods of smuggling are going to get. What we need is a change of tack for asylum. We urgently need legal channels and safe access to Europe."
Barbara Spinelli said:
"In a European Union in which, in the name of security, ministers of the interior are obsessed with collecting air passenger data, it is amazing that they can let the phenomenon of ghost ships – 13 in three months – with hundreds of people on board continue.
"It is outrageous that some Mediterranean countries, in collusion with the traffickers, pretend not to see the ships and refuse assistance when an SOS is made."
Marie-Christine Vergiat said:
"Once again we are talking about a tragedy of migrants in the Mediterranean. And the death toll has never been so high – 4,000 people or more, mainly Syrians and Eritreans. 
"Their nationality shows that they are potential asylum seekers that are not being given protection by EU member states. Never before have migrants taken so many risks; never have smugglers taken so few. So where is the solution? Surely it is not in closing borders, in referring problems to third countries and scaremongering."
Speaking about her recent visit to the Spanish enclave of Melilla, Marina Albiol Guzman said she was "angry and pained" to see and listen to stories of women and children from Nigeria who were victims of human trafficking and sexual exploitation and had paid to get to Europe. She also spoke about refugees she met from Syria, Afghanistan, Mali and other war-torn countries. "So many displaced people fleeing wars that have been exacerbated by the West," she said.
"We need humanitarian corridors, legal routes into Europe, otherwise these mafias trafficking in human beings will continue their work. If we don't change our policies we will be complicit with them."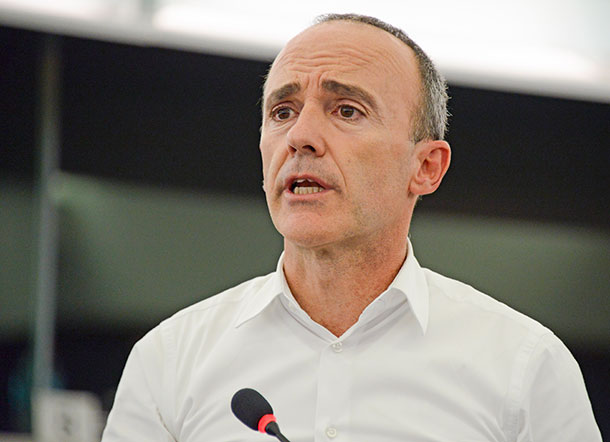 • Josu Juaristi MEP  Pic: Olivier Hansen/GUE/NGL
Spain's detention of Basque lawyers is undemocratic
GUE/NGL strongly condemns the Guardia Civil's detention of 16 Basque citizens. Twelve of the detainees are lawyers who work defending Basque prisoners, three of whom are currently part of the defence team for the 35 members of the 'Abertzale' Left being tried in Spanish courts because of their political work.
"These lawyers were arrested two days after 80,000 people demonstrated against the existing prison policy which means prisoners are kept far from the Basque Country," said Basque GUE/NGL MEP Josu Juaristi, addressing a European Parliament debate on the matter.
"These people have clearly been arrested because of their political defence work of prisoners. It's an attack against the peace process. 
"It's unacceptable for a member state to violate fundamental rights such as the right to defence with this sort of impunity.
"Spain is moving further and further away from the definition of a state based on the rule of law – it is proving to be undemocratic."
GUE/NGL MEPs strongly urge the Spanish Government to move forward  to consolidate the ongoing peace process in the Basque Country and to resolve the conflict in a peaceful and democratic way, in line with the appeals of the international community and the European Parliament, which encourage all the parties involved in the conflict to advance in that direction.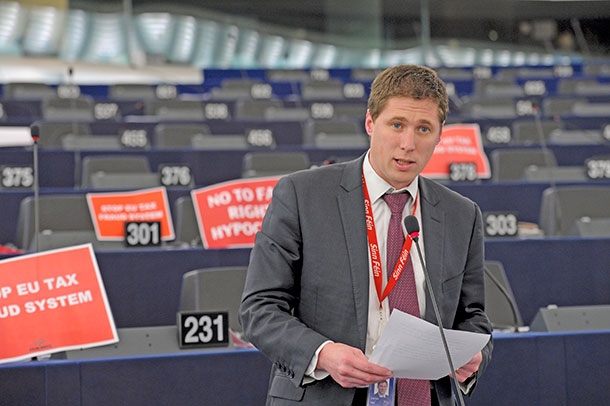 • Matt Carthy MEP   Pic: Olivier Hansen/GUE/NGL
Boko Haram's barbarism in northern Nigeria
GUE/NGL MEP Matt Carthy has expressed the GUE/NGL's strong condemnation of Boko Haram's recent massacre which saw over 2,000 people horrifically murdered over the course of several days in northern Nigeria.
Speaking in a European Parliament debate on the violence, he said: 
"Our thoughts are first and foremost with those who are bereaved and who were caught up in this almost unimaginable violence. The Nigerian Government and state security forces were simply unfit to intervene.
"It must be noted that the Nigerian state is not exempt from responsibility for the recent escalations of violence through a series of deplorable human rights abuses. At least 950 suspected members of Boko Haram died as a result of overcrowding, starvation, brutality, and extrajudicial executions while in state custody in Nigeria in the first half of 2013 alone."
The Irish MEP added: 
"We now all have a moral responsibility to show the same outrage and invest the same resources in addressing the causes and consequences of these atrocities as we would if they were happening anywhere else in the world."