2 February 2015 Edition
Is Dr Varadkar in charge of a health service in freefall?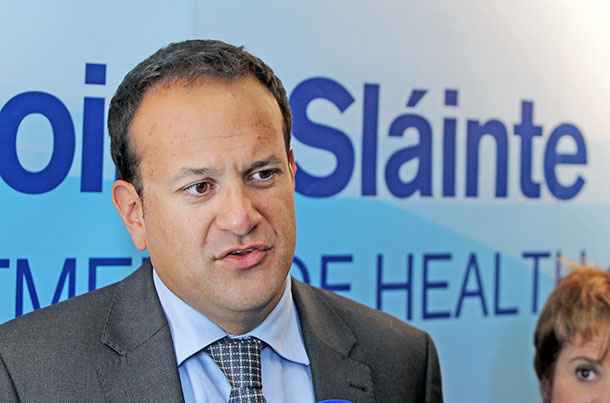 THE controversy about record numbers of patients on trolleys is nothing new.
Scandals involving dirty, understaffed hospitals and overworked frontline staff are old news here.
I spoke to a lady from Allenton recently who spent 16 hours in an overnight wait at Beaumont Hospital before being discharged.
She reported dirty waiting rooms, broken toilets, frantic nurses and only one doctor on duty. She told me that one nurse locked herself in the loo crying, just to get a break. She had been rushed to hospital suffering with a suspected brain haemorrhage, having gone temporarily blind at her home, and did not even have a trolley to lie on – she was parked in a chair and left there overnight.
A patient with diabetes asked for a cup of tea and was directed to a broken vending machine. 
Another lady, in agonising pain with Carpal Tunnel Syndrome, asked me to plead with Tallaght Hospital on her behalf for an earlier appointment. She had an appointment in June 2014 for an injection to ease her pain, which gives about two months' relief. Her next appointment was March 2015.
I called the Patients' Advocacy Service, who made a submission to the consultant. He passed the buck at once to the Operations Director of the hospital, saying that it was a staffing and resource issue and therefore not his concern.
Meanwhile, this lady has to live with debilitating pain until March.
There is an ever-widening gulf between the rich and the ordinary here in Ireland. It is nowhere as apparent as within the health service, where the majority of patients report Third World conditions, massive waiting lists going on for years, sensitive information going missing.
Funding to the Health Service Executive has been cut successively year on year since a high in 2009 of €15,520million to €13,041million in 2014. Frontline services are suffering badly. The number of bed days used has dropped year on year, the average length of hospital stays has dropped, and surgical day cases have increased by 74% from 2004-2013* 
Would this suggest that patients are being placed on a conveyor belt? Could they still have the standard of care expected with less recovery time?
Health Minister Leo Varadkar turned down an invitation to spend 12 hours with nurses from Our Lady of Lourdes Hospital in Drogheda back in July when patient numbers on trolleys had doubled to 632. He brushed off a warning from nurses who said: "It's not rocket science: We need more beds and more staff."
Their warnings have not been heeded and Varadkar finds himself facing yet another healthcare crisis. The same nurses are now facing deregistration if they don't pay increased fees. Will the Health Minister listen now? Will he take ownership of a health service in freefall?
* HSE key trends report 2014 health.gov.ie/wp-content/uploads/2014/12/JD605-DHC_Key-Trends_2015_WEB.pdf