2 February 2015 Edition
Noonan wanted An Phoblacht banned
'Free speech' under Fine Gael and Labour, 1984 – Enda Kenny's right-hand man talked internment without trial and restricting free speech with Margaret Thatcher's Government
The Irish Times said the British Government in particular 'appears to take exception to the existence of a fairly well-produced republican weekly newspaper' in An Phoblacht
WHILE Michael Noonan was keen to keep his contempt for democracy out of public view, the same could not be said for Fine Gael Defence Minister Paddy Cooney. 
The rabid anti-republican and boss of the disgraced Garda 'Heavy Gang' thugs when he was Justice Minister in the 1970s told reporters in December, "When I look at members of Sinn Féin, I cannot do so without loathing," adding that Sinn Féin members "are not entitled to the normal courtesies of the community".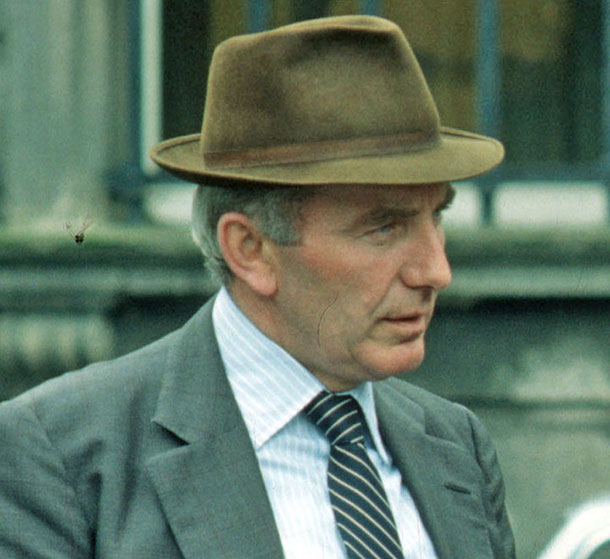 • Fine Gael Defence Minister Paddy Cooney
Unlike his hypocritical colleagues who laud freedom of speech when it suits them, Cooney has no such pretense. He simply opposes it and to this day his campaign to crush free expression trundles on. 
In 2013, aided and abetted by his son, Fine Gael Councillor Mark Cooney, he tried to censor history by demanding the removal of an art installation by Shane Cullen at the Luan Art Gallery in Athlone because it featured excerpts of letters from republican prisoners in the H-Blocks of Long Kesh. The veteran Defence Minister (and former Minister for Education!) was even witnessed hitting the artwork with his crutch and demanding to see the manager to have it removed before storming from the gallery in a rage when he failed. 
THE TRUMPETING by the Fine Gael/Labour Government of the right to freedom of speech in the wake of the massacre of Charlie Hebdo magazine staff stands in stark contrast with their own parties' history of censorship and repression here in Ireland. Taoiseach Enda Kenny told reporters that the killings were an "attack on the basic values of freedom of speech and tolerance".  This was the message from all Government representatives but apparently Labour Party Dublin City Councillor and former Mayor Dermot Lacey didn't get the message. Lacey's democratic mask slipped when he took to Twitter to reveal that he wished the Section 31 broadcasting ban against Sinn Féin had never ended.
With Enda Kenny jetting over to Paris to be seen with other world leaders (ignoring the fact that many of those he marched with represent countries with appalling track records of freedom of speech), the Fine Gael leader was trying to paint a picture of his party and Government as staunch defenders of media freedom. State papers released in Ireland and Britain just days earlier, however, show that nothing could be further from the truth.
Key figures in both Fine Gael and Labour – many still Government TDs and ministers, including now Finance Minister Michael Noonan – have been eager to tighten press restrictions on their political opponents. 
The papers show that Michael Noonan was a cheerleader of censorship. In January 1984, he not only discussed the "success" of the state's censorship regime (which banned not just Irish republicans but non-republicans critical of the British/unionist take on the history and conflict in the Six Counties) from TV and radio broadcasts, but he probed the possibility of introducing internment without trial, banning An Phoblacht and further restricting free speech in the 26 Counties.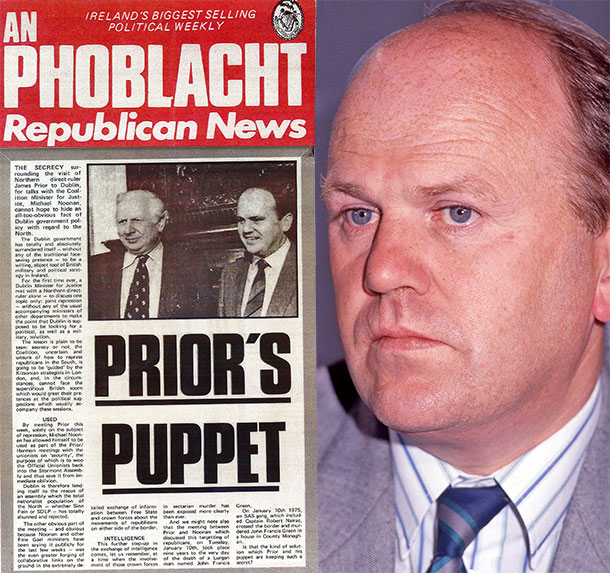 • An Phoblacht's 12 January 1984 front page used the headline "Prior's Puppet" to describe Justice Minister Michael Noonan
In 1984, Noonan was serving as Justice Minister in the then Fine Gael and Labour Party Government; the current Taoiseach, Enda Kenny, was appointed as a Fine Gael delegate to the New Ireland Forum. The Forum served as little more than a talking shop which aimed to bolster support for the SDLP (and marginalise Sinn Féin) in the aftermath of a surge of electoral success for republicans following the 1980/1981 Hunger Strikes.
Margaret Thatcher was Prime Minister. At a one-to-one meeting with British Secretary of State James Prior at the Department of Foreign Affairs in Iveagh House on 10 January 1984, Michael Noonan even discussed the possibility of introducing internment without trial – or, as the documents terms, it "preventive detention" – in the South. The British Secretary of State told him the "[British] Government would wish to consider it very seriously for Northern Ireland if the Irish Government were to decide to introduce it in the Republic". 
Noonan also told the British direct-ruler (an MP from East Anglia) that he "would welcome a discussion between officials on ways of restricting the effect of Sinn Féin's activities" and outlined his displeasure with how the ability of many in the South to receive British TV and radio broadcasts was undermining state censorship. One proposal was whether the Irish Government could target An Phoblacht/Republican News, with Thatcher's minister asking Fine Gael's Noonan "whether some action could be taken against those who wrote for, or who published and distributed such papers" in the South. 
The Secretary of State "hoped further action" could be taken against the publication and Michael Noonan is said to have been "content for informal private discussions to be held on this". The notes point out that "if one title was stopped, the same paper could appear under a new title". The notes contained in the documents should make awkward reading for a Fine Gael party that insists it behaved impeccably during the conflict but now describes "the targeting of a media publication [as] a direct attack on democracy and freedom, values which we cherish".
Banning and stopping An Phoblacht had become something of an obsession amongst the Irish and British Governments.
There were frequent raids on the paper's offices, arrests of the paper's editors and staff, and the confiscation of thousands of copies by state forces alongside gun attacks and threats against staff and sellers by unionist death squads. 
• Labour's Ruairí Quinn boycotted Sinn Féin; Thatcher introduced state censorship in 1988; Labour Environment Minister Liam Kavanagh refused to meet with elected Sinn Féin councillors; Enda Kenny served on the New Ireland Forum
The Irish Times said the British Government in particular "appears to take exception to the existence of a fairly well-produced republican weekly newspaper". The now Finance Minister and Enda Kenny's right-hand man also discussed the idea of restricting freedom of speech for Irish republicans and their supporters by possible changes to incitement laws but despaired that "speeches were often made in coded language which were well understood by their listeners but which made it difficult to bring a successful prosecution". 
The Irish Government's draconian Offences Against the State Act "whereby the offence of membership of a proscribed organisation could be proved on the statement of a police officer" interested the British immensely. Noonan, however, was clearly concerned that his collusion with the British was raising eyebrows among the public, even the British Secretary of State noting he "had been most concerned that news of the meeting had leaked to the press". 
Media reports that he was discussing '"security co-operation" with Thatcher's British Government "had been embarrassing for him". It is for this reason that Noonan later asked Prior that a joint statement would release no details of any issues they had discussed. Two days after the meeting, An Phoblacht's front page led with a photo of Prior and Noonan with the headline "Prior's Puppet". 
It said the secrecy surrounding the visit "cannot hope to hide an all-too-obvious fact of Dublin Government policy with regard to the North [that], for the first time ever, a Dublin Minister for Justice met with a Northern direct  ruler alone – to discuss one topic only: joint repression". Noonan and the Government, An Phoblacht said, had "totally and absolutely surrendered itself to be a willing, abject tool of British military and political strategy in Ireland". Joint repression was certainly a theme discussed, with the British and Irish officials complaining of the "problem" of Sinn Féin elected representatives. 
The increasing number of Sinn Féin councillors was worrying both governments so Dublin, seemingly at the behest of the British, began a "shun Sinn Féin" policy.
Prior assured Noonan that "no minister would agree to see any member of Sinn Féin or write to them" and that no minister would visit a local council "if they knew a Sinn Féin elected member was to be present". 
Noonan confided in Prior that the "major problem" for the Irish Government was "preventing access to ministers when Sinn Féin members could be part of a delegation". More notes, this time prepared for NI Civil Service Second Permanent Secretary Ewart Bell, describe the rise of Sinn Féin as "very unwelcome" and reveals that "the rise in the Sinn Féin vote is partly the result of community politics" as well as "the failure of the SDLP to devise credible policies". It noted that much of the nationalist community is "attracted to the support of whatever party seemed most likely to deliver results". Thatcher's allies in Fine Gael and the Irish Labour Party had also been taken aback by Sinn Féin's high work rate on the ground: "The SDLP are weaker than Sinn Féin in their capacity to 'deliver' on local government issues," a report to the Taoiseach's Office said. Another outlined in stark terms just why working-class communities were rallying behind the party: 
"A contact in the Housing Executive had told [Cardinal Tomás Ó Fiach] that in the Belfast area they were receiving approximately 140 enquiries a week from Sinn Féin to four from the SDLP."
It also noted that Sinn Féin members would probably increase their support as they are "extremely hard constituency workers". It was the Irish Labour Party, though, who most revelled in the new policy of excluding elected representatives they disagreed with. 
In February 1984, Labour Party Environment Minister Liam Kavanagh emerged as a petty-minded begrudger when he refused to meet  a delegation of councillors from Donegal because it included Sinn Féin Councillor Eddie Fullerton, a man with near-universal respect for his integrity and tireless work in the county. 
The delegation was not there to discuss the conflict or censorship, or even domestic politics. They were simply looking for the financing for an upgraded sewerage system for Buncrana. The Labour minister skulked in his office and wouldn't come out until Eddie Fullerton had left the grounds of Leinster House. Sinn Féin described the Environment Minister's attitude to the councillor (murdered in his Buncrana home by a British-backed unionist death squad in May 1991) as "an insult to a respected elected representative and all those who voted for him". 
• Sinn Féin Councillor Eddie Fullerton sells copies of An Phoblacht in Donegal, the popular politician was murdered in his Buncrana home by unionists in 1991
Labour's Liam Kavanagh continued with his belligerent attitude by refusing to meet delegations from Longford and Galway County Councils. Labour colleagues followed suit with Ruairí Quinn (another recent member of the current Government as Education Minister from 2011 to July 2014) refusing to meet the Sinn Féin Chairperson of Gorey Town Commission. The pathetic policy saw non-political events overshadowed with the annual St Patrick's Day Parade in Longford abandoned because Defence Forces reservists and bands were refused permission to take part in the parade by Defence Minister Paddy Cooney unhappy that Sinn Féin councillors would be on the viewing stand. 
The parade had been relying on the band to provide music for the day and the move outraged the town's Chamber of Commerce as well as a bewildered public. 
This policy of censorship, repression and attacks on republicans continued under successive Fine Gael, Labour and Fianna Fáil governments until trade union and Sinn Féin activist Larry O'Toole struck a fatal blow to the Broadcasting Ban in the early 1990s which led to it not being renewed in 1994.