12 January 2015 Edition
Another Europe is possible – Treo eile don Eoraip
This is funded by the European United Left/ Nordic Green Left (GUE/NGL)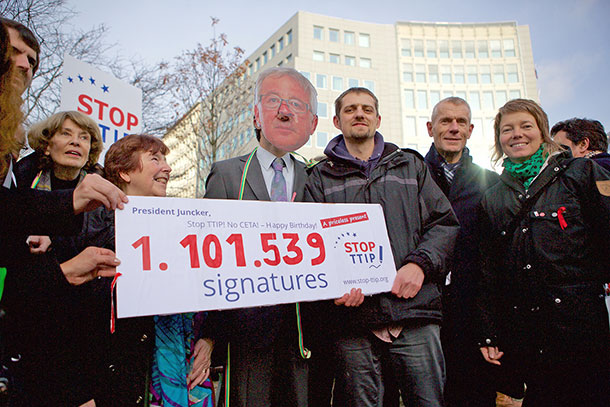 "The fight is not just about trade – it's about democracy, social rights, the environment, and cultural diversity. In short, it is about how we want to live in the future." – GUE/NGL President Gabi Zimmer
Anti-TTIP movement comes together in European Parliament
#StopTTIP #StopCETA #StopTISA
TTIP (Transatlantic Trade and Investment Partnership)
TiSA (Trade in Services Agreement)
CETA (Comprehensive Trade and Economic Agreement) 
TTP (Trans-Pacific Partnership)
LEFT MEPs put forward the case for a citizens' trade agenda last month at a special conference in the European Parliament, co-organised by the GUE/NGL group and the Transnational Institute (TNI).
GUE/NGL President Gabi Zimmer opened the conference, stating that this conference was crucial as it ensures that ruling elites see that there is resistance to their policies. She said:
"TTIP is an important focal point of our protest, but at the same time we must also fight TISA, CETA, and the TPP*. All these agreement are a threat to transparency and democracy and are designed to reinforce a transatlantic power bloc that favours corporate power over people. Co-operation is essential in the fight against these trade agreements."
Activists, national and regional parliamentarians, trade unionists and civil society from both sides of the Atlantic attended the conference. Among the keynote speakers were TNI President Susan George, Priscilla Bittar (Conseil central du Montréal Métropolitain), and Dr Michael Efler, a representative from the Stop TTIP European Citizens' Initiative.
Gabi Zimmer continued: 
"The fight is not just about trade – it's about democracy, social rights, the environment, and cultural diversity. In short, it is about how we want to live in the future."
MEP Helmut Scholz said: 
"We need to defeat agreements that are clearly not in the interests of citizens. They do not want to be sold out in 'Investor-to-State' dispute settlements. They do not want to put their public services at risk. They want to maintain control over food quality and labour standards. Together we will strive for a citizens' trade agenda.
MEP Eleonora Forenza said:
"TTIP's liberalisation agenda will undermine public services and social rights such as public healthcare, environmental protection, and labour standards. This is why we are working with a strong and growing movement of policymakers, social movements and NGOs on an alternative trade mandate that puts people and the planet before big business. EU trade policy needs to be fundamentally democratised as part of a wider democratisation of Europe – this is our mission."
• The room for the TTIP conference was packed as Gabi Zimmer opened the event
Juncker's direct interference in Greek politics must end
Commission comments affecting elections would not be tolerated in Britain or Germany
"PROVOCATIVE INTERVENTIONS" in Greek politics by the European Commission are objectionable and must be withdrawn, according to Left MEPs in the GUE/NGL group in the European Parliament.
On three consecutive occasions, Commission President Jean-Claude Juncker and Commissioner Pierre Moscovici (Economic and Monetary Affairs and the Euro) issued statements relating to both the forthcoming election of the Greek President and the next Greek general election.
Their interventions in Greek domestic politics directly backed Prime Minister Samaras's "fear-mongering propaganda" against Syriza, the party of the Left that currently tops opinion polls, a GUE/NGL spokesperson said.
"These unprecedented interventions undermine the authority and political neutrality of the Commission and call into question the sovereignty of a member state. 
"This is undemocratic and anti-European and brings to mind the worst practices of neo-colonialism.
"The Greek people should be left to determine their own political future. If the Greeks decide against austerity and in favour of a social Europe at the next elections then their decision should be respected, especially by the European institutions."
Greek GUE/NGL MEP Dimitrios Papadimoulis asked:
"What specific article of the European treaties gives the Commission, or any other official or institution of the EU, the right to interfere in the political situation of member states, and additionally, to make statements expressing their political preferences about this situation?
"Mr Juncker has no right to behave like a modern John Peurifoy," he said, a reference to the US diplomat who helped consolidate a right-wing government in Greece in 1950, in the years immediately after the Second World War.
The Greek MEP said that if the President of the European Commission ever dared to make such an intervention ahead of upcoming elections in Britain or in Germany, "he could not stand by his position, not even for 24 hours".
Such "raw" interventions are "a matter of national dignity and democracy", he added.
Addressing Commission President Juncker directly, he asked: 
"Do your views constitute an official position of the European Commission and, if so, what were the procedures for this decision and what was the position taken by other member states?"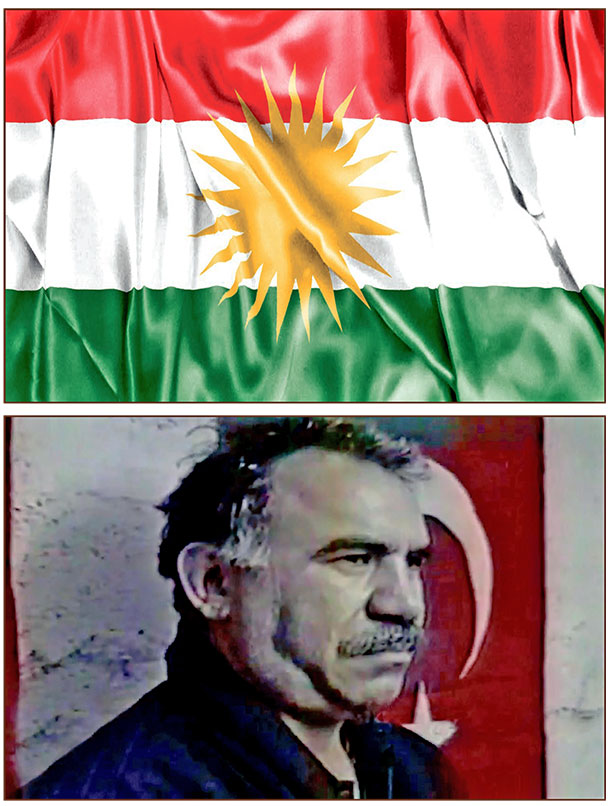 • Jailed Kurdish leader Abdullah Öcalan
Failure 'not an option' for Turkish/Kurdish peace process
11th International Conference on the European Union, Turkey and the Kurds
NGOs, civil society experts and progressive political representatives from all sides in the EU, Turkey and elsewhere in the Middle East gathered in the European Parliament last month for the 11th International Conference on the European Union, Turkey and the Kurds.
Conference patrons included Archbishop Emeritus Desmond Tutu, Nobel Peace Prize Laureate, South Africa; Dr Shirin Ebadi, Nobel Peace Prize Laureate, Iran; Bianca Jagger, Council of Europe Goodwill Ambassador, Chair of the Bianca Jagger Human Rights Foundation; Professor Noam Chomsky, writer, USA; Yasar Kemal, Writer, Turkey; Vedat Turkali; writer, Turkey; Leyla Zana, European Parliament's Sakharov Prize for Freedom of Thought Rafto Prize Laureate, Turkey.
This aim of the conference was to provide a positive setting for discourse between all sides on the key issues. 
One of the main issues up for discussion was the need for meaningful constitutional reform, including the extension and development of the Turkish reform package. The conference heard calls for fundamental constitutional reforms in Turkey to ensure fair treatment for minorities, especially the Kurdish people.
GUE/NGL President Gabi Zimmer said following the conference:
"This week we have put the focus on human rights and the peace process within Turkey. The responsibilities of the Turkish Government in terms of fighting against the Islamic State and supporting the rights of Kurds have also been elaborated.
"We're standing up for solidarity with the Kurdish people. The European Parliament should adopt a clear-cut position and call for the removal of the PKK from the anti-terror list of the EU," she insisted.
Former GUE/NGL President Francis Wurtz said the Turkish/Kurdish peace process was currently "between doubt and hope". "Failure is not an option. The release of Abdullah Öcalan is necessary for talks to bring results and one cannot enter talks as a prisoner."
Wurtz was presenting a report of the fact-finding mission of the International Peace and Reconciliation Initiative (IPRI) on the peace process relating to the Kurdish question in Turkey alongside Judge Essa Moosa (South Africa), civil society activist Osman Kavala (Turkey) and Professor Kariane Westrheim of the University of Bergen in Norway.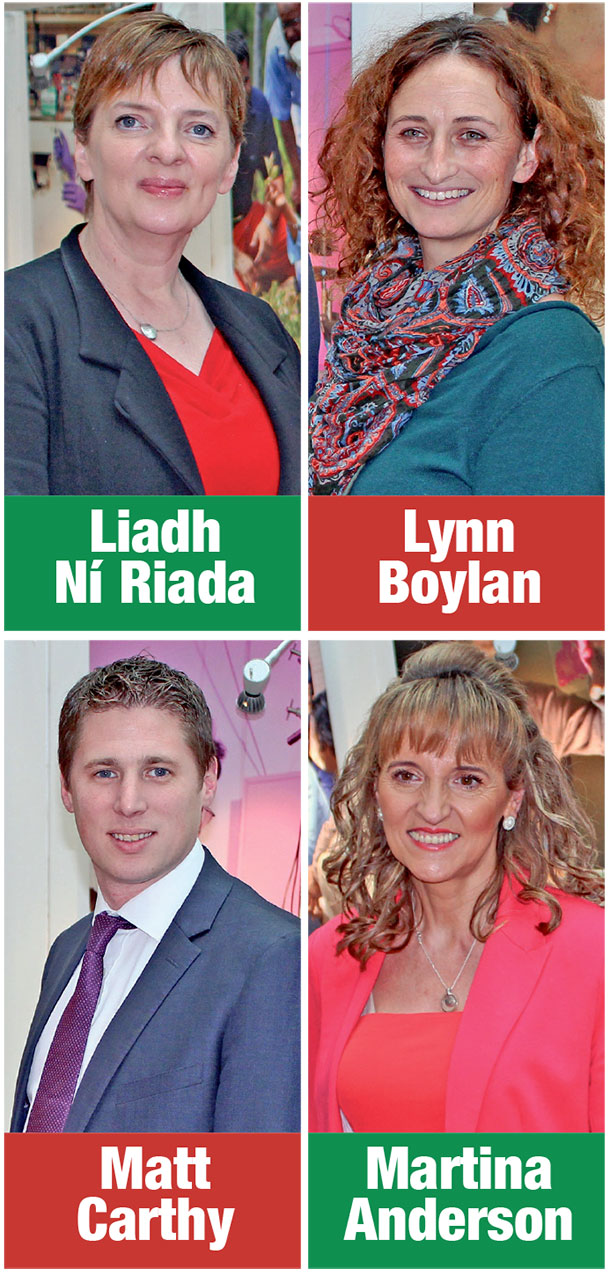 • Liadh Ní Riada, Lynn Boylan, Martina Anderson and Matt Carthy are MEPs and  members of theGUE/NGL Group in the European Parliament
Coherent policies needed to combat illegal wildlife trade
LYNN BOYLAN has spoken in Strasbourg in support of full EU participation on the Convention on International Trade in Endangered Species of Wild Fauna and Flora (CITES). With 180 state parties, CITES provides an international framework to protect over 35,000 species of animals and plants.
The Dublin MEP said:
"According to 'United for Wildlife', the illegal wildlife trafficking is the fourth most lucrative global crime after drugs, humans and arms.
"We need a strong plan to combat this problem. It is well recognised that the EU is both a transit route and a destination for this illegal trade but the vast majority of this illegal trade is carried out in the developing world and conflict zones.
'The sad fact of the matter is that the extreme poverty of many African communities lends itself to this trade. When the tusks of a single adult elephant are worth more than ten times the average annual income in many African countries is it any wonder that impoverished people see wildlife as a valuable barter for trade.'
The European Union should, of course, support these countries where equipment, training and funds for enforcement are often lacking, Lynn Boylan said, "but we must also look at the bigger picture".
EU policies on trade and its facilitation of multinational corporations to evade paying tax in developing countries is deepening inequality and poverty and further destabilising regions which only feeds into the hands of the illegal wildlife traders.
"These countries must be supported to develop their own economies and to create the situation where wildlife is seen as a community asset. One of the best ways for this to happen would be to ensure that multinational corporations pay their fair share of taxes in these countries."
• MEP Martina Anderson, Chair of the European Union's Delegation to the Palestinian Legislative Council
MEP urges Irish Government to stop buying from Israeli military suppliers
MEP Martina Anderson has called on Irish Defence Minister Simon Coveney to publicly pledge that he will not sign any military contracts with Israeli companies. 
Anderson, Chair of the European Union's Delegation to the Palestinian Legislative Council, was speaking as Minister Coveney was embarking on a pre-Christmas trip to the Middle East to visit Irish Defence Forces units serving on peace-keeping duties. It included a visit to Israel. 
The Irish MEP said:
"I am calling on the Defence Minister to publicly state the Irish Government will end its practice of buying military equipment from Israeli firms and that it will not sign any new contracts. 
"Since 2011, the Irish Government has paid almost €3million for military equipment to an Israeli firm which provides equipment for the Apartheid Wall around the occupied West Bank. 
"This practice must end."