12 January 2015 Edition
'Reggae is the palette that I paint with'
They've supported Madness and The Wailers and played Electric Picnic . . . Bionic Rats frontman Derek Clabby talks to An Phoblacht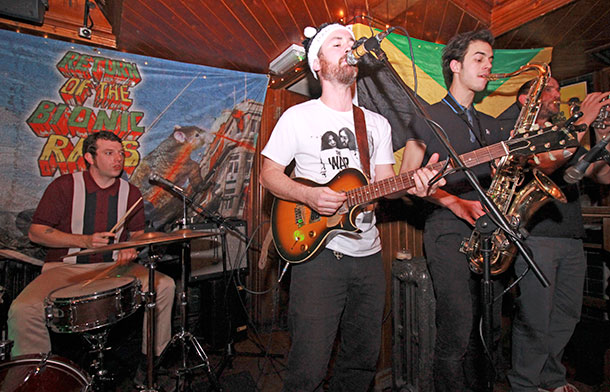 Bionic Rats albums deal with racism, Garda brutality and day-to-day life in the Irish capital
– – – – – – – – – – – – – – – – – – 
THEY'VE PLAYED Electric Picnic, toured throughout mainland Europe and supported ska and reggae legends Madness and The Wailers but it's unlikely you'll hear tracks by the Bionic Rats on any mainstream music radio stations – and that's probably why many of their resident venues describe them as 'Dublin's best-kept secret'.
An Phoblacht readers will have spotted their music being used on our video reports from protests and demonstrations, including the huge Right2Water rally in Dublin on 10 December. An Phoblacht's MARK MOLONEY caught up with Bionic Rats vocalist, guitarist and songwriter DEREK CLABBY ahead of a gig in Dublin city centre.
– – – – – – – – – – – – – – – – – –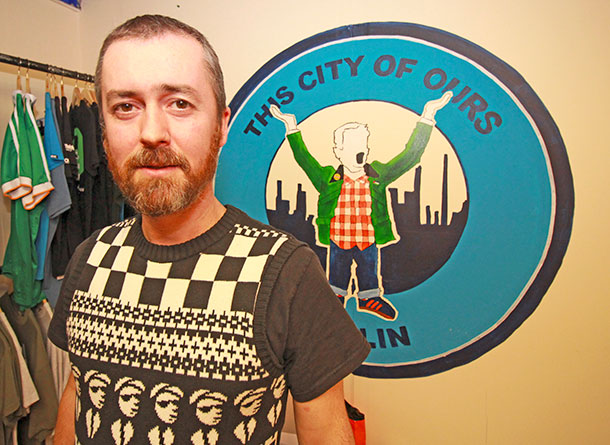 • Derek Clabby speaks to An Phoblacht
IT'S THREE DAYS before Christmas in Dublin's Temple Bar area and the ever-popular Foggy Dew bar is packed to the rafters with people in festive jumpers and hats. It's also Sunday, and that means it's 'Ska and Reggae Night' and soon The Bionic Rats will have the place hopping.
But before they hit the stage, frontman Derek Clabby meets me in the Offside football and fashion shop, just a few doors down the cobblestoned square from the boisterous city centre venue, for a chat. The Offside shop was one of the organisers behind the recent Palestine fundraiser 'Reggaid' which the Bionic Rats played.
So how did Derek get into music?
"There's nobody in my family that played music but my Ma and Da always encouraged me, although they said I probably wouldn't get much work out of it," he grins. 
"I started getting into bass in the '80s. My auld fella helped me out with a bass amp. There was no formal training; me and my friends just learned our instruments ourselves."
He says his first band, Burning Illusion, came into being with him and some of his friends sitting around and listening to Bob Marley. 
"One of the guys could play guitar and another was a fairly decent singer so I got handed a bass guitar. I didn't even know what a bass was! The band never left the bedroom where we used to rehearse, wrecking the neighbours' heads," he smiles.
Eventually the band Kingsativa was born and it enjoyed a dedicated following and toured extensively for over a decade before it "ran its course", as Derek puts it.
"I didn't know what to do. I wanted to keep it going so I started singing and that's where the Bionic Rats came from." Other current Bionic Rats members are formerley of bands such as Kingsativa, Gangsters, Infomatics and The Method. "I probably need a diagram to explain because they're all so interlinked."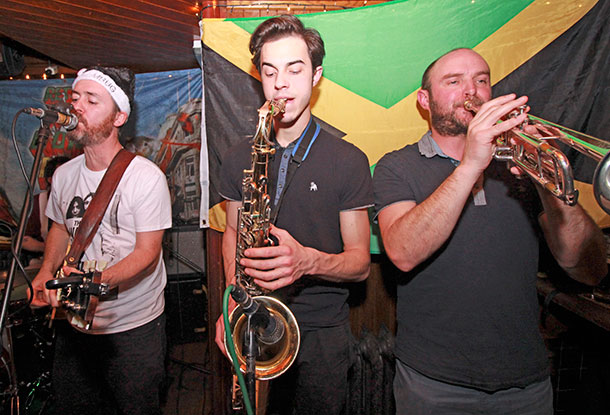 The Bionic Rats have gone on to become a staple of Dublin's, and Ireland's, live music scene.
Derek says supporting Madness at Tripod in Dublin was one of the most memorable gigs of his career, for more than one reason.
"Our trumpet player was in at sound-check and his car got clamped. We went on stage and he had disappeared to sort it out. One of the biggest gigs in our life and we couldn't find him!
"We just had to go on. He strolled in three songs in, wearing his jacket and carrying his trumpet case. I shouted: 'Ah, it's nice of you to join us!'"
Derek has also played Electric Picnic more than once as well as sharing stages with such acts as The Wailers, Damien Dempsey, Hothouse Flowers, Bad Manners and his cousin, one Imelda Mary Clabby – better known by her stage name, Imelda May.
He has also gigged across Europe, including a surreal experience in the former Yugoslavia.
"We played Croatia, Bosnia and Herzegovina right after the war. It was a real eye-opener, walking through a war-zone and playing gigs. It was a bizarre feeling meeting guys over there that were wounded in the war. We played Mostar, Split and even Medjugorge – it was like Disneyland for Catholics."
He says the atmosphere among people was "pretty cool", adding: "You wouldn't think they had just been through a war but there was still a real feeling of lawlessness."
The Bionic Rats albums Return of the Bionic Rats (2009) and Should Be Seen and Not Heard (2011) are not only infectiously catchy and bursting with energy, they also deal with serious issues such as racism, the recession and Garda brutality as part of an overarching theme of day-to-day life in the Irish capital.
Derek says the lyrics from a track on their new album, Another Fine Mess, due for release in February, best describe his writing process.
"Reggae is the palette that I paint with, talking about the things I bear witness to, on and off the Liffey's quays."
"I mean, I don't come out and think: 'Right, today I'm gonna write a tune about racism or tomorrow is about whatever.' It's just about what you see around you. It's life. I do the writing and the rest of the band make it sound fucking great," he laughs.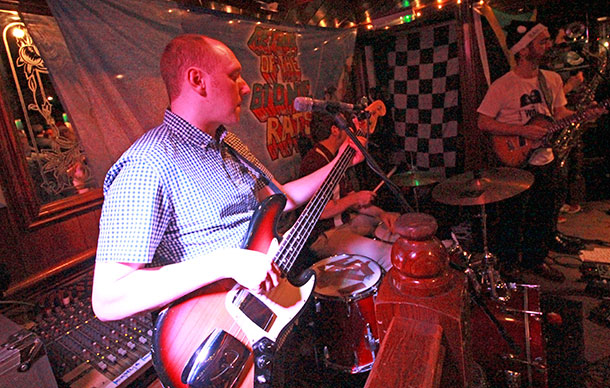 On the track You Can't Do That, which deals with Garda brutality, Derek tells me:
"That's a true story. Myself and two friends were walking home from a night out, down Marlborough Street, next to O'Connell Street, when a guy ran past us, on his toes. Four or five gardaí were chasing him and they caught him at the Pro Cathedral. When they were restraining him they picked him up and went clop," he bangs his flat hand on the table. "They smacked his head off the kerb. And a crowd was standing around shouting at them, 'You can't do that!' So that's where that came from."
It's an observation on events in people's lives, Derek says.
"We've had guys playing in the band who were gardaí, and that's why we had other songs like Bad Garda to point out that there's bad apples in all walks of life but you can't tar everyone with the same brush."
Would he describe the Bionic Rats as a 'political band'?
"No, but politics affects everybody. I guess you are into it whether you like it or not. 
"I've voted for Sinn Féin and Labour in the past. I wouldn't go near the others – they can fuck off. It's about right and wrong. 
"I've been listening to reggae since I was 13. The strong theme is standing up for your rights. It's more social than political. The Specials were the perfect band. They were very socially aware. They were a major influence on me, even if I wasn't consciously aware of it at the time."
In October, the Bionic Rats were one of the headline acts at the Gaza Toy Drive's 'Reggaid' event at The Grand Social. The event raised thousands of euro towards the cost of shipping medical supplies, clothing and toys that had been donated across Ireland to Gaza.
"That was very close to our hearts," Derek explains. "You know when something is wrong. If you question Israel you're called anti-Semitic. You're not; you're just seeing defenceless people in an enclosed space being bombed and they can't go anywhere. You just know that's wrong." 
As Derek heads back to The Foggy Dew he makes sure to give a shout-out to the people who turn up to their gigs every week as well as to Jero Roche and Joe Behan of the Ska Patrol show on Dublin's NEAR FM radio. The weekly ska, reggae and rock-steady programme has been on the air every Monday night since 1999. "They've been giving great exposure to the ever-growing Irish ska and reggae scene for so long."
The Bionic Rats' new album, Another Fine Mess, will be released in February, available on digital download or CD format from www.thebionicrats.bandcamp.com