12 January 2015 Edition
New trade deal could have huge implications for Ireland
TTIP­­ – Dangerous, secretive and anti-democratic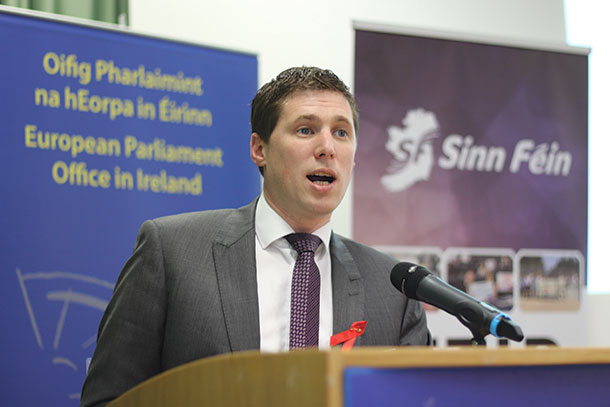 If 'fracking' is banned in Ireland then energy companies could sue the Government for millions of euros
"IT'S a very dangerous development" is how Midlands North West MEP Matt Carthy describes attempts to include a mechanism in a free trade deal between the US and the EU that would allow private companies to sue national governments and force them to change their laws in the favour of big business.
Matt was speaking at the European Information Office in Dublin last month at the launch of a discussion document he has produced on the Transatlantic Trade and Investment Partnership – TTIP: Potential Consequences for Ireland.
The Sinn Féin MEP tells An Phoblacht:
"We have huge concerns around TTIP. Chief among these is that TTIP will include the Investor State Disputes Settlement (ISDS) mechanism. This is basically a very long-winded way of saying private multinational companies will be able to override courts and force governments to change laws in their favour. 
"It's a very dangerous development."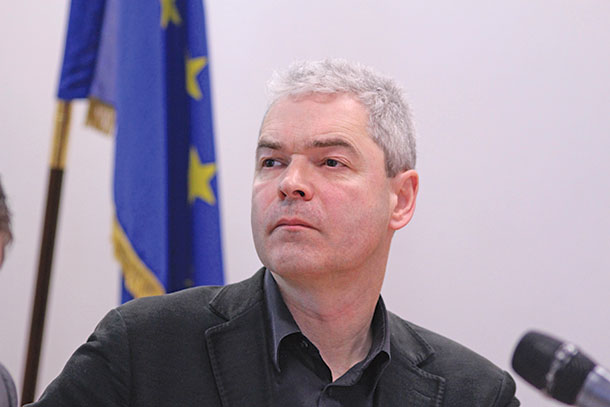 • "We should not be allowing our future to be handed over to big business" – John Hilary, War on Want
Also speaking at the event was John Hilary, Executive Director of global anti-poverty group War on Want. He says:
"This debate is really hotting up. People in Europe are asking 'What on earth is being done in our name and behind closed doors?'"
Hilary says the lack of transparency is extremely worrying:
"The European Commission has a 30-year ban on all public access to the documentation behind TTIP. It's just extraordinary that we should be faced with that type of anti-democratic attitude from the European Commisssion."
He says that the deal will cost a combined 1million jobs in the EU and USA; 600,000 of these are expected to be in the European Union. He notes that this is admitted by the European Commission which says TTIP is likely to bring "prolonged and substantial dislocation of EU workers" similar to the "migration" of jobs following the North American Free Trade Agreement.
John points to examples where ISDS has been included in bilateral trade agreements to show the damage it can do. In Germany, Vattenfall energy company is suing the German Government for €3.7billion over the country's decision to phase out nuclear power in the wake of the Fukushima nuclear disaster. In Australia, US tobacco giant Phillip Morris is suing the Government for billions of dollars over its health policy requiring all cigarettes to be sold in plain packets.
The War on Want chief asks:
"Do we want a future that is directed just in the interest of big business? Or do we want one that is the traditional European social model of having markets, having trade but having them embedded in important social and environmental objectives? 
"That's the choice we are left with. We should not be allowing our future to be handed over to big business."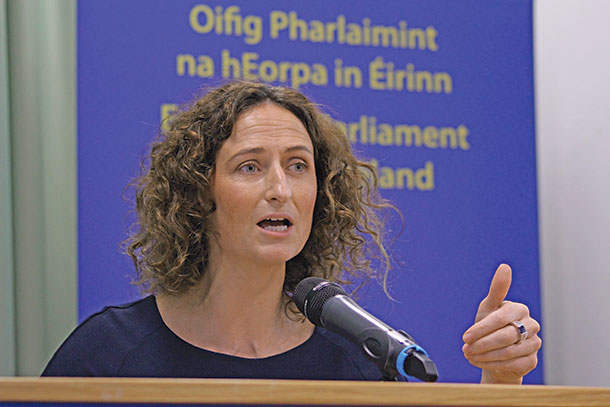 • Lynn Boylan MEP questioned the impact of TTIP on EU food regulations 
Dublin Sinn Féin MEP Lynn Boylan, former Chair of SafeFood Ireland, an ecologist and a member of the EU's Environmental and Public Health Committee, says harmonisation of regulations between the US and EU will only mean the watering down of EU regulations which protect citizens.
She points to the general lack of use of genetically modified organisms (GMOs) in European food compared to the US, where 70% of foodstuffs contain GMOs. 
The lack of regulation in the US and the high-regulation in the EU would put European food producers at a disadvantage as Irish farmers go into direct competition with US farmers. 
US lobbyists want the removal of the European ban on the use of bovine growth hormones, which 90% of beef produced in the US contains and which has been banned from the EU since 1988.
"My fears are that any harmonisation of standards will have a negative impact on EU environmental and food regulations," Lynn says.
She also warns against the use of the ISDS mechanism by energy companies to force through the use of the controversial practice of hydraulic-fracturing. If 'fracking' is banned in Ireland then energy companies could sue the Government for millions of euros.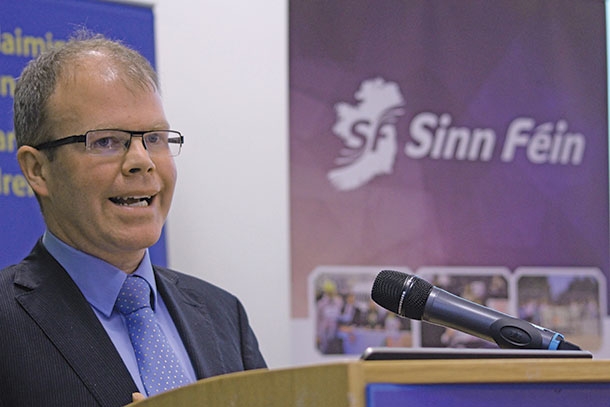 •  Peadar Tóibín TD says the alleged advantages of TTIP are overblown
Sinn Féin's spokesperson on Enterprise, Jobs and Innovation, Peadar Tóibín TD, is critical of the lack of discussion within Irish politics of TTIP. 
"In Leinster House most TDs know very little about TTIP or have little understanding of where negotiations are at the moment. It seems only Sinn Féin and other parties on the Left are clued-in on this issue."
He describes the estimates of economic advantages from TTIP as "overblown" and points out that both France and Germany have criticised TTIP but they cannot be relied on to bring it down.