12 January 2015 Edition
Propaganda, rhetoric and manipulation of voters
Building an Alternative
It is completely feasible that left-wing parties can join with Independents in the South to form a government where social justice and fairness is central to all decision-making
BEFORE becoming a Member of the European Parliament in 2009 I practised as a psychoanalyst and my approach to politics has been greatly influenced by my former profession, which closely observes the use of language. So it is with great interest that I have observed Fine Gael and Labour since they took office in 2011. 
Their use of language to alter truth and 'create' facts has been very obvious. However, no attempt was made to find out what actual people really thought or felt, and in recent times this has been exposed by expressions of anger and rage among the public. Not only were these feelings always present since 2008 (when the financial markets went into freefall), they were brought about by the singular lack of empathy or even sympathy displayed by the use of propaganda in the first place. 
Subsequent to these errors, the panic-stricken alterations in policy (although welcome) have in themselves caused the Government to reveal itself as untrustworthy. In fact, both parties fell in the polls despite their U-turns.
Allied to these issues is the collusion of many of the mainstream media. This is particularly invidious in relation to the national broadcaster, whose remit includes acting in the public interest, not the Government's interest. Other print media have engaged in a relentless attack on Sinn Féin, socialists and Independents, all of which have failed so far. Indeed, there have been attacks on the 'Left' which were an absurdist 'reds under the bed' scare campaign.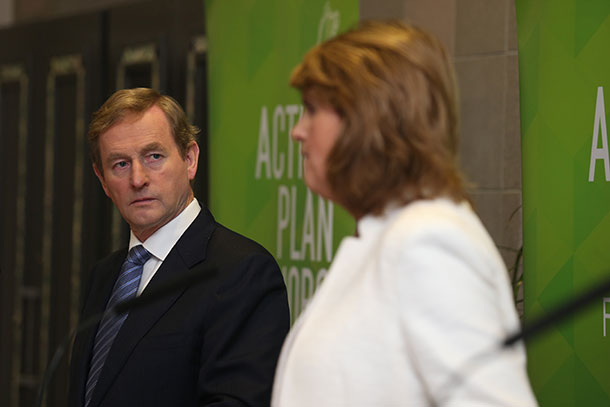 • RTÉ is supposed to act in the public interest, not the Government's interest
In addition, both Government parties display different dysfunctions as we head towards the final days of this administration. 
The Labour Party has developed a siege mentality in which it has engaged in the scapegoating of its leader for no other reason than a failure of its Parliamentary Party to face up to its own collusion in austerity policies. It is now too late to find a new scapegoat. 
Fine Gael, on the other hand, has fallen victim to narcissistic fantasies along the 'born to rule' line quite possibly present for a long time. 
But these behaviours are also symptomatic of a political system that is no longer fit for purpose.
There is an alternative to this form of government. 
How do we move from protest and anger to achieving real change? 
The recent European and local elections and subsequent opinion polls show an eagerness for reform – voters are listening to alternative voices of Independents on both Right and Left. Across Europe, we are witnessing the growth of far-Left and far-Right political movements. Those of us on the Left are closely watching the increasing popularity of Podemos (18%) in Spain, and Syriza (28%) in Greece, with great interest. 
• The rise of Podemos in Spain and Syriza in Greece is being watched closely by many on the Left
In Ireland it is completely feasible that left-wing parties can join with Independents in the South to form a government where social justice and fairness is central to all decision-making. 
For this new political configuration to succeed and bring about the positive change that is needed, we must radically reform our governance structures. This will take time and the introduction of a sophisticated approach to decision-making. Without this reform there will be no change. Our system of public administration makes it nearly impossible for new ideas to be introduced, and the centralised nature of our governance structure hampers meaningful democratic discourse. 
Real change will also depend on allowing dissent and independent thinking, and on allowing Government TDs and senators to vote with their conscience. Of course, immediately this is suggested we are told again that chaos would break out and government would be impossible. This scaremongering is deliberate, for allowing people such freedom would involve a loss of control by those vested interests that require a compliant public. 
The issue of media ownership cannot be avoided either because of the megaphone effect of a print and broadcast media repeating Government policy. Serious examination must also be made of the role of the national broadcaster and the Broadcasting Authority of Ireland to ensure that these bodies are actually protecting the public interest.
The challenge for left-wing parties and Independents is to seize this moment and work to bring about real, lasting positive change for everyone. This is possible and it has to be done, for if it is not done the damage to the people by the political system will be incalculable and possibly irreversible.
Nessa Childers is the daughter of Erskine H. Childers, fourth President of Ireland, and grand-daughter of Robert Erskine Childers, who was executed by the Free State Government during the Civil War. She was previously a Green Party councillor and then an MEP for the Labour Party in 2009 before becoming an Independent and elected as an Independent MEP in 2014. She is a member of the Progressive Alliance of Socialists and Democrats.