2 November 2014 Edition
Creating a way out of the frozen political landscape – Dr David Latimer, First Derry Presbyterian Church
UNCOMFORTABLE CONVERSATIONS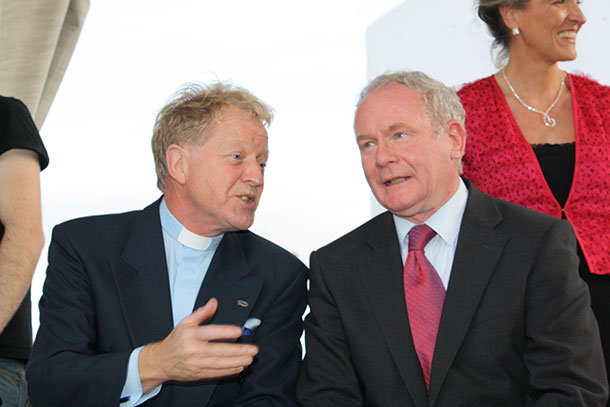 Blame cannot forever be used to conceal the reality that eventually we will have to stand alongside people we would not normally even acknowledge and put aside our judgements of one another to share peace
SETBACKS on the journey from a divided past to a shared future can, so easily, cause us to forget how different life actually is in Northern Ireland since the Good Friday Agreement was signed in 1998. 
Despite its imperfections, it represents a massive step forward from what had gone before. Aware of how it was nothing short of an historic breakthrough prompted former US President Bill Clinton earlier this year to helpfully inform us: "Never underestimate the impact that this small place has had on the large world because of that peace agreement."
While the Good Friday Agreement symbolises something very significant, it is not an ending. It is not even a beginning. It is but one step, albeit a crucially important step, along the road to a better and brighter future.
Few will deny Northern Ireland has come a long way in the last 16 years. By the same standard, few will deny more still needs to be done! 
The stark reality is that a truly reconciled, shared future will forever elude us unless the sad legacy of violence is adequately dealt with. Choosing to draw a line through the past, pull a veil over it or remain silent about it is not conducive to shaping a sustainable culture of peace. 
All wrongs committed during 'The Troubles', whether by state forces, loyalist groups, republican groups or by institutions must be investigated on exactly the same basis. 
Our violent past, if not dealt with in an appropriate manner, will resemble a fire that intermittently flares up, resulting in years of quiet being abruptly interrupted by a period of unrest. 
• Martin McGuinness meeting Queen Elizabeth
No right-thinking person wants to go back to armoured cars and barbed-wire walls. Consequently, the time has come for all political representatives to set aside their differing views of the conflict as well as their competing narratives about the conflict. 
For the sake of securing a generous measure of healing and hope for hurting and traumatised people, an independent International Commission to help our society face the past, embrace it and no longer be imprisoned by it should be appointed without any further delays or discussions.
If the political process is faltering – particularly around how to deal with the past – prevailing corrosive relationships, so apparent right across the political spectrum, cannot be other than a major impediment to progress and stability. 
All the talk about moving forward and working to build a shared future will amount to so little as long as people's hearts are hardened against each other. 
It is utterly deplorable, especially in the most religious part of the United Kingdom where church attendance remains comparatively high, that both traditions have still not learned how to live in harmony. 
Hatred and blame cannot forever be used to conceal the reality that eventually we will have to find our way together, lower our barriers, stand alongside people we would not normally even acknowledge and put aside our judgements of one another to share peace.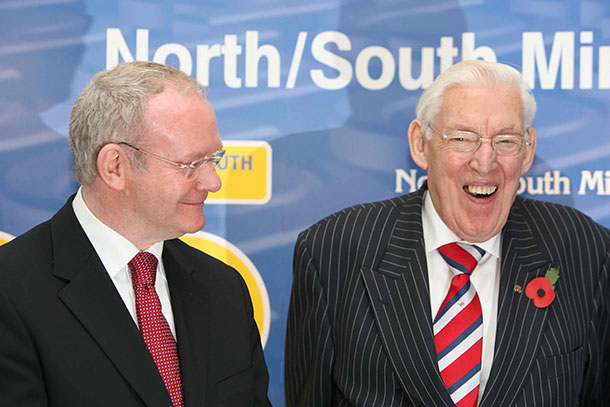 • Martin McGuinness with Ian Paisley Snr
For such a time as this, like-minded people must band together. People who wish to shape society so that they and their children for generations to come will be able to learn and grow as part of the solution, not part of the problem. People who will neither slacken their step nor lower their gaze but will, through word and deed, seek to be the change they wish to see.
Having put our hands to the plough, we cannot for any reason turn back, otherwise a new generation could return to violence. Children growing up without some vision of a shared cross-community future could too easily learn the ways of conflict again. 
To limit the possibilities of this ever materialising, primary and post-primary schools in Derry/Londonderry, Donegal and Omagh embracing Controlled, Maintained, Irish-Medium, Integrated and Special Care sectors were invited to compose 25-word peace pledges. With support from the Western Education & Library Board, 116 schools have, so far, produced pledges which succinctly express what young people consider we all need to be doing so as to live better together. 
Young people are full of vibrant ideas. They can show our country a new path to peace and prosperity. Unconstrained by the convention of "what is" and untainted by 'The Troubles', they can help us build the road and gradually create a way out of the frozen political landscape so that in the fullness of time "we can burn as one unified sun that can light up our world and even our universe".
DAVID LATIMER returned from Afghanistan in 2008 as Hospital Chaplain in Camp Bastion and resolved to become more active in peace building. The 2013 visit by Martin Luther King III to Derry was part of the 'Bright Brand New Day' initiative which led to 'Pathway to Peace', reaching into schools and involving young people as peace builders.