2 November 2014 Edition
Belfast rallies against Thatcherite welfare cuts from Westminster
Fighting Austerity North and South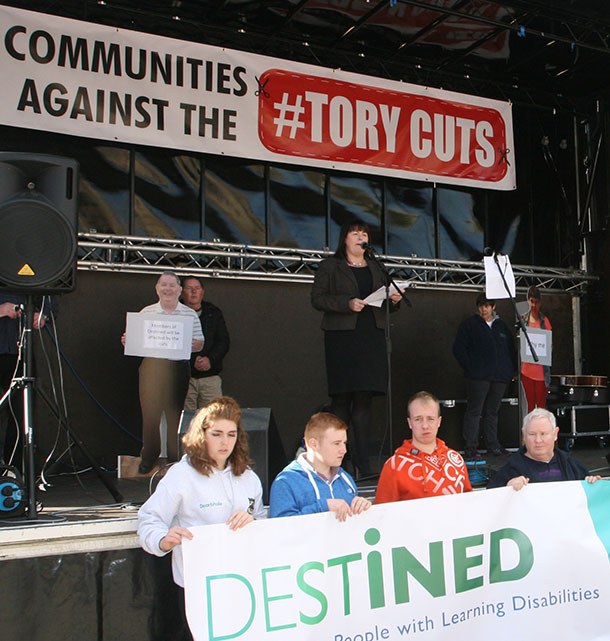 'Every day, more and more people are realising the devastating impact welfare cuts would have on all communities' – Michelle Gildernew
REPUBLICANS from across the North joined trade unionists, charities, church groups and disability organisations in Belfast city centre on 11 October to campaign against the Tory cuts agenda. 
The rally, organised by the 'Communities United Against Tory Cuts' umbrella group, was held in Writer's Square and was attended by more than a thousand people from a wide cross-section of society. 
It was chaired by Gerry McConville from Falls Community Council and the platform party included Sinn Féin MP Michelle Gildernew, Maureen Collins from Derry cancer support group The Pink Ladies, anti-poverty campaigner Goretti Horgan, John Dawson from the Irish Congress of Trade Unions, the SDLP's Councillor Tim Attwood, and Church of Ireland Minister Rev Adrian McCartney. 
Addressing the crowd, which included republicans who had travelled from across the North, Michelle Gildernew outlined Sinn Féin's opposition to the welfare cuts agenda of the Tory-led Westminster Government under the guise of "reform".
 "Don't be fooled by the title," the Fermanagh/South Tyrone MP said, "this has nothing to do with reform. It is simply an attack on the poor by a Cabinet of millionaires who have no idea of the realities of trying to survive on benefits. 
"It is a Thatcherite agenda designed to hollow out the welfare state and destroy public services."
Michelle Gildernew said the impact of the cuts would be felt by tens of thousands of people. 
"If implemented here, these cuts will take money out of the pockets of real people. That includes the poor, the unemployed, those on low incomes and people with disabilities. 
"This is not simply about people who are unemployed. These Tory cuts would hit people receiving child tax credits and working tax credits. 
"Sinn Féin is not prepared to allow that to happen. 
"We are opposed to welfare cuts because it is the right thing to do. We are opposed to austerity in the North and in the South.
"Sinn Féin makes no apologies for standing up for the poorest and most vulnerable in our society and we will continue to do so. That is why we are opposing Tory welfare cuts," she said.  
• Sinn Féin activists take part in the Communities United Against Tory Cuts rally in Belfast
She told the crowd at Writer's Square that welfare cuts which have already been imposed in Britain have led to spiralling rates of poverty. 
"The roll-out of this cuts agenda in Britain to date has been a disaster. 
"The Tories, Liberal Democrats and Labour have all told us that we need to implement these cuts but they are clearly divided on whether they support these cuts in their own back yard. 
"Liberal Democrats Business Secretary Vince Cable told his party conference that the Tories are 'ideologically obsessed with cuts' and added that they see this policy as a way of destroying public services and the welfare state. 
"Deputy Prime Minister Nick Clegg said the Tories are trying to reduce the deficit by 'beating up on the poor'.
"And they are supposed to be partners in government!
"The reasons for their criticisms are clear. Thousands of people have been made homeless and many more have been forced to rely on food banks simply to survive. 
"Rate of malnutrition have increased and people have been driven to desperation and, in some cases, suicide. 
"Prime Minister David Cameron is more concerned about protecting his friends and supporters in big banks and ensuring they continue to get bonuses while thousands of people are forced to rely on food banks.
"And now they want to go even further and introduce further benefit freezes and an even more punitive cap on housing benefits. 
"We will not allow the same situation to unfold here," she said. 
The Sinn Féin MP also said it is important that communities stand together in opposition to the welfare cuts agenda. 
"There is a growing campaign against this punitive policy. Every day, more and more people are realising the devastating impact welfare cuts would have on all communities. 
"These cuts would devastate communities from the Ballybeen to the Bogside, from Shantallow to Sandy Row, and from Belcoo to Ballygawley. 
"Trade unions, church leaders, charities and public representatives have all warned of the impact of these Tory cuts on our society. 
"We are calling on all those who want to protect the poor and most vulnerable in our society from the devastating effects of this Tory-led policy to present a united front against these cuts."