1 October 2014 Edition
Volunteer Charlie McGlade Commemoration 2014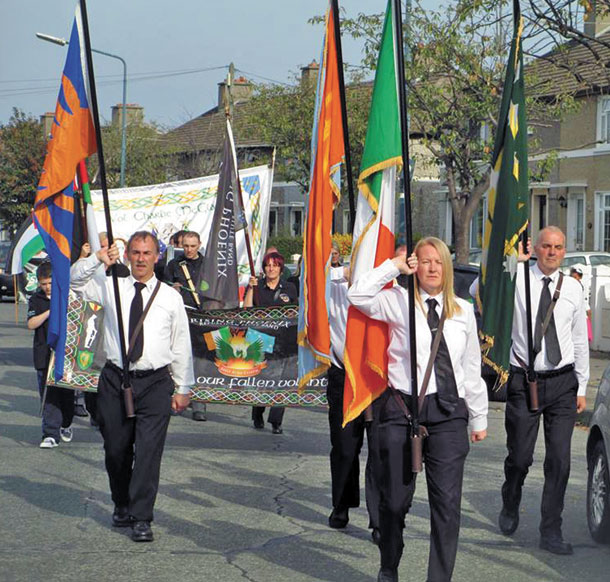 THE annual Volunteer Charlie McGlade Commemoration was in Drimnagh, south-west Dublin, on Saturday 13 September.
Organisers refute a report in the Sunday World that abuse was directed by participants at a particular household on the route or that gardaí were called to an event that has passed without incident over the past decade.
The commemoration stopped at Charlie's family home on Mourne Road, where the colour party lowered its flags in respect to this remarkable republican before going to Errigal Field for the main oration.
The Roll of Honour was read by Jim Monaghan, followed by the lowering of the flags and a minute's silence. A wreath was laid on behalf of the Volunteer Charlie McGlade Sinn Féin Cumann by Pádraig O'Gibhne.
A history of Cumann na mBan was given by Dublin City Councillor Críona Ní Dhálaigh and the importance of women's contribution throughout republican history and their role in Sinn Féin today.
In the main address, local newly-elected Ballyfermot/Drimnagh Sinn Féin Councillor Greg Kelly spoke of Charlie's life and dedication to the republican struggle and how Sinn Féin must continue that fight for freedom and equality.
Greg also extended solidarity greetings to the locked-out Greyhound workers and the people of Gaza and Palestine.
The Rising Phoenix Republican Flute Band closed the commemoration with Amhrán na bhFiann.