1 October 2014 Edition
EU hears survivors' tales of horror from Ireland's 'mother and baby homes'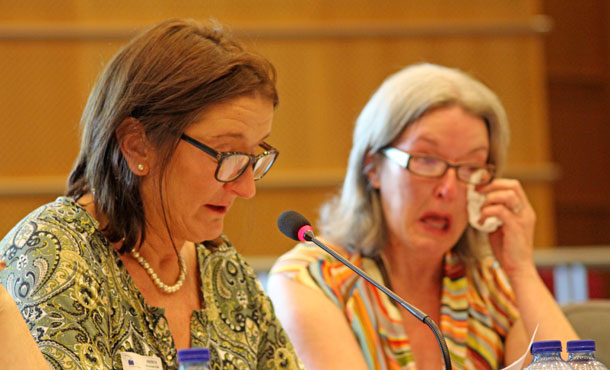 Personal stories told to the hearing outlined illegal adoption practices including forced separation of mothers from children, vaccine trials on children without consent, and forced labour in terrible conditions
THERE were emotional scenes in the European Parliament when survivors of Ireland's 'mother and baby homes' were hosted in Brussels by Sinn Féin to give first-hand accounts of the trauma they went through and have lived with for decades since.
Survivors had the chance to tell their harrowing ordeals to a hearing and to meet with MEPs, representatives of the European Commission and Amnesty International in the hope that the European Union will help them in pressuring the Irish Government to treating their demands for justice as a priority.
The group had also hoped to discuss the issue with a spokesperson for the Irish Government Permanent Representative to the EU but, incredibly, they refused to meet them.
A furious Niall Meehan of the Bethany Home Survivors group said the Irish Permanent Representative was "abdicating their responsibility by not being here. It's their job in the EU to represent the interests of Irish citizens and the Irish state."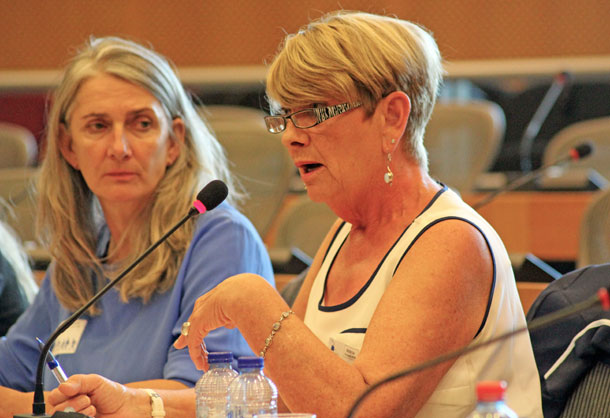 •  Rita Tisdall fled Ireland while Joan McDermott's son was taken from her and put up for adoption
Personal stories told to the hearing in September outlined illegal adoption practices including forced separation of mothers from children, vaccine trials on children without consent, and forced labour in terrible conditions.
Joan McDermott, from Cork, was admitted to Bessborough House in 1967 when she became pregnant.
"The nuns there treated us like you wouldn't treat a dog," she says. "I never agreed to put my son up for adoption, I was never informed about it or given a choice. At seven-and-a-half-weeks my son was taken from me. When I was discharged I was sent to Britain and told never to come back."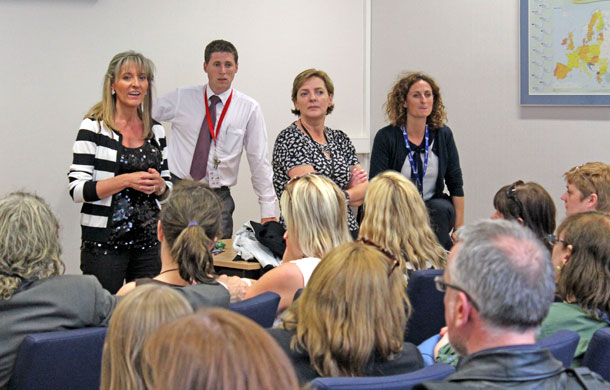 • Sinn Féin MEPs with the delegation at the European Parliament
A qualified nurse and social worker, Joan later married and had two children. When they were old enough she told them about their older brother. In 2000, she returned to Ireland. Speaking to An Phoblacht on her way to a meeting with Amnesty International at the European Parliament, Joan says the redress board "shut every door in my face". She makes a special mention of Sinn Féin TD Sandra McLellan for her help in Joan's struggle to get access to her files. Joan's persistence in pursuing information and some good luck (her file fell from a folder when they were being moved and the social worker recognised her name) meant that she finally met her son last May.
She had initially been told it would be eight years before she got access to her file. She was also led to believe her son was sent to America, like other children who were sold for thousands of dollars on an "adoption market". He hadn't. He was living in the Irish midlands.
"There are other women who have no right or access to their records. Those women will die and their children will likely never know their parents – that has to change," she tells me.
Rita Tisdall worked and lived at a mother and baby home in Temple Hill, Blackrock, Dublin, in 1972, when she was 15. She was so appalled at how babies were treated there that she fled the country. She now lives in Denmark.
"We were not allowed to have physical contact with the babies," she says, explaining the procedure for feeding babies. "They were between a few days old and two years. When they cried we weren't allowed to rock their beds. When they'd been at the baby home for about a month they stopped crying."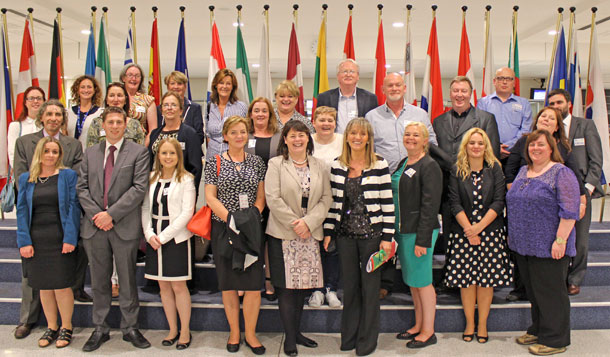 • The delegation wants the EU to put pressure on the Irish Government
During the night she says there was one girl assigned to looking after about 15 children.
"One thing that will always stick with me is an incident at night. A girl had swung one of the babies around and dislocated or broke the baby's arm. I don't know what happened to that baby; the baby disappeared."
She also recalls seeing babies with knuckle marks on their face and other bruises on them.
"When I was 17 I became pregnant myself. I wasn't married so I left Ireland. The reason was because I had experienced what happens at Temple Hill so at least I could save my baby from that."
Marguerite Zumo tells the hearing how her mother in Seán Ross Abbey in Tipperary was forced to give birth to her in a toilet "so she wouldn't soil the sheets and to save on laundry costs".
Her mother was sent away from Seán Ross one month after she was born. It's claimed Marguerite was then adopted but she was about six months old. Where she was for those other five months is a mystery. She was told she may have been kept in a 'holding centre':
"I met my mother briefly, two years ago, in a church in County Meath, for 20 minutes. She actually went into hospital shortly afterwards and died five months later. So I never got another chance to meet her. In that 20 minutes she told me how hard it was for her."
Holding up a letter from the Catholic Rescue and Protection Agency, she says:
"I have a vaccine mark on my back, on my left hip, which this piece of paper says is BCG [tuberculosis vaccine]."
"They said it was given in my back to preserve the beauty of my arm. My doctor doesn't know what it is but it is certainly not BCG. It was given right beside my sciatic nerve. I had to wear special shoes growing up from three until at least my First Communion."
She wonders whether this injection had anything to do with her need to wear specialised footwear.
"I want my medical records to know what exactly I was injected with. I was told I would have to go on a waiting list. That was two months ago and they haven't even bothered to send me the form. I'm now 53 years of age and they're still treating me like a non-person."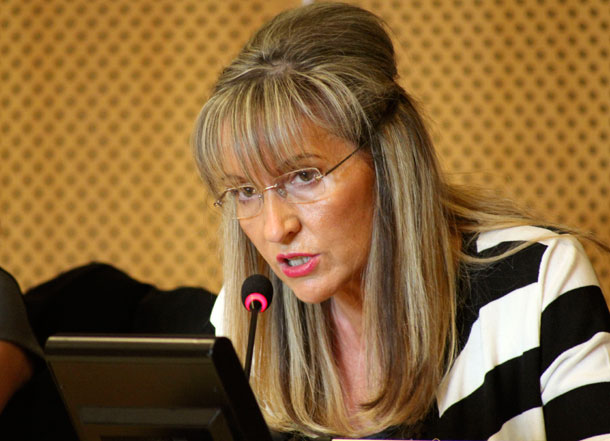 • Martina Anderson MEP hosted the delegation in Brussels
The problem with obtaining information on adoptions is exacerbated by the Border. Often children from the South were adopted by families in the North or vice-versa.
Andrew Yates was adopted from Westbank orphanage to a couple in the North after they had come to the conclusion that he was being neglected. His adoptive father first met him when he spotted him walking along a road barefoot and looking very malnourished. At the time, Andrew was one of a number of Protestant children boarded out to Northern farmers as child workers. Westbank orphanage was paid £150 for each of these child labourers. When Andrew was adopted he didn't know that he had a brother in the same orphanage. Both of their names had been changed to conceal the fact they were siblings.
This story of separating siblings seems to be endemic in both Catholic and Protestant homes.
Edel Byrne of the Adoption Rights Alliance, adopted from Bessborough House, only found out last year at the age of 42 that she had a brother and sister. Within minutes of being given their names she had located them. All three siblings had been searching for each other without success and had registered with the Adoption Preference Contact Register. They should have been put in contact with each other when they appeared on the register as they are all adults who had consented to being contacted by their siblings. Unfortunately, a Los Angeles Times news report in the USA revealed to Edel that her brother Desmond had died tragically. Her voice cracks and she and her sister Ena, who sits beside her, try to hold back the tears as they recall how they met for the first time at a hotel in Monaghan. They grew up an hour apart from each other:
"We look like sisters but we never played together, we never shared birthdays, we were not at one another's weddings, she had never seen my children. There were deliberate barriers put in place to prevent us reuniting."
• Survivors put pressure on Fine Gael MEPs such as Brian Hayes, who attended the hearing for a short time, to make adoption rights a priority
By the time the three of them were finally together, it was during their first visit to the grave of their brother.
"Adopted people don't want compassion. We want truth, knowledge and our information. Without our histories we are trapped in strangers' bodies."
Susan Lohan of Adoption Rights Alliance says the siblings issue lays bare the lie that all the human rights abuses pertaining to adoption in Ireland are a historical matter. She also accuses the Irish Government of leading adopted people who are searching for their relatives on a "merry dance".
The broad feeling from those at the conference is a frustration that anybody should have to go to Europe to put pressure on the Irish Government to do the right thing.
Martina Anderson MEP accuses the Government of trying to sweep this shameful part of Ireland's history under the carpet:
"As with every scandal in Ireland, this one began with a denial, then a delay, then a lie, followed by a cover-up and eventually, if forced, the Irish Government will throw some pennies from the table at it in the hope that it will go away again."
Martina pledged to continue working on behalf of survivors and that the issue will not go away until they get the justice they deserve.