1 October 2014 Edition
Ian Paisley – demagogue or peacemaker?
Death of former First Minister and ex-leader of the Democratic Unionist Party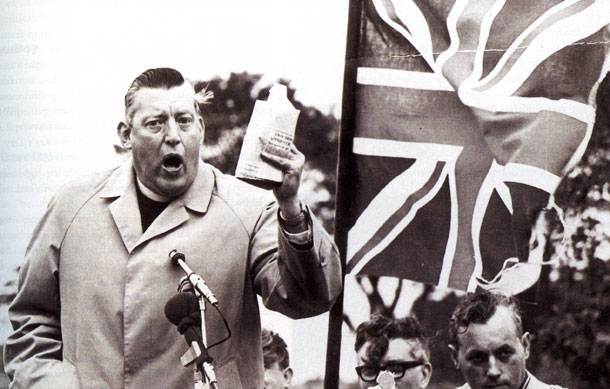 What is clear is that many loyalists maintained that Paisley's sectarian bile influenced their decisions to join unionist death squads and carry out the sectarian killings of Catholics.
AS THE NEWS of Ian Paisley's death at the age of 88 flooded the airwaves on Friday 12 September, it was clear that the broadcasters, commentators and politicians who went in front of the cameras and into print were caught between two stools.
Do they hang their analysis of Paisley's 50 years or so in public life on his impact on the political events from the 1960s – a place in history built on anti-Catholic zealotry, stoking bigotry and racism – or do they opt to focus on 'Paisley the Peacemaker'?
Gerry Adams and Martin McGuinness found themselves in that quandary in the immediate aftermath of the ex-leader of the Democratic Unionist Party and former First Minister.
Martin McGuinness and Ian Paisley did gel in the Office of First Minster and deputy First Minister after the DUP ended its 'boycott' and agreed to go into government with Sinn Féin in 2007.
Their relationship confounded almost everyone who thought the DUP/Sinn Féin combination wouldn't work. To the chagrin of the nay-sayers they became friends.
For republicans, the imperative of advancing the peace process by applying the dictum 'You build peace with your enemies, not your friends' gave a rationale and context to the McGuinness/Paisley relationship.
It was in that same relationship, however, especially Paisley's public expressions of bonhomie with McGuinness — the bête noire of unionism — that lay the seeds of Paisley's downfall.
For the bigots, the zealots and the 'No Surrender, 1690 brigade', the Paisley colossus now had feet of clay.
Despite his previous standing as the undisputed leader of the DUP and by extension the kingpin of unionist politics, Paisley was, in the space of a year, out of office, usurped from the DUP leadership, and ousted as the head of the Free Presbyterian Church that he had founded.
The Frankenstein-esque monster he created had turned on him.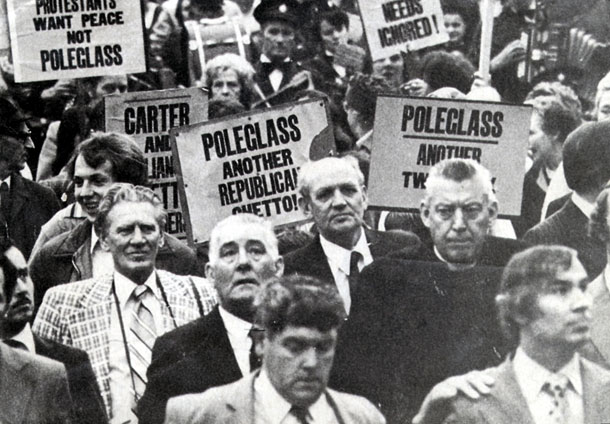 • Protesting the building of 'republican ghetto' Poleglass
Divis Street riots

Ian Paisley rose to the top of the unionist pile through his fundamentalist anti-Catholic demagoguery and his opposition to republicanism.
He forced his way into the consciousness of Northern nationalism (and a young Gerry Adams) when in 1964 he demanded that the RUC remove a Tricolour from the election headquarters of the republican election candidate Billy McMillan.
Two days of serious rioting followed as nationalists reacted to the RUC's brutality.
In the late 1960s, Paisleyite counter-demonstrations gave the Stormont government the pretext it needed to ban civil rights marches.
In 1968 –  first in Dungannon, County Tyrone, and then in Duke Street in Derry – the RUC viciously attacked and used wooden batons to beat peaceful protesters.
In between times, in 1966, a reorganised UVF killed Protestant Matilda Gould when they petrol-bombed a Catholic-owned pub next to her home near the Shankill Road.
Two Catholic men, John Patrick Scullion and Peter Ward, were shot dead by Gusty Spence's UVF squad. One of the UVF gang, Hugh McClean, is alleged to have told RUC detectives investigating the killings: "I am terribly sorry about this. I am sorry I ever heard of that man Paisley or decided to follow him." (McClean later denied making these remarks.)
What is clear is that many loyalists maintained that Paisley's sectarian bile influenced their decisions to join unionist death squads and carry out the sectarian killings of Catholics.
Likewise, many commentators blame Paisley's 'blood and thunder' rhetoric for much of loyalism's excesses. Susan McKay, writing in The Irish Times, said: "There can be no doubt whatsoever that certain words he spoke sent men out to kill."
Notwithstanding Paisley's provocative influence, those loyalists who joined the UVF and UDA to 'defend the Union' and stalked nationalist areas of the North, killing people simply because they were Catholics, must take responsibility for their own actions.
If commentators really want to look for the real puppet-masters behind the unionist death squads, they need look no further than the British state, its security agencies and its agents.
• Ivan Foster, Peter Robinson, Ian Paisley and Jim Allister stage an 'early morning raid' protest at the GPO in 1984
Unionist supremacist worldview

Paisley's brand of religiopolitical thought epitomises what unionist politics are all about – a moral superiority that sees them as British, as being part of a civilising nation that brought superior values of democracy, justice and fair play to the savages and backward peoples of the world.
It is that supremacist worldview that would give Paisley his platform for describing Catholics as vermin (shades of Goebbels?), from where he ridiculed the Catholic Church and infamously branded the Pope as the Antichrist.
In the 1980s it would see 'The Doc' or the 'Big Man', as he was affectionately dubbed, brandishing a sledgehammer under the DUP's "Smash Sinn Féin" election slogan. For many, this allusion to UVF/UDA gunmen smashing their way into houses on sectarian murder missions was a deliberate taunt.
And that ongoing association with unionist killer gangs (publicly seen during the 1974 loyalist Ulster Workers' Council strike, aimed at wrecking the 1973 Sunningdale Agreement) and Paisley's leading roles in the paramilitary Third Force and Ulster Resistance movements were hallmarks of Paisleyism.
His firebrand religiopolitical preaching appealed to many in the Protestant community, especially the working class, and has its roots in the very DNA of the Six Counties – a state created by gerrymandering in the interests of "the Protestant people".  
Civil rights activist and human rights lawyer Michael Farrell, in his seminal work, Northern Ireland: The Orange State, writes that "as unemployment grew in the late 1950s he [Paisley] built up an organisation called Ulster Protestant Action (UPA) whose aim was to 'to keep Protestant and loyal workers in employment in times of depression, in preference to their fellow Catholic workers'.
In June 1959, a mob attacked a Catholic-owned fish and chip shop on the Shankill Road after Paisley addressed a 1,500-strong Ulster Protestant Action rally.
According to Farrell: "In 1961, Ulster Protestant Action was giving out leaflets at factories and in the shipyard condemning the allocation of Corporation houses to Catholics."
Setting worker against worker in this sectarian 'hierarchy of labour' created the conditions for the demonisation of working-class nationalists as the struggle for civil rights came on to the streets in 1960s.
It was in the late 1950s that Paisley's strategy to attack and undermine any unionist leader who might be willing to compromise with nationalists has its genesis.
Ulster Protestant Action took control of the Shankill Unionist Association and installed their own man, Desmond Boal, who won the Stormont by-election in June 1960.
Following on from this, Paisley targeted then Stormont Prime Minster Terence O'Neill over his invite in 1965 to then Taoiseach Seán Lemass to come to Belfast.
As Paisley was fast fostering his credentials as the leader of the opposition to O'Neill's 'liberal agenda', another shadowy figure was emerging in the loyalist background.
William McGrath, who knew Paisley since 1949 and wrote in Paisley's Protestant Telegraph newspaper, was now becoming active in the 'O'Neill Must Go' campaign spearheaded by Paisley.
McGrath, the founder of the sinister Tara loyalist paramilitary organisation, would become synonymous with the sexual abuse of minors in the Kincora Boys' Home, where he was housemaster.
Abusers are alleged to have included senior members of the British military, security and political establishment in the North.
(According to Chris Moore in his book about McGrath, The Kincora Scandal, McGrath attempted to justify the 1966 killings of Ward and Scullion by saying they were communists.)
Terence O'Neill eventually resigned only for Paisley to attack his successor, James Chichester-Clark.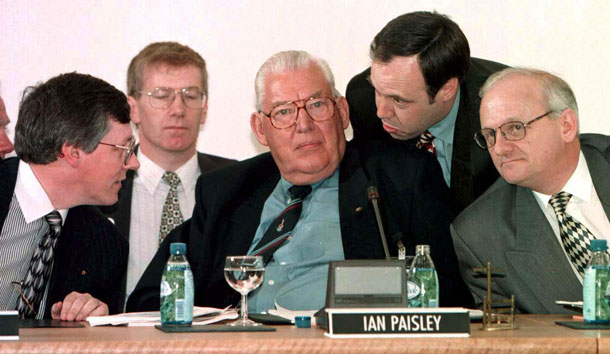 •  Paisley accused Peter Robinson and Nigel Dodds of forcing him out as DUP leader and First Minister
Leader of unionism

As the conflict in the North intensified so did Paisley's drive to get to the top rung of the unionist ladder.   
By coupling his fundamentalist politics and Old Testament religion through his Free Presbyterian Church, founded in 1951, he saw off every leader of the unionist party.
In 1971, he established his own party, the Democratic Unionist Party, with Desmond Boal and other members of the Protestant Unionist Party.
Down the decades, the DUP battled with the established Ulster Unionist Party and eventually overtook its rival.
When the DUP trumped the Ulster Unionist Party in the 2005 Westminster general election, UUP leader David Trimble resigned. Paisley characterised Trimble's party during the election as "roll-over unionists".
In 2008, a year after he became First Minister of the North's Executive with Martin McGuinness as deputy First Minister, Paisley stood down, handing over the post and that of DUP leader to Peter Robinson. Paisley accused his once loyal lieutenant Robinson and DUP MP Nigel Dodds of forcing him out.
That Paisley ended up embittered at his treatment by his own people, in his party and his church, for being too friendly with Martin McGuinness is ironic.
The negative, bigoted ideology that he exploited to get to the top ended his political and church life.
Ian Paisley was a demagogue AND he was a peacemaker – was he also an egotist willing to exploit anyone or anything to get where he wanted?

Ian Richard Kyle Paisley

Born 6 April 1926 – Died 12 September 2014

1946 Becomes Minister in Presbyterian Church
1951 Establishes his own Free Presbyterian Church
1956 Forms Ulster Protestant Action as he becomes active in unionist politics
1964 Insists the RUC remove Irish national flag from Divis Street HQ of republican election candidate Billy McMillan, leading to 'Divis Street riots'
1965 Throws snowballs at Taoiseach Seán Lemass's car on visit to Belfast in protest at visit and Stormont Prime Minister Terence O'Neill's 'liberalism'
1967 Civil Rights Association formed
1968 Paisleyite mobs confront civil rights demonstrators on Coalisland to Dungannon march and force ban on October 5 march in Derry
1970 Elected as MP for North Antrim
1974 Joins with UDA and UVF as part of the Ulster Workers' Council (UWC) strike to bring down power-sharing Sunningdale Executive
1977 A second strike led by Paisley, this time without unionist paramilitary muscle, fails
1979 Elected to European Parliament
1981 Paisley attempts to create a Protestant loyalist volunteer militia called the (Ulster) Third Force
1985 Signing of the Anglo-Irish Agreement sees Paisley prominent in massive unionst demonstrations amidst street violence by loyalists
1986 Paisley forms Ulster Resistance, importing weapons shared with the UVF and UDA
1994 IRA cessation of military operations
1995 Hand in hand with David Trimble, takes part in triumphalist walk after Orange parade allowed through the nationalist Garvaghy Road
1998 Refuses to take part in negotiations for Good Friday Agreement
2005 IRA formally orders an end to the armed campaign
2006 St Andrew's Agreement sees DUP agree to form Executive with Sinn Féin
2007 Paisley becomes First Minister, Martin McGuinness deputy First Minister
2008 Paisley steps down as First Minister and leader of the DUP; Peter Robinson takes over