1 October 2014 Edition
Water tax to be turned off by Sinn Féin in Government
Taxpayers are funding "a corporate monster" that the public is picking up the bill for, Brian Stanley, Sinn Féin Environment & Local Government spokesperson said.
IN GOVERNMENT, Sinn Féin will abolish the water charges in the 26 Counties, the party has said in launching its proposals on what Gerry Adams has called this "unfair and unacceptable" new tax imposed by Fine Gael and Labour but devised by Fianna Fáil.
The Sinn Féin leader says consumers are being forced to pay twice for water and sewerage services as they already pay once through their income tax.
Bills from Irish Water – Uisce Éireann will start dropping through the letterboxes of almost two million households from January with an average annual charge of €280 for already-struggling families to have to pay.
The household water charge was conceived by the previous Fianna Fáil/Green Party Government who agreed the policy with the EU/IMF/ECB Troika as part of the financial bail-out in December 2010.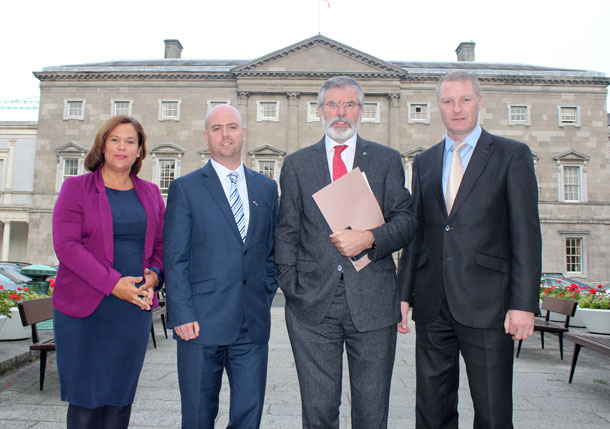 • Sinn Féin's Mary Lou McDonald TD and Gerry Adams TD with by-election candidates Councillor Cathal King (Dublin South-West) and Councillor Martin Kenny (Roscommon/South Leitrim)
Gerry Adams says:
"Sinn Féin believes that households already pay for these services through their income tax. Citizens should not be forced to pay twice.
"Ordinary citizens and families across this state are being forced to pay yet another regressive tax to repay a banking debt that is not theirs.
"Those responsible for causing the economic crisis, the collapse of public finances, the forced emigration and mass unemployment remain unaccountable for their actions.
"Households already do pay for water and sewerage services through general taxation.  This is how we have financed these vital services to date.  
"The Government are imposing a second charge through a household bill which Sinn Féin rightly opposes because it is unfair.
"Sinn Féin in Government will commit to reverse these household charges if they are not stopped."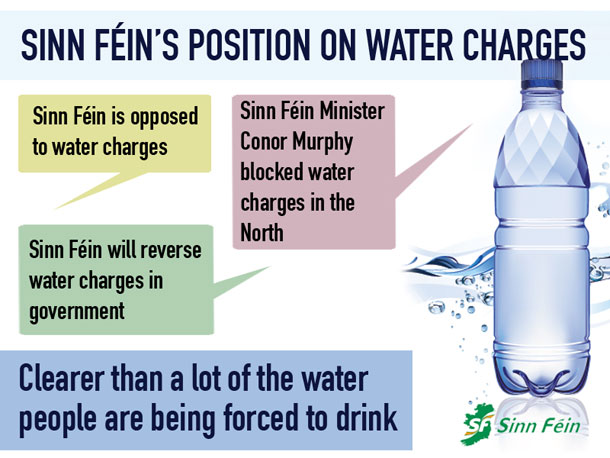 Gerry Adams pointed out that, in 2007, Sinn Féin in the power-sharing Executive government at Stormont reversed the plans of British ministers from Westminster to introduce water charges in the North. Stopping the introduction of charges saved households an average of €490 a year, according to the Utility Regulator.
Sinn Féin also ruled out any future privatisation of "this critical public service".
With Sinn Féin in government in the North, more than one billion pounds was poured into a major upgrade of the water and sewerage infrastructure, benefiting almost one million households and businesses in a programme that has improved drinking water quality, protected the environment and supported the local economy

Some of Sinn Féin's proposals
Overall policy responsibility for Irish Water to rest with the Minister for the Environment, Community and Local Government and both to be accountable to the Oireachtas.
Compel Irish Water to have its annual accounts audited by the Comptroller and Auditor General and ensure an open and transparent approach going forward.
Ensure that the board of Irish Water is "fairly balanced to represent the economic, environmental and societal interests which serve both the public utility and the public interest" — including the workforce.
Abandon plans to introduce domestic household water charges.
Stop the roll-out of metering and redirect the €539million loan from the National Pension Reserve Fund towards a capital investment programme, including fixing the massive leakage problems and interruption to supply across the state.
BRIAN STANLEY, Sinn Féin Environment & Local Government spokesperson, said the set-up costs for Irish Water are almost twice that of similar entities in England and Wales.
Taxpayers are funding "a corporate monster" that the public is picking up the bill for, the Laois/Offaly TD said.
"Control of the water service ought to have been left in the hands of reformed local authorities."
Funding should be generated through mixed income of which the majority is through public subsidy.  This would include Exchequer funding (currently committed at €240million in 2014), Local Government Fund, (currently committed at €490million in 2014) and through the accurate billing and collection of non-domestic water charges (income collected estimated to be approximately €200million).
Irish Water must put customers first — "Citizens hold valid suspicions in regard to the Government's water reform process to date which must be addressed."
A state-wide audit of assets and infrastructure to determine the exact portfolio within public ownership.
Introduce an immediate capital investment programme to upgrade local infrastructure and fix the huge leakage problems and interruption to supply across the state. This will conserve water, bring about greater efficiency and will save costs in the longer term.
Irish Water must act in an open, transparent and accountable way by engaging with legislators and the Oireachtas, consumer representatives, voluntary and community sector, business sector and customers.
Advocate co-operation and implementation in the delivery of water and sewerage services for mutual benefit on an all-Ireland basis under the aegis of the North/South Ministerial Council.