1 July 2014 Edition
Tensions rise for marching season
'While unionist parties support Orange Order's refusal to engage with residents then issues won't be addressed'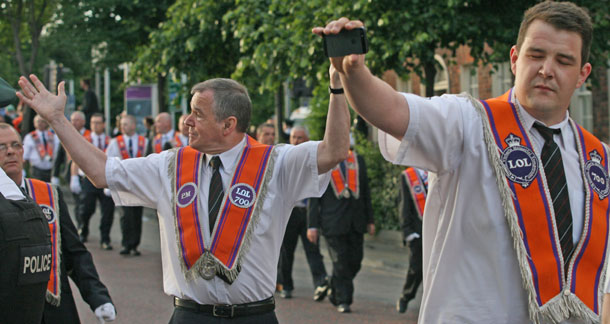 Unionist parties join UVF and UDA political representatives in lobbying Parades Commission and PSNI for Orange parades
AFTER MEETING Britain's Queen Elizabeth at Hillsborough Castle outside Belfast on Monday 23 June, joint First Minister Martin McGuinness said he will "continue to offer positive political leadership". He reaffirmed his commitment and that of Sinn Féin to reconciliation between the people of Ireland and Britain.
"Tonight's meeting with Queen Elizabeth was also about reaching out the hand of friendship to the unionist community," McGuinness said.
McGuinness's third meeting with the British monarch comes as tensions across the North in the run-up to this year's Orange marching season rise.
The news that the Parades Commission is permitting an Orange march along a small section of the Garvaghy Road in Portadown on June 29 underpins nationalist suspicions that the Orange Order, supported by all shades of unionism, is intent on confrontation.
The unionist leadership remains focused on its own narrow objectives.
In the short-term, unionists are lobbying hard to see an Orange Order parade pass through Ardoyne during the Twelfth.
And in a highly unusual move, the leaders of political unionism (Peter Robinson of the DUP, Mike Nesbitt of the UUP, and Jim Allister of the TUV), along with the political representatives of the UVF and UDA, have met both the Parades Commission and the PSNI Chief Constable designate George Hamilton in a joint delegation to lobby on behalf of the Orange Order and their demand to parade along the Crumlin Road.
Speaking to An Phoblacht, Sinn Féin Haass Talks negotiator Seán Murray described the unionist position as being "politically bankrupt".
Commenting on last Friday's 'Tour of the North' Orange Order parade through north Belfast, which passed off peacefully, Murray said:
"The unionists, loyalists and the Orange Order were on their best behaviour in an attempt to impress the Parades Commission and influence its determination on Ardoyne.
"But we shouldn't forget that, since the Twelfth of July last year and the widespread violence that followed, there have been parades and intimidation carried out nightly which have been focused on the self-styled 'civil rights camp' at Twaddell, deliberately located on one of the North's most volatile interfaces.
"This is the real Orange Order that nationalists see. So until that particular leopard changes its spot and while the unionist parties continue to support the Orange Order's refusal to engage with residents on a sustained and meaningful basis, then the issues won't be addressed.
"We signed up to Haass because we want to move things on. Unionists need to show the same level of leadership by delivering mechanisms to resolve the toxic issues around parading."