1 July 2014 Edition
Elections excite interest in Britain
Westminster briefings for Irish community, embassies and international press corps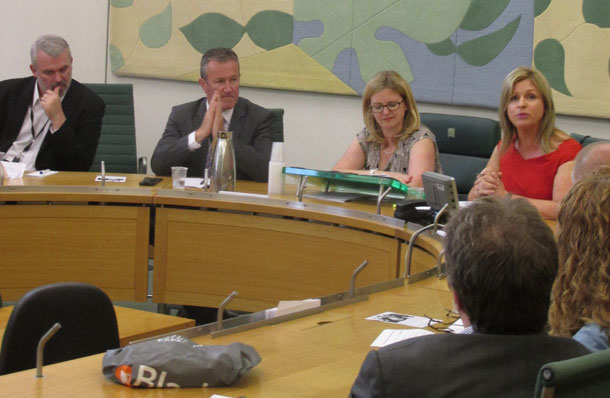 At a political level in Westminster the backdrop remains negative
THE IMPACT of the election results, Sinn Fein's stunning vote and the subsequent changing political landscape gave Sinn Féin's series of Westminster briefings and a public meeting in mid-June a real dynamic under the title 'Putting Irish Unity on the Agenda'.
The packed Westminster public meeting clearly reflected a renewed interest by London's Irish community and many others in what has happened in Ireland.
Given the rise of the fascist and right-wing populist parties in parts of Europe (incuding the anti-immigrant UKIP in Britain) and the capitulation to this right-wing agenda by many mainstream parties, Sinn Féin's strong support demonstrated that another way is possible – and that people will vote for it if given the choice.
Further busy meetings with London-based embassies and a briefing with the international press corps reflected a reawakened interest in Ireland, North and South, including the Peace Process, the economy and political shifts.
At a political level in Westminster the backdrop remains negative.
The refusal of unionism to engage and the failure of the British Government to make any real positive contribution to addressing this continues to frustrate progress.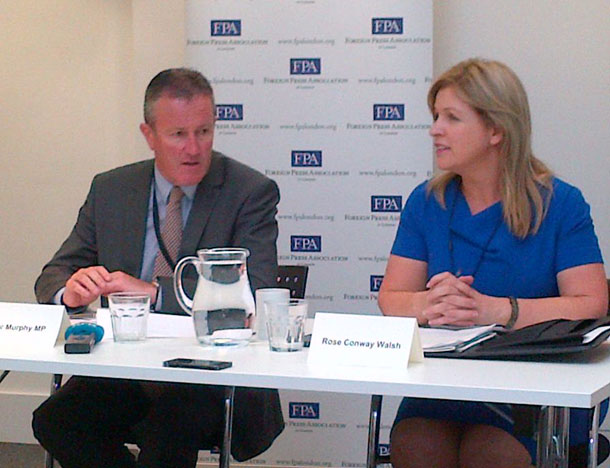 • Conor Murphy MP and Councillor Rose Conway Walsh at a Foreign Press Association briefing
Last month's Commons Questions on the North saw British Secretary of State Theresa Villiers make repeated statements about urging "all the parties" to take part in discussions and asserting that the British Government was continuing to "encourage, support and facilitate".
Yet, contrary to these words, unionism is being actively allowed to exercise a veto on progress. Villiers fails to point out that it is the DUP and the unionist parties (not "all the parties") who are failing to do what she and Prime Minister David Cameron state they are in favour of.
Theresa Villiers is well aware that the only blockage to talks taking place is coming from political unionism and it is wholly disingenuous to attempt to distance the British Government from responsibility for unionist intransigence.
Villiers commented that the British government "will work with the kind of institutions set out in Haass 7 if they are formally agreed by the parties". Yet she fails to say which parties are refusing to do so – the unionist parties.  And the British Government itself failed to endorse the Haass proposals, thereby providing cover for unionist refuseniks. Where is the actual pressure or action to implement this?
Instead, the British Prime Minister and the Tories hosted a drinks reception for the DUP in 10 Downing Street with an eye on next year's Westminster election.
On current opinion polls, the British Labour Party looks most likely to form the next government or at least emerge as the largest party. But the possibility of a hung parliament spells all sorts of dangerous short-termism by the current government to get into power. At this critical moment in the Peace Process, action to support it, not just empty words, is what is needed.