1 July 2014 Edition
Challenging racism – Showing leadership
SINN FÉIN has been to the fore in opposing recent racist attacks and intimidation in Belfast and across the North.
As the numbers of racially-motivated attacks have risen, Sinn Féin has consistently demonstrated leadership and stood in solidarity with ethnic minority communities.
Joint First Minister Martin McGuinness in particular has led from the front in challenging racist attitudes and intolerance.
His proactive stance stands in stark contract to the actions of DUP leader and Joint First Minister Peter Robinson, who sparked international controversy when he gave his support to evangelical preacher Pastor James McConnell, who branded Islam as "Satanic".
While Peter Robinson was claiming that he would trust a Muslim to "go to the shops" for him before being forced to issue a public apology, Martin McGuinness was standing shoulder to shoulder with representatives of the Islamic community.
Junior Minister Jennifer McCann, as well as meeting with victims of racist attacks and intimidation in north Belfast, faced down intransigence from the DUP and took action to support ethnic minority communities by progressing the Racial Equality Strategy.
Despite foot-dragging by the DUP, Jennifer McCann announced that the strategy, which has equality at its core, would go out to public consultation.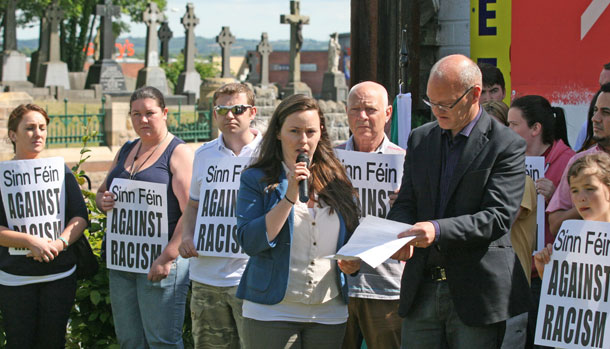 • Sinn Féin's Councillor Charlene O'Hara and Paul Maskey MP at the unveiling of the new anti-racism mural in west Belfast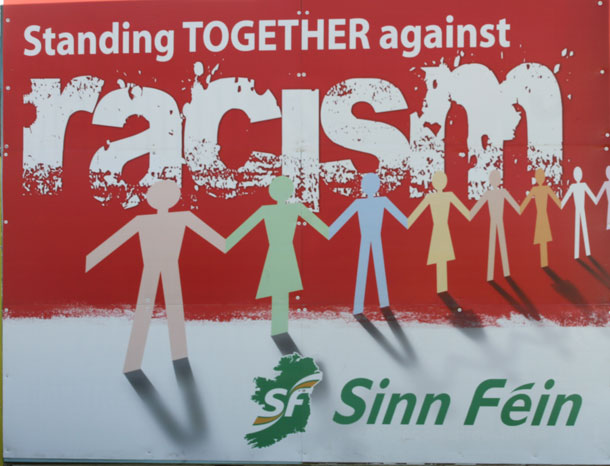 Fermanagh & South Tyrone MLA Bronwyn McGahan tabled a motion in the Assembly condemning the recent spate of racist attacks and which received support from all parties.
"It's important that we send out a strong message that these attacks will not be tolerated in any form or fashion. People who come to make a home in Ireland should be treated with respect and given the same equality as every other citizen," she said.
Belfast Sinn Féin Councillor Máirtín Ó Muilleoir, in one of his last acts as Mayor of the city, launched the 'Compassionate City' charter which promotes equality, dignity and respect for all communities and hosted representatives of ethnic minority communities at the event.
In west Belfast, Sinn Féin unveiled an anti-racism mural at the site of the former Andersonstown barracks. (see page2)
Speaking at the launch, which was also attended by West Belfast MP Paul Maskey, Councillor Charlene O'Hara said racism must be challenged in all its forms.
"There can be no ifs, buts or howevers when it comes to racism. It is wrong and must be clearly and unequivocally condemned."