1 July 2014 Edition
The Boys from the Good Stuff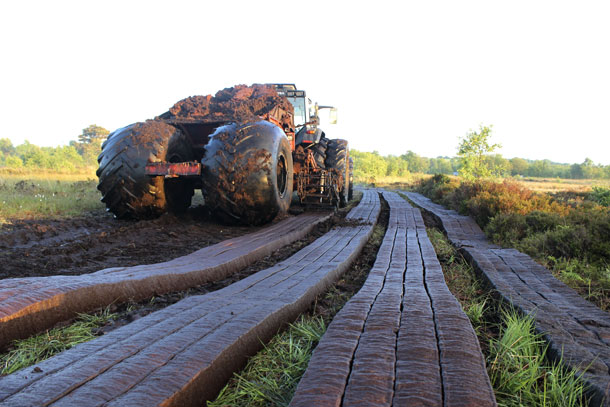 The Garda Armed Response Unit has confronted turf-cutters and seized machinery
Since 2010 it has been illegal for turf to be cut on certain designated raised bogs in Ireland. An Phoblacht's MARK MOLONEY went out with turf cutters in Westmeath to hear their side of the story as they embarked on a night-time foray
THE RIGHT of individuals in Ireland to cut turf for domestic use, known as 'turbary rights', extends back to the 15th century. Under the European Commission's 1992 Habitats Directive, 139 raised bogs – from the Midlands to the West, from Meath to Galway – make up the 53 Special Areas of Conservation (SACs) designated  between 1997 and 2002.
The National Parks and Wildlife Service says raised bogs are the most threatened type in the state and their loss would result in "an irreplaceable loss to global biodiversity. Intact bogs, which are actively forming peat, play an important role in combating climate change by removing excess carbon dioxide from the air and placing it into long-term storage for thousands of years."
Of the designated bogs, a small number are contentious because turf cutters cannot relocate to cut on undesignated bogs. The Irish state is facing fines from the EU over breaches of the Habitats Directive while turf cutters are furious that their turbary rights to cut and carry away turf are being ignored.
The original ban on cutting was suspended for 10 years but came into force in 2009 and has been vigorously enforced.
The Turf Cutters and Contractors' Association has also produced its own 193-page plan on conservation of bogs, consolidation of turf cutting into smaller areas, relocation and the use of compensatory habitats. This plan was rejected by Arts, Heritage and Gaeltacht Minister Jimmy Deenihan, who warned that those who continue cut turf on protected bogs will "have to face up to the fact they are breaking the law".
 • • • • •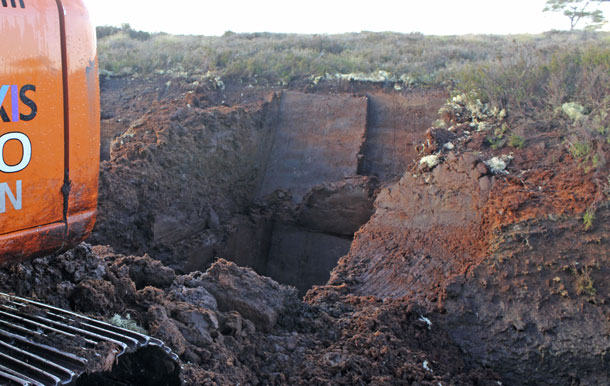 • This small section of bog has provided enough fuel to heat a family home for a year
THE SIMMERING turf cutters row may have dropped out of the mainstream media headlines in recent months but it is still very much a live issue on the ground in the Midlands and the West. Here, families have cut turf to heat their homes for generations and the move to ban cutting on certain bogs has caused deep outrage.
In the summer months, many still defy the EU directive.
I arrive in Westmeath to meet up with some local turf-cutters who are preparing to head out and cut on their bog, one which has been deemed a Special Area of Conservation (SAC), making cutting illegal.
There's been a series of summer storms over the past few days so conditions for cutting are less than ideal but they say they have no other choice than to get the work done tonight or they will have no fuel for winter. The machinery they are using has been brought up from Munster and the contractor is only in the area for a brief time.
Over the past four years, the Garda and state agencies have dramatically increased their attempts to prevent what they deem illegal cutting. The Defence Forces Air Corps has been deployed to conduct fly-overs of bogs. The issue came to a head in 2012 when the Garda Armed Response Unit confronted turf-cutters in Portumna and seized machinery. A number of turf-cutters have been arrested in the confrontations while others have faced fines of thousands of euro.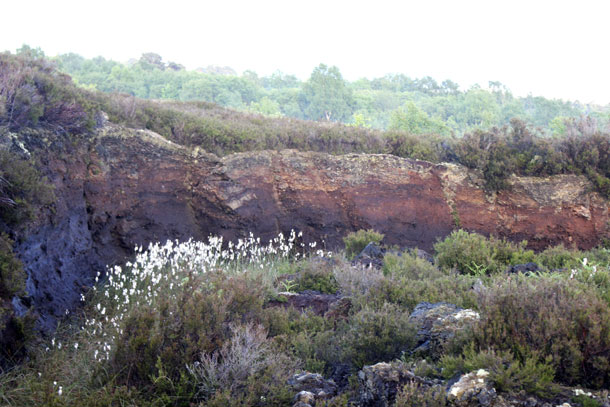 • Mick says domestic cutters have caused minimal damage to raised bogs and they will recover
For these reasons the cutting of turf by local residents is a closely-guarded secret.
I meet with local man, 'Mick', who will direct the truck carrying the digger to the bog. Originally cut by hand, a lengthy and exhausting process, the use of a digger and a turf-hopper now allows homes to cut a year's supply of turf in just a few minutes, reducing the chances of being caught.
We turn into a narrow road near the bog entrance, the digger following closely behind. Those waiting for us to arrive and cut the turf begin to move their cars to block off the various entrances to the area and keep a watchful eye out for the Garda. "It's a bit of a military operation," laughs Mick. "We haven't had many problems with the gardaí in the past but we mainly cut at night just to make sure."
The digger is unloaded and Mick jokingly introduces me to 'David', the digger operator, as "a reporter for the Garda Review".
I ask the digger operator how much turf will be cut from this particular bog.
"Well, the lady I'm working for now cuts five bucketsful a year. That's enough to keep her fire going through winter. Some of the others may want a bit more though. If you're using the turf for your stove you'd maybe need 20 or 25 buckets."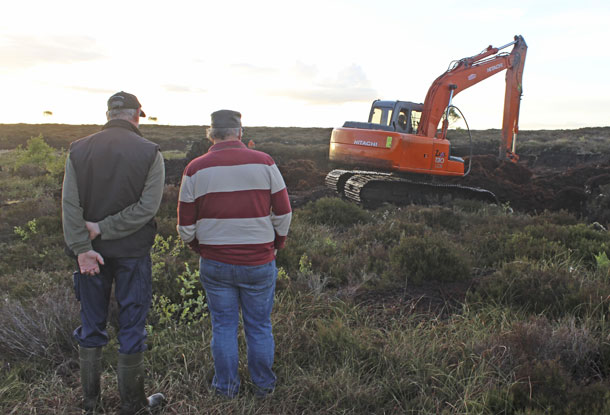 •  Two local men watch on as a turf contractor begins his work in Westmeath
It's a speedy operation. The digger cuts down into the turf bank for a bucket of peat and drops it into the tractor-drawn turf hopper, which then spreads it out into lines near the edge of the bog. They will later be piled up in heaps, allowing the summer sun to dry them.
Cutting the year's supply of turf for the local woman takes less than 20 minutes and David moves on to another area of the bog to cut for another family.
I ask Mick about the environmental damage that cutting turf poses, which is the reason for the ban in the first place. Behind him the digger reaches down about ten feet into the bog, emerging with a bucket full of near-black-coloured peat which David describes as "the best stuff".
"Sure, look at Bord na Móna, they cut thousands of tonnes of turf each year. They have peat power plants in Offaly," he says. "Yet people like ourselves who have cut turf all our lives to heat our homes are now told it's not allowed."
He points to a row of trees several hundreds metres in the distance.
"That's how far this bog stretches. It'd take hundreds of years to cut all of that. This bog has been in constant use for over 100 years."
Mick argues that the small-scale cutting by communities like this has little environmental impact, and says what small amounts of turf are cut will replace itself in the coming years.
• A man chats with a turf contractor in Westmeath as locals defy a ban on domestic turf cutting
It's a view echoed by the Turf Cutters and Contractors' Association (TCCA), who say that small-scale domestic turf-cutters have been to the forefront in ensuring the conservation of our bogs.
"Were it not for domestic turf-cutters and private ownership, these bogs would have suffered the same destructive fate as many state-owned bogs," alluding to Bord na Móna.
Since 2009, the Government has been attempting to reduce the amount of cutting on bogs by asking turf-cutters to sign up to the Cessation of Turf Cutting Compensation scheme. So far, more than 4,000 people have signed up receiving a once-off payment of €500 and annual compensation payments for the next 15 years. Other cutters may also be relocated to unprotected bogs. Mick notes that some local cutters have signed up to the sceme.
"We got all those offers but we're not interested," he tells me.
Compensation packages of €3,000 per acre of bog were offered to families who stopped cutting. The TCCA says the offer is "derisory", explaining
"€3,000 would heat the family home for little more than two years; the same acre of bog would heat the family home for 150 to 200 years."
The attempted eviction of turf-cutters from bogs is an emotive issue.
Those I speak to are particularly unhappy that such orders are coming from EU officials. They feel that such people have little knowledge of the situation on the ground.
The TCCA goes as far as to describe EU directives as "anti-democratic and dictatorial".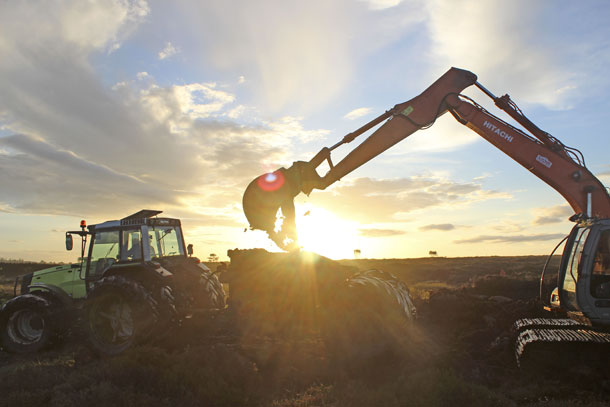 • Turf cutting takes place in the evening and at night in order to reduce chances of being spotted
Athlone Sinn Féin councillor and former Mayor Paul Hogan, a long-time supporter of the turf cutters, points out that the EU orders are akin to those which decimated Ireland's fishing industry:
"People across the state are under severe pressure with the Government and the EU's austerity programme. They're facing Property Taxes and Water Charges. Many have seen a reduction in their income. On top of this we have big increases in the cost of oil and electricity, so turf cutting provides a cost effective way for families to heat their home."
Mullingar Councillor Úna D'Arcy (Sinn Féin) also hit out at the Government's. Speaking of turf-cutters at Ross bog, she says:
"These families have asked the Government to come down and walk their bogs, see that their activity has minimal impact. They are not a huge commercial activity, grinding down into the bedrock to export our turf to beautify the ornamental gardens of Europe. They are ordinary Irish people who can't afford to heat their homes any other way."
In January, the Government de-designated some protected bogs to allow limited turf cutting and announced plans to consider allowing continued turf cutting where relocation solutions were elusive. It said it would also consider plans to use Bord na Móna-owned bogs as compensatory habitats. Some dismissed the move as a pre-election stunt by Fine Gael.
Whatever the truth, it seems that many in rural Ireland plan to continue to cut turf to heat their homes, with or without EU approval.