1 July 2014 Edition
God is on our side
Inside the DUP: Peter, the Pastor and the Orange Order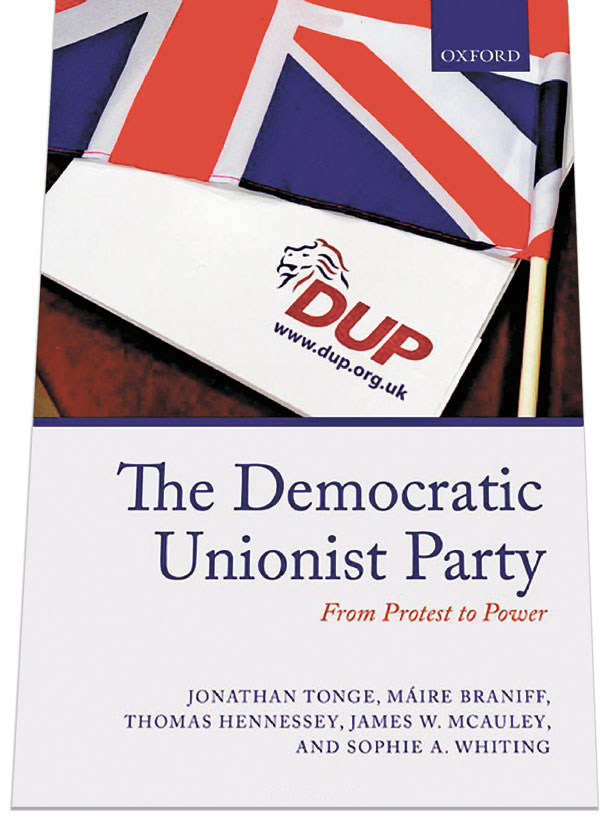 "The influx of Orange Order brethren – more active than all other membership categories – places pressure on the leadership to deliver on Orange parade routes."
A SURVEY of the membership of Peter Robinson's Democratic Unionist Party that forms the backbone of a new study by Professor Jon Tonge, Máire Braniff, Thomas Hennessey, James W McAuley and Sophie A Whiting shows that:
Three out of four Democratic Unionist Party MPs are in the Orange Order;
Over a third of the DUP's 38 MLAs are Free Presbyterians (the largest denomination in the DUP) and exactly half are Orangemen;
Of the estimated 1,100 DUP members, more than a third (34.6%) are members of the Orange Order;
Almost 40% of the 175 DUP councillors elected in 2011 were Free Presbyterians and more than half (54.2%) were members of the Orange Order;
Almost one in three DUP members (30.5%) are Free Presbyterians;
Not a single DUP member out of the 75% who responded to the survey is a Muslim or a member of any other non-Christian religion.
The Democratic Unionist Party: From Protest to Power has been hailed by the Belfast Telegraph as "masterly" and "the most definitive study of Northern Ireland's most powerful political party ever undertaken".
With the 2011 census recording 10,068 Free Presbyterians in the Six Counties, and with the DUP numbering around 1,100 people, Free Presbyterians are more than 50 times more common in the DUP than they are in the North's population. "Orangemen are 21 times more common in the party."
Writing in the Belfast Telegraph himself, Tonge noted:
"The influx of Orange Order brethren – more active than all other membership categories – places pressure on the leadership to deliver on Orange parade routes.
"Some 60% of DUP members want unfettered Orange marching rights – and it will surprise few that the data shows that the bulk of that 60% are in the Orange.
"Members want (Christian) faith to underpin their party. What other party membership in the UK, if asked the extent to which faith and church should influence, would give a score of 7/10?
"So the DUP will continue to 'do God' (Peter Robinson gave a 10/10 regarding faith), but God will not be a Free Presbyterian."
Even if that is the case, the Free Presbyterian Church (the breakaway church founded by Ian Paisley Snr in 1951) and the Orange Order still dominate the thinking of the DUP, and it seems the Orange increasingly so.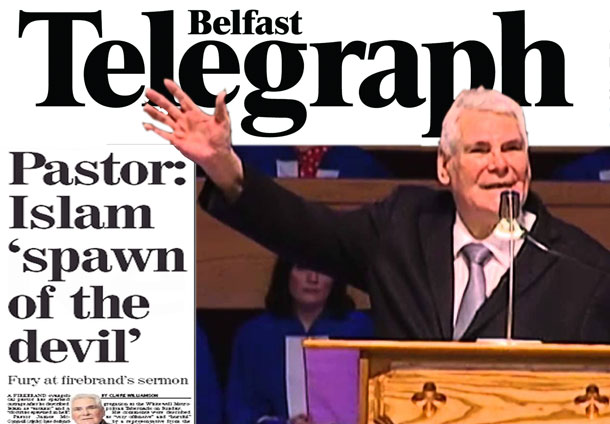 •  Pastor James McConnell's anti-Muslim diatribe caused outrage
'Spawned in Hell'
This work shines a light on the DUP at a crucial point in the party's history.
Robinson's handling (or rather his mishandling) of the fall-out from Pastor James McConnell anti-Muslim sermon on 18 May when the preacher depicted Islam as a faith "spawned in Hell" and wouldn't trust Muslims exposed an incredible lack of political nous. It is also perhaps an indication of the influence of fundamentalist Christianity on Robinson, whose political career as Paisley's long-time Number 2 was characterised by his seeming secularism (Robinson is one of just 1.1% of DUP members who belong to the Elim Pentecostal Church).
Robinson not only endorsed McConnell's bigotry on the grounds of freedom of speech but he fuelled anger with his own comments that he wouldn't "trust Muslims in matters of faith" but would be willing to "send them to the shop".
Coming from the North's First Minister, his remarks sent shockwaves not only throughout the North but across the globe as his views were picked up by the international media, especially, of course, in the Middle East.
It later emerged that Robinson and his wife Iris worshipped at McConnell's Whitewell Metropolitan Tabernacle for years, that their daughter married there, and McConnell supported the Robinsons when it became public that Iris had had an affair with a 19-year-old family friend in 2008.
A reluctant DUP leader was forced by public and political pressure into an apology for any offence caused to Muslims by his defence of the controversial preacher. (Pastor McConnell later made a pseudo-apology, regretting any offence he may have caused rather than apologising for what he said.)
Robinson's difficulties are those of unionism in general. Unionists are struggling to come to terms with the speed of political change in Ireland.
Recent election results confirming the growing political and popular influence of Sinn Féin across the country have unsettled the unionist parties.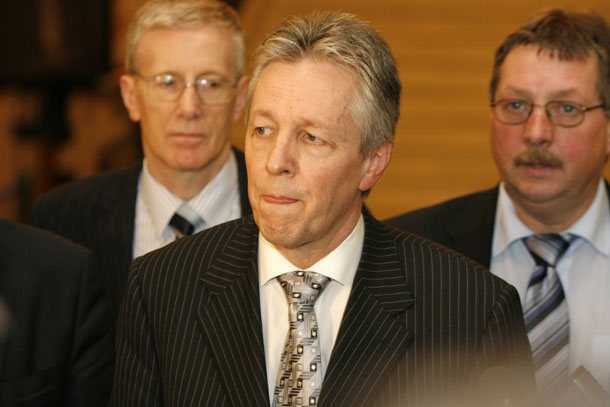 • Robinson's mishandling of the fall-out from McConnell's comments exposed an incredible lack of political nous
For the dominant DUP, however, the growing attraction to unionist voters of Jim Allister's hardline Traditional Unionist Voice and the revival in the electoral performance of the Ulster Unionist Party in the local elections will have additionally dented their confidence.
Ian Paisley, dubbed "Dr No" for his refusal down the decades to reach political agreement with nationalists, eventually said 'Yes' in May 2007 and went into the North's Executive as First Minister with Martin McGuinness as joint First Minister.
Paisley's public friendliness towards McGuinness (leading to the media nicknaming them "The Chuckle Brothers" upset entrenched unionists. Within a year, Paisley was removed in a palace coup that saw Robinson take over as DUP leader and First Minister. Since then, Robinson has stumbled from one crisis to another.
The notion that the new leader, from the 'more secular' wing of the party and unencumbered by membership of the Free Presbyterian Church, would see the DUP become more 'liberal' has been undermined time and again.
The DUP's Sammy Wilson, Gregory Campbell and Health Minister Edwin Poots were out of the blocks ahead of Robinson when it came to defending McConnell's anti-Islam diatribe.
Health Minister Poots's decision-making has clearly been influenced by his Christian fundamentalist ideology rather than the health needs of the public. His continuing court process to legally prevent gay men donating blood is a case in point.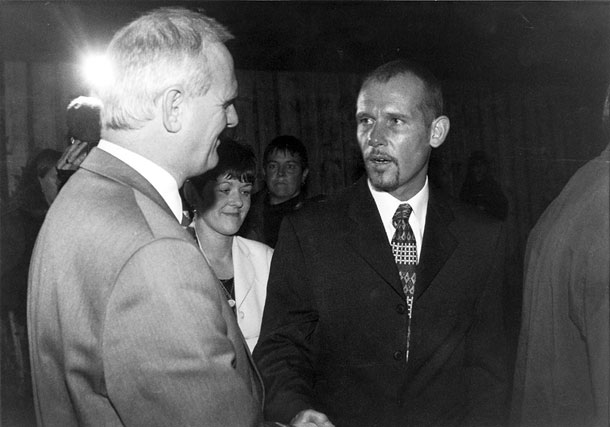 • DUP's William McCrea with LVF leader Billy Wright
'Bigoted liberals'
In his defence of Pastor McConnell's outburst, Sammy Wilson (ironically, another DUP politician said to be on the secular wing of the party) castigated what he called "bigoted liberals who want to monopolise public debate" at the expense of Christians.
When Ruth Patterson, a DUP councillor from south Belfast, was charged in August 2013 with sending a grossly offensive message on Facebook, the DUP stood beside her. The post described a fictitious attack on a real-life republican commemoration in the west Tyrone town of Castlederg due to take place on 11 August in which it was imagined that Martin McGuinness, Gerry Adams, Gerry Kelly and West Tyrone MLA Barry McElduff were killed in the attack.
DUP Councillor Patterson, a former soldier in the British Army's Ulster Defence Regiment, endorsed the comments, saying:
"We would have done a great service to Northern Ireland and the world . . . by getting rid of these evil, devious scum."
When the DUP councillor appeared at Belfast Magistrate's Court later that month, Edwin Poots, Junior Minister Jonathan Bell, Sammy Wilson, former Mayor of Belfast Gavin Robinson, Christopher Stalford and other DUP councillors (including former UDA apologist Frank McCoubrey) supported her from the public gallery. Other Patterson supporters included leading Union flag protesters Willie Frazer and leading north Belfast loyalist Bill Hill. They were accompanied by Glasgow-born Jim Dowson, the anti-immigrant British National Party's former top fund-raiser and a militant anti-abortion campaigner that one Scottish daily described as a "rent-a-cause" religious extremist.
If this cross-over of hardline, right-wing, Christian fundamentalist unionism coalesced quite easily with the DUP over the decision by Belfast councillors to restrict the flying of the Union flag created the conditions for the serious violence we saw on the streets, then we shouldn't be surprised to see the DUP reaching out to unionist paramilitaries for support.
Reverend Mervyn Gibson
The ongoing farce of the self-styled 'Civil Rights Camp' at the Ardoyne interface sees a weekly parade and rally addressed by loyalists affiliated to the UVF and UDA, members of the Orange Order and senior members of the DUP – evidence of how all these strands of unionism come together.
A regular at these parades is Reverend Mervyn Gibson, the Grand Chaplain of the Orange Order.
An RUC Special Branch officer who left the force just days after the IRA's 1994 cessation of operations, Gibson went on to train as a Presbyterian Church minister. Gibson is not even a member of the DUP so his inclusion in the DUP delegation at last year's multi-party talks hosted by US diplomats Richard Haass and Meghan O'Sullivan alongside DUP Executive ministers Jeffrey Donaldson and Jonathan Bell raised many eyebrows. Gibson's inclusion, though, covered many bases for the DUP: one of the most senior men in the Orange Order, a right-wing Christian and a former RUC officer to boot.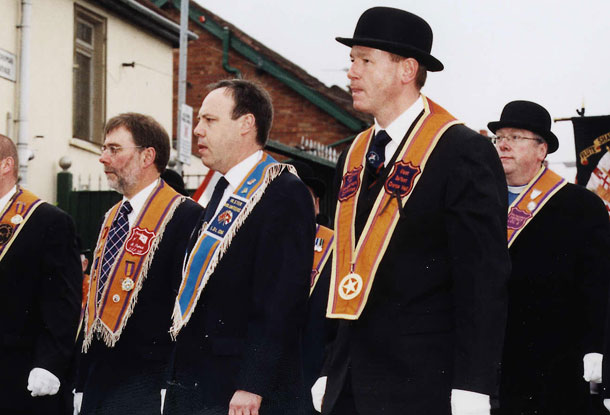 • Exactly half of the DUP's MLAs are Orangemen
A measure of the Free Presbyterian and Orange Order Chaplain's Christianity was exposed when he addressed the weekly rally at the Twaddell Avenue 'civil rights camp' on 3 May. Commenting on a west Belfast mural calling for the release of Gerry Adams, Reverend Gibson expressed his sadness that it was not a "memorial".
Unionism cannot deal with the unfolding political vista that sees a united Ireland becoming a more realistic proposition.
It is worth reminding ourselves of a speech Robinson made at a DUP dinner in south Antrim on 3 December 2012, the night of the Belfast City Hall Union flag vote. He claimed that nationalism was in crisis and that more and more Catholics would vote unionist.
"Some in unionism wonder will our pursuit of Catholic votes lead to an abandonment of sections of unionism. The simple answer is 'no'. Unionism is not a religion," he said.
In reality, DUP politics and fundamentalist religion are two sides of the one coin but the real significance of the Robinson speech is that his attempt to convince his audience that nationalism was in crisis was an attempt to disguise the crisis is in unionism.
That DUP members see politics as an extension of their religious beliefs is summed up by MLA Paul Girvan who told researchers for the book:
"I believe politics came about through religion. If you use the Ten Commandments you can formulate almost every law that you need."
The DUP largely sees the world through a narrow religious ideology that has them on the path of righteousness and republicans on the road to damnation.
So Martin McGuinness might be waiting a long while before Peter Robinson shakes his hand – unless the DUP leader starts to show some leadership.
• The Democratic Unionist Party: From Protest to Power was released in Belfast on June 17. Researched by Professor Jon Tonge, Máire Braniff, Thomas Hennessey, James W McAuley and Sophie A Whiting, it is published by Oxford University Press.