1 July 2014 Edition
Sinn Féin gets back to work
All-Ireland strategy conference: 'Challenges and Opportunities, 2014-2016'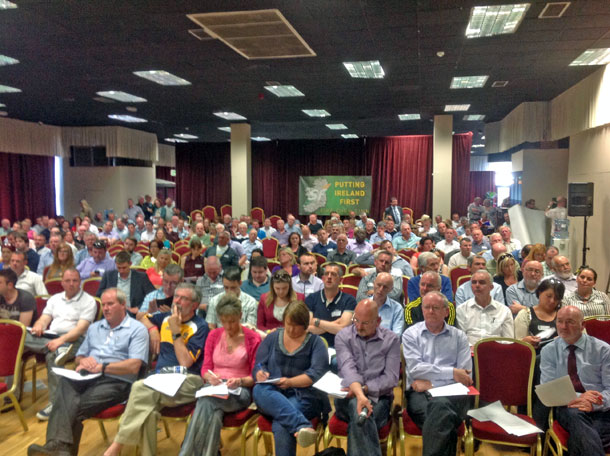 "Citizens want fundamental change. Sinn Féin seeks to offer a viable, do-able, political alternative." – Gerry Adams
THE DUST had barely settled on the ballot boxes being put back into storage after the elections than Sinn Féin activists met for an all-Ireland strategy conference at a west Dublin venue on Saturday 21 June.
Under the banner of 'Challenges and Opportunities, 2014-2016', the west Dublin event was the starting point for a summer of stocktaking and strategic renewal to re-energise the party after gruelling election campaigns that had seen Sinn Féin win almost half a million votes with the election of four MEPs and more than 260 councillors to join the existing team of TDs, senators, MPs and MLAs.
The day-long event was addressed by national leadership figures including Gerry Adams, Mary Lou McDonald and Martin McGuinness.
Immediate priorities outlined were:
Negotiations and dealing with difficulties in the political process and peace process;
By-elections and Westminster elections;
Preparations for a Dáil general election and Assembly elections;
Preparations for the centenary of 1916 with a strong focus on Irish unity;
Engaging with unionism, in all its forms, on issues of common ground.
Gerry Adams said:
 "Sinn Féin needs to be ready for government in this state on our terms, agree our policy priorities and political platform and our commitments need to be deliverable.
"We are ambitious for change and believe we can deliver on jobs, housing and health.
"But we will not do what the Labour Party has done – we will not enter government merely to give cover to the agenda of conservative parties. That's the old, failed political system.
"Citizens want fundamental change. Sinn Féin seeks to offer a viable, do-able, political alternative.
"It is time for a realignment of politics. Let those on the Irish Left who really believe that a government without Fine Gael or Fianna Fáil is possible begin working together towards that end."