1 July 2014 Edition
The tide of change
Editorial • Eagarfhocal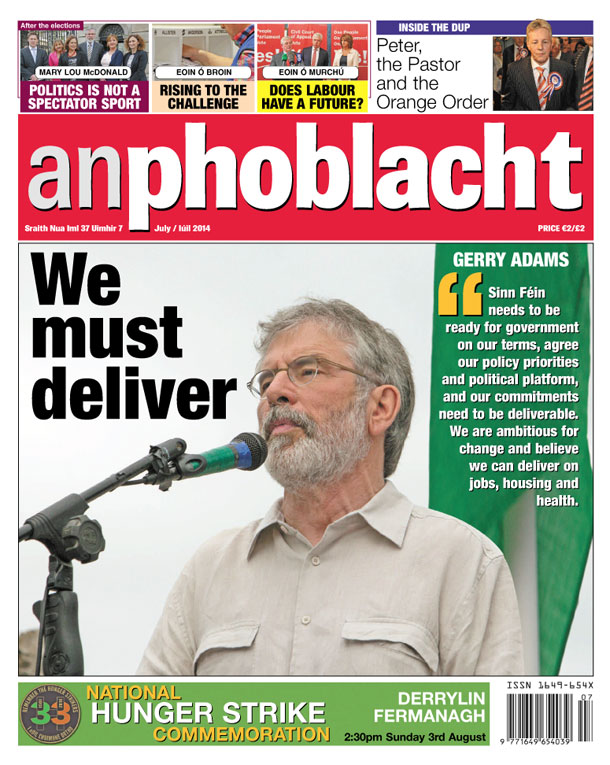 The tide of politics in Ireland has changed and progressive forces in Ireland must seize this historic opportunity before it passes.
THE sensational election results of May are still sending tremors through the Establishment political parties and the mainstream media, hence the increasingly hysterical attacks on Sinn Féin.
Elections are but a mechanism for achieving power. It's what we do with that power that will count for citizens. We need to deliver.
We need to be radical and innovative in delivering for communities against the backdrop of the current economic crisis.
For Sinn Féin, electoral politics are about transforming society on this island, North and South.
They are about putting the interests of citizens, as opposed to elites, at the top of the political agenda.
Sinn Fein stands for equality, for fairness, for economic justice – for the right of citizens to a home, to an education, to a job, to healthcare, to the pursuit of happiness.
We are for freedom, equality and solidarity. We are against austerity.
Sinn Féin is for a united Ireland and we have the strategy to bring it about.
We are for the unity of Orange and Green, for civil and religious rights with tolerance and respect for all citizens.
And we are for the promotion of the Irish language as the common heritage of all on this island.
We are for an independent Ireland in a Europe that respects the rights of nation states and is based on principles of social solidarity.
Tá polasaithe Sinn Féin bunaithe ar na bunluachanna poblachtach seo.
How we achieve a government in the South without Fine Gael or Fianna Fáil dictating the agenda is the challenge facing not just Sinn Féin but everyone opposed to the politics of austerity, of all parties and none.
It is time for a realignment of politics.
The dramatic European and local election results have opened up the political landscape in Ireland – but where do we go from here?
In his 2014 Ard Fheis Presidential Address in Wexford, Gerry Adams TD said:
"If we are serious about changing this country, the Left needs to come together around viable alternative policies and take on the conservative establishment who brought the economy to its knees and created the toxic culture that we are trying to break free from.
"The conservatives, the right-wingers, consistently unite around their issues.
"Those of us who have a different vision – a progressive, rights-based vision – must do the same."
An Phoblacht in this issue has started a series of articles from prominent activists inside and outside Sinn Féin. They will explore the potential that could be realised by the local and European elections and the challenges we continue to face in the belief that we can win more people to the broader cause of real change in society, North and South.
The tide of politics in Ireland has changed and progressive forces in Ireland must seize this historic opportunity before it passes.