1 July 2014 Edition
Politics is not a spectator sport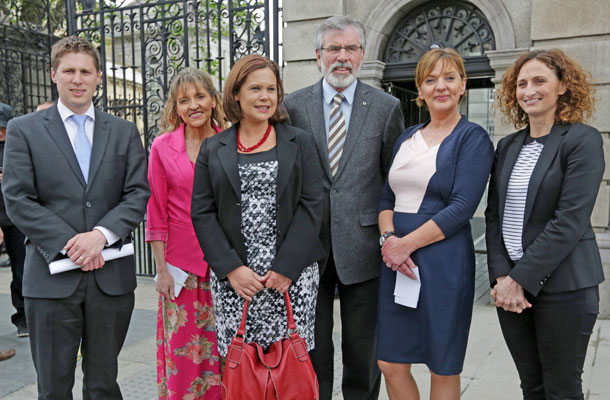 We must ferociously challenge the status quo and build progressive alliances
The first in a series of opinion pieces by progressive figures on 'What now?' after the sensational election results
THE local and EU elections represented a very significant political shift in Ireland, North and South. The very fact that Sinn Féin managed to secure almost 500,000 votes is a signpost of the progress we made. It also presents us with very significant challenges.
In councils the length and breadth of Ireland, Sinn Féin is in a position to represent our constituents and our communities, but we also have an opportunity to reshape the political dynamic in those institutions.
I was at the first meeting of Dublin City Council where our comrade Larry O'Toole was appointed Deputy Mayor. It's very clear there is now a working-class majority in that council – it's a completely different council. We need to be very proactive and positive in terms of how we use that transformed political landscape.
• Deputy Mayor Larry O'Toole with some of the new Sinn Féin Dublin City Council team
One of the things we are keen to advance is the mutual recognition of democratic mandates and not have a situation where the largest group or party hogs all the positions for themselves but to do things in a way that is truly democratic. That wasn't received as it might have been, particularly by Fine Gael and Fianna Fáil, who chose to relapse into the politics of exclusion, which doesn't work. There is an appetite for doing politics differently.
In the North, there has been a process of political transformation underpinned by agreements that has not happened in the South. The economy collapsed, people's lives were thrown into disarray but politics didn't really change. Now we find ourselves in a very challenging but exciting moment where we can be a central driver in delivering that change.
At an EU level we have a truly all-Ireland team of four MEPs. We have an opportunity and political responsibility to shape the political momentum.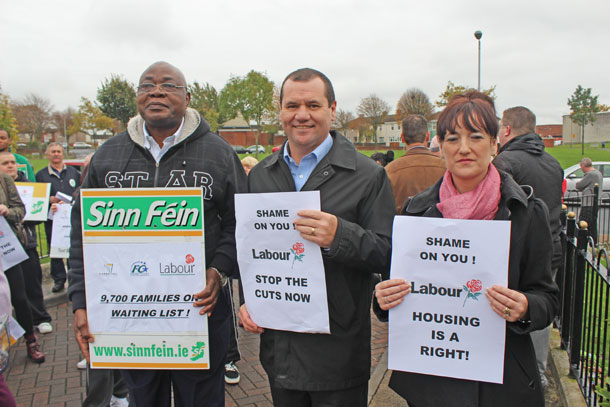 •  Edmond Lukusa, Paul Donnelly and Natalie Treacy all took seats on Fingal County Council
For me, this period in politics is about two things.
The first is that we must continue to challenge the status quo – ferociously, fearlessley and fairly.
The other is about building progressive alliances.
We can't imagine that those with whom we wish to build an alliance are going to share every single position of Sinn Féin (if they did, they'd be in Sinn Féin). But rather than magnifying differences we should work on areas where we share common ground.
People who voted for Sinn Féin at any level expect us to challenge and to build. This is not about institutions. It's still about activism on the ground and on the street. It's important we do not turn this into some kind of spectator sport where we sit back and just watch the Dáil, Assembly or local councils. Activism remains the key and bringing as many people as we possibly can onto shared ground.
Let me just say plainly to the critics: It's not good enough now, given everything we've been through, to tolerate another five years of politics-as-usual. Whatever criticism some parties or groups might have with alliances with others at council level, it doesn't answer the essential need to recast things when we now have sufficent numbers to do so.
As republicans we should not be distracted by negativity for the sake of negativity. One of the lessons from political life, and something republicans know well, is that you should never exclude yourself. You don't voluntarily sit on the bench and complain.
• Lynn Boylan MEP and Mayor of South Dublin Fintan Warfield
We have now been given a chance. We will be watched carefuly to see how we use that opportunity. I don't think there is an expectation from anybody that Sinn Féin can resolve all these issues and problems at the stroke of a pen or the wave of a magic wand. But people do expect to see a step-change in how politics is done and a change in priorities. They expect the top priority to be the welfare and rights of low-income and middle-income earners who have really taken the brunt of the austerity agenda. We will move heaven and earth to deliver on those commitments we made because we know that others have disappointed in that regard.
It's a very exciting time for Sinn Féin and I could not let this opportunity go without saying it's extremely positive that we got so many younger candidates and so many women elected. Our comrade Edmond Lukusa is the first elected black politician in Dublin.
You can see the diversity in our representation and membership from all sections of Irish society but the real heroes of these elections have been the teams of activists who worked so hard, day and night on the ground, to get us to where we are today. By God did they deliver, so now it's up to us as elected representatives to do the same.