2 June 2014 Edition
From Croker to Old Trafford

Even golf has its close GAA connections
AN AMERICAN RESEARCHER, working on a thesis about Patrick Kavanagh, landed up one day in Inniskeen in County Monaghan to interview locals who had known the great poet before he had become well-known. One of those who he asked his opinion of described Kavanagh as a "horrid eejit". That was because Kavanagh, who had been the Inniskeen senior football goalkeeper for some years, had apparently deserted his post during an important championship match to buy himself an ice cream.
In his absence, the opposing team (possibly Inniskeen's deadly rivals from Donaghmoyne) scored a goal. Some have claimed that this story is not true but Kavanagh would have enjoyed it, and my late uncle Ned (who knew Kavanagh, and played football for Monaghan when it was neither safe nor popular) swore that it was true. Mind you, he also claimed to have been kidnapped from a Brooklyn bar in 1955 to advise Rocky Marciano on how to lose weight before his last championship defence against Archie Moore.
Anyway, that got me thinking about other famous people who once graced the playing fields of Banba.
There are a plethora of sportspersons of other codes who have played hurling and football and camogie.
In soccer, internationals Niall Qunn and Shane Long both played in All-Ireland minor hurling finals, for Dublin and Tipperary respectively.
Current Ireland manager Martin O'Neill won an Ulster minor medal with Derry (and missed a penalty in the 1970 All-Ireland semi-final against Kerry, which probably cost Derry the match).
Kevin Moran was snatched from the Dubs team of the late 1970s and transported to Old Trafford. He played for another 16 years at the highest level and said that he would never have been able to play for that long for Dublin!
Sports other than soccer have had former GAA players perform at the highest levels.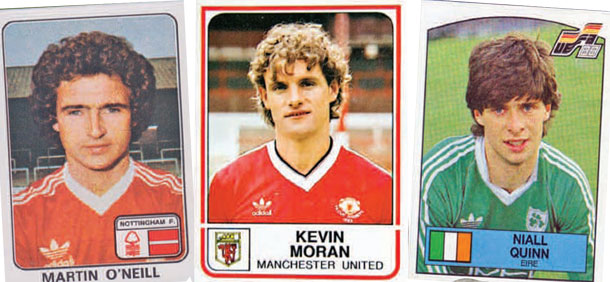 Boxer Matthew Macklin played minor hurling with Tipperary. Another well-known boxer was Gerry McElhinney of Derry, who won two Ulster football titles (1975 and 1976) only to run into the Dubs and Kerry in the subsequent All-Ireland semi-finals. He also won the Ulster middleweight and light-heavyweight boxing titles (not on the same day as the Ulster finals, apparently).
Even golf has its close GAA connections.
The fathers of Pádraig Harrington (Cork), Paul McGinley (Donegal) and Shane Lowry (Offaly) played inter-county football, and Harrington and McGinley togged out with Ballyboden St Endas in Dublin. But we'll forgive them that.
What of non-sporting people who made their mark in other spheres having been involved in the GAA?
Joyce mentions hurling in A Portrait of an Artist as a Young Man and in Ulysses but he never played the game. Indeed, it was not permitted at the time in the patrician Catholic schools he attended in Belvedere and Clongowes.
Seán O'Casey hurled with O'Tooles but is remembered as club secretary rather than as a player. I have seen it somewhere that he played hurling with Frank Ryan of IRA, Spanish Civil War and An Phoblacht fame but that is highly unlikely given their age difference and that Ryan would almost certainly not have been a member of O'Tooles when he was in Dublin. Another Dub who played hurling was unionist Sir Edward Carson, first signatory of the Ulster Covenant. Trinity College had a hurling team before the GAA was established but decided later to turn themselves into a hockey club for some reason best known to themselves.
•  The Dubliners Ronnie Drew with poet and 1954 Kerry Minors All-Irelander Brendan Kennelly
Poet Brendan Kennelly was on the Kerry minor football team that lost the All-Ireland final to Dublin in 1954 and has written eloquently of the passions unleashed by the games. As did Sigerson Clifford in The Ghost Train, which took Kerry supporters to the 1926 drawn All Ireland final with Kildare:
Then the soft grass and the sunshine and the marching of the bands
With the green and gold flag fluttering over all,
There's Con Brosnan running swiftly and our Sheehy shooting low
And Larry Stanley jumping sky-high for the ball.
Of stars of stage and screen, we have Hollywood legend Maureen O'Hara, born in Ranelagh, Dublin, in 1920 and who played camogie. My favourite O'Hara story is when she was interviewed by Miriam O'Callaghan on the occasion of her 90th birthday. O'Callaghan had played a clip from The Quiet Man in which O'Hara's character, Mary Kate Danaher, had given forth a cúpla focail.
"Oh, my god, Maureen! How was your Gaelic, like, so good?"
To which Maureen replied something like:
"I went to school in Dublin, dear."
Research, Miriam; research.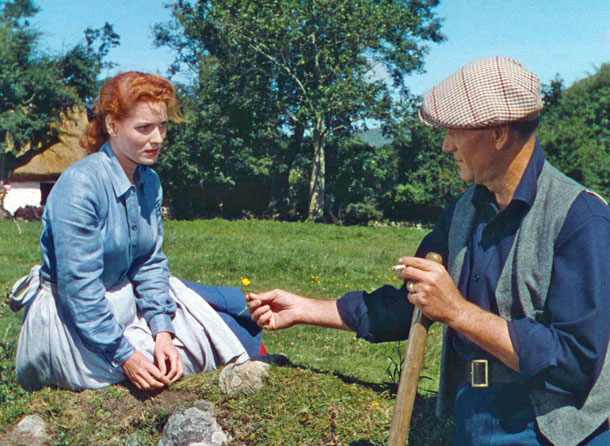 • Maureen O'Hara, camogie player and Hollywood legend