2 June 2014 Edition
Ray Vaughan, Trim, Meath
Fógraí Bháis
THE death occurred on 5 April of Ray Vaughan of Trim, County Meath. Ray was a lifelong republican, a former prisoner and renowned chef.
His coffin, draped with the Tricolour, was carried in relay by his family and former comrades to St Loman's Cemetry in Trim where Sinn Féin TD Peadar Tóibín gave the oration.
Peadar described Ray as "a republican leader who used the resources he had at his disposal to give support to the struggle".
As a young boy, Ray remembered giving rest and sustenance to Volunteers at his family home. 
As he got older, he volunteered himself to the struggle and was one of those key Volunteers who at times of great transition and flux had the ability to stay focused on the goal and with determination organise and grow the campaign 
An accomplished chef, Ray spent many of his younger years on the ocean liners travelling worldwide and at the same time making contact with and nurturing the republican network around the globe.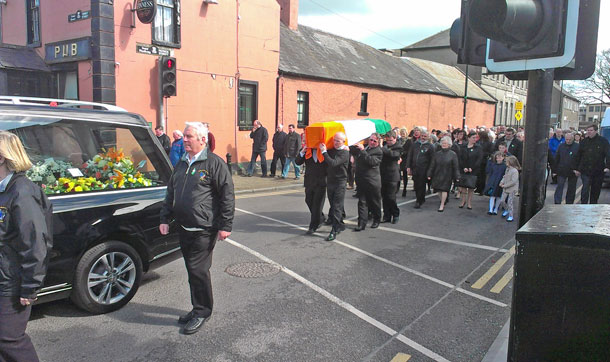 • The funeral of Ray Vaughan
Ray was imprisoned in Portlaoise in 1974 during which the escape of 19 Volunteers led to very harsh conditions for himself and comrades Martin McGuinness, Eamon Mac Thomáis,  Martin Ferris and  Nicky Kehoe.
Ray was a keen sportsman, winning minor hurling county medals in Meath and also playing for the county in 1950. He moved to Kerry and played for Dr Crokes and the Kerry county team. He was also a keen boxer, winning many tournaments in the Merchant Navy. When he returned home he was a founding member of Trim Boxing Club.  
Gerry Adams described Ray as "a great patriot and good sound republican".
Internationally-renowned chef Richard Corrigan also paid tribute:
"Ray gave me my first job and as time passed it dawned on me I was watching the hand of a master at work and I decided I wanted to be as good."
Ray is survived by his wife Mary and sons Jimmy, Stephen and Seán.