2 June 2014 Edition
Educational disadvantage – A perennial problem?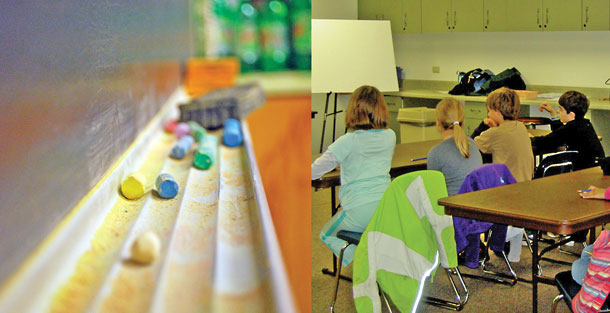 Religion shows a gap but it is not as strong as that of social class regarding educational attainment (both North and South)
MUCH ATTENTION in recent years has focused on the poor academic performance of young people in the North of Ireland who come from socially disadvantaged backgrounds.
In 2012, some 2,405 of the 3,675 young people on free schools meals left school without five or more GCSEs at grade A* to C or equivalent, including English and maths; 74.1% of the Protestant cohort compared to 61.5% of Catholics did not gain this commonly-used benchmark.
Paul Nolan, in his recent peace monitoring report, has not only indicated this religious but also social class gap regarding this GCSE equivalent.
He found among those not entitled to free school meals a 5% to 6% gap between Catholic girls (76.7%) and Protestant girls (71.8%) and Catholic boys (64.5%) and Protestant boys (58.6%). However, he observed a wider gap among those entitled to free school meals. Within that cohort, nearly two thirds of Catholic boys and 80% of Protestant boys did not gain the GCSE metric.
In sum, a Catholic boy not on free school meals was twice as likely as his free school meal counterpart to gain these qualifications. When comparing the same among Protestants, the gap was three-fold.
In the South, a similar class divide exists, as evidenced in the 2006/7 school leavers survey in which a child from a higher professional background compared to those from an unskilled background were over four times more likely to gain four-plus honours.
League tables are not the best way to judge ability but they are basically all that we have to compare performance.
Evidently there are issues that affect both communities and Protestant poor performance in particular.
Some of the gap in performance among the Protestant deprived has been linked to the impact of deindustrialisation and the loss of traditional labour markets; 'Protestant' grammar schools are more likely to accept entrants with lower grades than Catholic schools due to demographic difference and in so doing draw higher-performing cohorts away from secondary provision; the controlled state secondary sector, unlike other sectors, has no representative body to campaign directly on such issues.
There is also a growing level of indifference to marginalised Protestant communities due to several decades of social mobility whilst some claim political abandonment. However, we must also consider the wider issues that affect socially-deprived young people, of whatever background, notably in inner city neighbourhoods.
Poverty and social exclusion still affects outcomes and is related to issues of social fatalism, educational expectations, family support, embedded poverty, the impact of conflict upon emotional stability within the family, attendance and other stubborn and perennial problems. But we must bear in mind that religion shows a gap but it is not as strong as that of social class. That remains the central division with regard to educational attainment (both North and South).
Media coverage has quite rightly pointed at the religious gap but has remained silent on more pronounced social divisions. The Peace Process has in educational and other terms reproduced a two-speed society of gainers and those awaiting meaningful change, that is a pronounced problem for deprived Protestant youth but it is not unique to them.
Professor Peter Shirlow is Deputy Director at the Institute for the Study of Conflict Transformation and Social Justice, Queen's University Belfast