2 June 2014 Edition
Political prisoners, not terrorists
International campaign to free Palestinian prisoners, including Marwan Barghouti MP, comes to Dublin
During his first jail term, Marwan led a hunger strike in solidarity with Bobby Sands and the H-Block Hunger Strikers in 1981
THE Irish launch of the International Campaign for the Freedom of Marwan Barghouthi and all Palestinian Prisoners came to Ireland in May.
The campaign, which was first launched in Nelson Mandela's prison cell on Robben Island, hopes to build international pressure on Israel to release Marwan Barghouti, an elected member of the Palestinian Parliament who has been imprisoned since 2002, and the more than 5,000 other Palestinian political prisoners held in Israeli prisons.
Marwan is seen as a unifiying figure among Palestinians and it is for this reason that many believe the Israeli Government kidnapped and imprisoned him.
A symbolic leader of the First Intifada (Uprising) against Israeli occupation, he is a supporter of the two-state solution, noting that he seeks the "peaceful co-existence of the independent countries of Israel and Palestine based on full withdrawal of Israel from occupied territories".
Speaking to An Phoblacht at Buswell's Hotel in Dublin, opposite the Dáil, his wife Fadwa said the issue of political prisoners is huge in Palestine and their release is key to any lasting agreement.
"The issue of political prisoners is a campaign which unifies Palestinians off all political persuasions and scopes of political opinions," she says.
"Israel has always claimed our prisoners are terrorists and because of this many in the outside world are apprehensive to deal with it. We want to convey to the world that this is a political issue, not a 'security' one.
"As long as there is occupation, there is always going to be freedom fighters and people imprisoned for standing up to that occupation."
Fadwa, a lawyer and elected member of Fatah's Revolutionary Council, married Marwan in 1984. For the last 12 years she has raised their three children on her own.
"Every Palestinian family has had somebody related to them imprisoned at some point," she says.
During his first term of imprisonment, Marwan led a hunger strike in solidarity with Bobby Sands and the H-Block Hunger Strikers in 1981. In 2001, an attempted Israeli assassination against him left his bodyguard dead when a missile struck his car. He was later kidnapped by Israeli soldiers who used an ambulance to approach the house where he was staying. Hundreds of charges were levelled at him, most of which were thrown out of court as spurious and lacking in any real evidence. He was later handed five life sentences for attempted murder based on his support for armed resistance carried out by Palestinian organisations.
Over 805,000 Palestinians have spent time in Israeli prisons since 1967. There are currently 5,265 political prisoners, of which 202 are children.
Speaking of her own husband, Fadwa says:
"He is 54 years old and he has spent 20 years of his life in prison."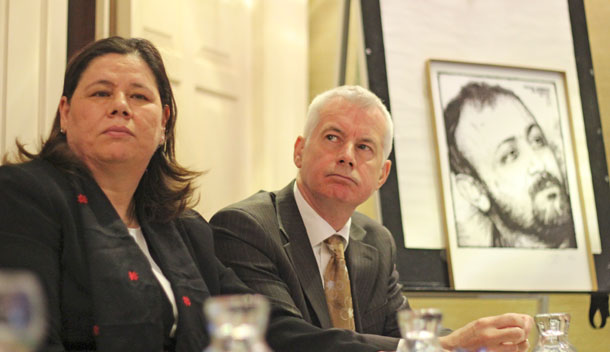 • Fadwa Barghouthi and Sinn Féin Foreign Affairs spokesperson Seán Crowe TD
She accuses Israel of trying to tarnish her husband by claiming he is a terrorist.
"It amazes me and disheartens me that the likes of Marwan, who was elected  by the Palestinian people, has been imprisoned because of his political views. We took this issue to the European Parliament but it was not addressed seriously. At one point there were 50 elected members of the Palestinian Parliament imprisoned; 11 still are, so this shows you how much Israel disregards our democratic choices.
"I plead for all politicians, here in Ireland and worldwide, to seek support and freedom for our imprisoned political leaders. With your help and support we will get our political prisoners free and we hope one day to be able to welcome you to a free Palestine."
Also speaking at the event in Dublin were Nobel Peace Prize winner Mairead Maguire, Sinn Féin Foreign Affairs spokesperson Seán Crowe TD, SIPTU President Jack O'Connor, artist Robert Ballagh, then Labour MEP Emer Costello, Neeshan Balton of the Ahmed Kathrada Foundation in
South Africa, Palestinian Ambassador to Ireland Ahmad Abdelrazek, and President of the Palestinian Community in Ireland Dr Bassam Naser.
Artist Jim Fitzpatrick presented Fadwa with a portrait of her imprisoned husband.
For more information or to get involved in the campaign: www.freemarwan.ie