2 June 2014 Edition
A seismic shift
Elections 2014 Special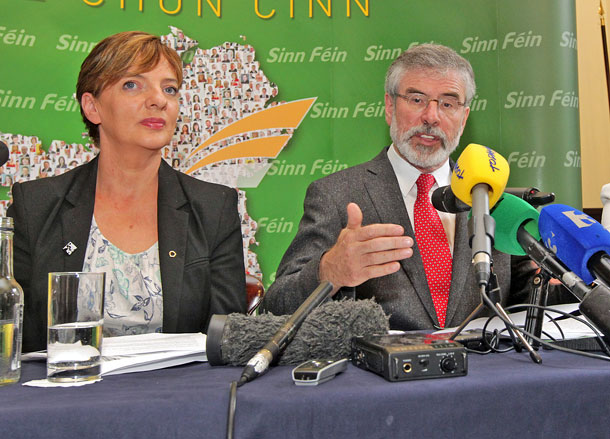 We asked people in the elections to 'Make the Change'. Many, many people have. Now we are asking people to 'Be the Change' – to join Sinn Féin. – Gerry Adams
This has been a remarkable performance by Sinn Féin. How much of a breakthrough do you think these elections are?
This has been seismic – a political earthquake for the Establishment. The people have spoken.
The credit for this huge breakthrough goes to all those citizens who voted for Sinn Féin, our candidates and their families behind them, to everyone who worked for the party at all levels, including our Elections Department who did a great job.
And I want to pay tribute to those candidates who may have lost out – they'll be back
The scale of the breakthrough across the island can be seen from Derry, where we're now the largest party, through Mid Ulster and Belfast to Dublin, Meath, along the east coast and down to Cork City, Kerry, Limerick, Galway, Conamara and right around the island.
The big challenge for republicans is how we use the mandate we have been given to implement alternatives to London and Dublin government policy, to advance our work on the Peace Process, and to continue building a citizen-centred, rights-based society.
We have been working towards a realignment of Irish politics.
If you look at the North, it used to be a one-party state – that's no longer the case. Society is in transition there; the old Orange state is gone. There are clearly a lot of challenges to the Peace Process and opposition from various quarters but Sinn Féin has been given a substantial mandate. Those who are against the Peace Process have been given a derisory vote
In the South, since partition, two main conservative parties – Fianna Fáil and Fine Gael – occasionally with a Labour Party appendage, have dominated politics. That has changed as well.
Sinn Féin is now, in a very clear way, the people's choice as a genuine republican party and we will see the ramifications of that in the other parties.
If the Government is now forced to lift the burden or to ease its austerity measures to the benefit of citizens then that's a good thing and that will be as important a consequence of the elections as anything else.
Let's be clear: this is a deep-rooted, seismic shift. It is not, as the Taoiseach claimed, a mid-term scolding of the Government parties by a frustrated electorate. People had a choice; many of them chose Sinn Féin and it's now up to us to use that mandate wisely.
A huge amount of people are dependent on us. We are only their messengers so we need to behave as the people's messengers and focus on implementing the manifesto we have just been given a mandate for.
Austerity is not a European Union invention but it needs to be opposed. MEPs from other Irish parties, North and South, have become the EU's men and women in Ireland; our MEPs will be Ireland's representatives in Europe.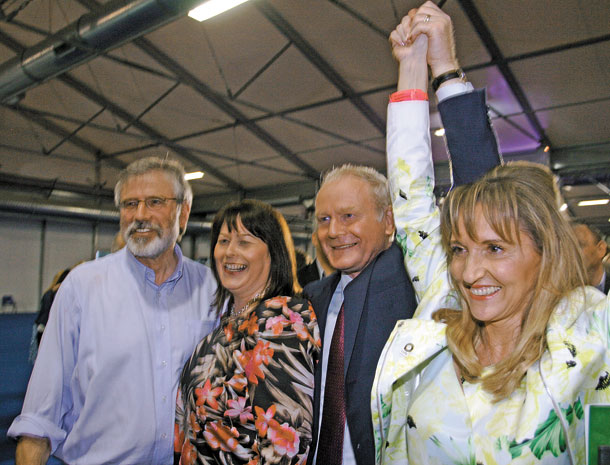 • Sinn Féin's Martina Anderson celebrates her election to the European Parliament, topping the poll in the North constituency
What is your response to claims that the number of women in the forefront of the Sinn Féin campaign is cosmetic?
You'd expect that sort of tawdriness from some of the media but it belies the very consistent work we've done in the party on the gender issue.
Three of our ministers in the North are women, three of our MEPs are women, and they're all there, as are any women in positions in the party, on the basis of merit.
The real challenge is to ensure that women comrades are given the opportunity to stand in winnable seats. Women are in a majority on this island and the record shows that with women such as Mary Lou McDonald in the Dáil and Jennifer McCann in the Assembly, for example, among many others, Sinn Féin is serious on this issue.
Do you think the Dublin-based or Belfast-based media have missed the significance of it being an all-Ireland surge for Sinn Féin?
I was slagging off RTÉ in the course of the campaign because I couldn't  get a real sense from RTÉ what was happening in the North but we heard about the elections in Britain. RTÉ and BBC are public service providers and citizens are entitled to information, particularly during an election campaign.
On a day like today when we see Liadh Ní Riada in Cork being elected to the European Parliament and Martina Anderson, another Irishwoman, being elected with her as an MEP to join Lynn Boylan last night and later Matt Carthy, this cannot be ignored.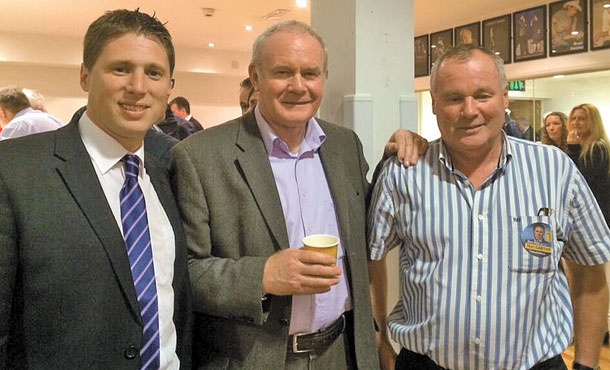 • Midlands North West MEP Matt Carthy with Martin McGuinness and Matt Snr
How do you see the results in the Six Counties?
The best way to have approached these elections would have been to have the parties in government together in the Executive signing up the Haas/O'Sullivan proposals and presenting them to the electorate. I have no doubt that the vast majority of voters would have supported that position.
The unionist parties didn't do that and they sent Richard Haass and Meghan O'Sullivan home. But you can't separate the British Government position from the unionist leaders' position – the British Government has also not signed up to the Haass/O'Sullivan proposals.
One of the good things that has come out of my arrest in April is that the British and Irish governments were pretending that there weren't any difficulties in the Peace Process. They acknowledge now that there are and that work needs to be done.
When the election counts are finished and as An Phoblacht is going to press, our representative in the United States, Rita O'Hare, and I are flying out to Washington for a short visit to brief US politicians and the Obama administration on what needs to be done.
What needs to be done in the very immediate short-term is that the party leaders need to come together to find ways of agreeing the implementation of the Haass/O'Sullivan proposals and the Irish Government needs to be fulfilling its responsibilities as co-guarantor of the Good Friday Agreement to deal efficiently and effectively with the British Government to get it to shift its position from negativity to fulfilment of its obligations.
And Martin McGuinness will be endeavouring in the next week to get the other party leaders to meet with him to chart a course before the 'marching season' starts properly over the next few weeks.
You're looking for more from the Fine Gael/Labour Government than a Cabinet reshuffle.
The people have effectively given the Government notice to quit. Enda Kenny described the election of his party as 'a democratic revolution'; well this no less a democratic revolution. The people have spoken very, very clearly.
We are looking for a general election as soon as possible and that would be the appropriate thing for Fine Gael and Labour to do. While the Government may try to hang in as long as they can, governments can get tripped up and Sinn Féin needs to be match fit and ready. We should be on a continuous election footing. We were facing into elections in the short-term. North and South, anyway but there is now an opportunity to make more seismic shifts.
You've been quoted as ruling out coalition with Fine Gael. Does that mean coalition with Fianna Fáil is open?
I was asked directly by a journalist would I envisage coalition with Fine Gael and I said I think that would be a very unlikely alliance. That was a specific question and people shouldn't take that out of context.
It will be a special Sinn Féin Ard Fheis that will decide on any issue of coalition should it arise.
If we were unable to elect a majority Sinn Féin government and our project was to be advanced by being in government with other parties or Independents, the basis for deciding that would be policies.
We'd need a mandate from the people in the first instance and then we'd need a Programme for Government that would meet Sinn Féin's programme. As Pearse Doherty said:
"We're hungry for change but we're not hungry for government. We need the terms right. We're not going to leave our principles at the door just to go into government. It's obvious that's what Labour did."
The only point or benefit in any of the bodies Sinn Féin is elected to – the Oireachtas, the European Parliament, the councils, the Assembly – is to utilise them to advance the republican project and to improve the conditions of citizens.
There is a process of political alignment underway and Sinn Féin is an engine for change helping make that happen.
The outworkings of these elections will influence the way people look at the parties, the way they discuss and debate the issues. The popular parlance of politics will now include terms like 'citizens', issues like 'rights', the privileges of the elites and how society serves its people, especially in a state that calls itself a republic.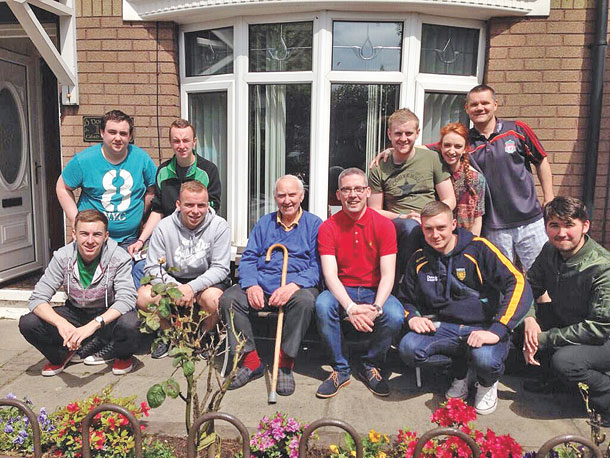 • Members of Sinn Féin Republican Youth and Councillor Niall Ó Donnghaille call into veteran republican Johnny Doc for some encouragement while out delivering leaflets in Belfast
What now for Sinn Féin?
Implementation of our mandate. Meeting right across this island, ensuring that these new areas of struggle are convergent with our policy and that we have the structures in place so that we continue to build.
The most important thing that all of us can do is to debate, to discuss, to argue out all the political issues because the more informed people are the better a society we will have.
Finally, we asked people in the elections to 'Make the Change'. Many, many people have. Now we are asking people to 'Be the Change' – to join Sinn Féin.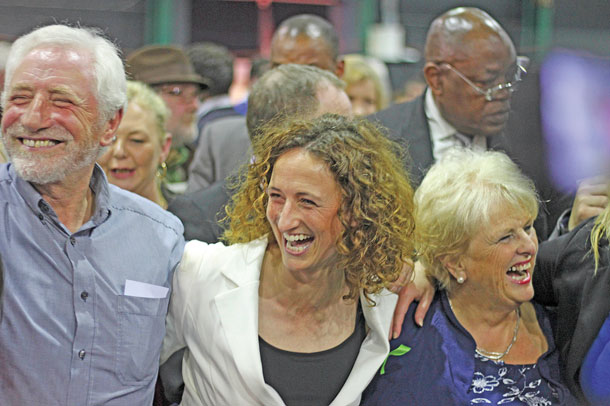 • Lynn Boylan with her parents Ken and Rita wait to hear the results of the first count at the RDS count centre in Dublin
EAMON GILMORE resigned as leader of the Labour Party after his party's poor showing and losses to Sinn Féin an hour after An Phoblacht interviewed Gerry Adams.
In a statement, Gerry Adams said:
"This is obviously a difficult day for Eamon Gilmore and his family.
"However, this is not about personalities, it's about policies.
"Quite clearly the voters have rejected the policies of this government.
"They have rejected the brutal agenda of relentless austerity, taking medical cards from sick children, water taxes and cuts to the most vulnerable.
"What is required is a change of political direction and a change of government."