2 June 2014 Edition
'Let Dublin Vote'
The campaign for a directly-elected Mayor of Ireland's capital city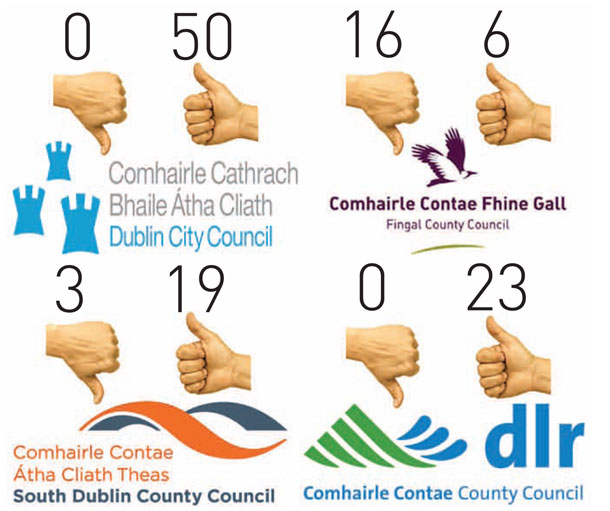 Why does Dublin need to be liberated from the dead hand of bureaucracy? Because the capital is too important for its future to be let drift
THE 'Let Dublin Vote' campaign has been set up by a group of young (and not so young) Dubliners frustrated at the process established by Environment Minister Phil Hogan to allow for the direct election of a Mayor for the greater Dublin area.
Hogan set the bar so high that he effectively denied rather than facilitated allowing people living in the four Dublin local authorities a chance to decide on the future of local democracy.
The administration of the metropolitan area is tied up in so many Gordian knots it needs a democratically-elected Mayor with a strong popular mandate to cut through all the red tape. At the moment we have all-powerful 'Managers' whose main priority is preserving their own bailiwicks rather than making Dublin a better place to live.
Why does Dublin need to be liberated from the dead hand of bureaucracy? Because the capital is too important for its future to be let drift. It contributes:
55.6% of all VAT in 2008, followed by Cork at 8.8% and Kildare 3.4%
62.4% of all Corporation Tax, yielding €3.2billion out of a total tax of €5.1billion in 2008.
50.6% of state PAYE in 2008, producing an estimated Exchequer revenue of €5billion for the Irish Government.
38.8% of non-PAYE income tax, followed by Cork at 11%, Galway 4.5%, Kildare 4%, Limerick 3.9%, Meath 3.5%, Wicklow 3.4% and Tipperary 3.0%.
41% of all Capital Gains Tax intakes.
In short, a successful Ireland needs a successful Dublin.
The capital is the national gateway and the driver of the Irish economy, generating 40% of national Gross Value Added product despite accounting for only 28% of the state's population. Over half a million jobs are located in Dublin, or one in three in the state.
Dublin is home to three of the top five fee-paying visitor attractions in Ireland and all of the top eight free attractions.
It is home to the national stadiums for Gaelic, rugby and soccer, the scenes of unforgettable sporting memories for fans across the island. Croke Park is visited by people from all counties all summer long. The National Theatre at the Abbey and a range of other venues of importance to the whole country such as the O2, RDS and the National Concert Hall are all in Dublin. Dublin attracted almost four million visitors in 2011, generating over €1billion for the Irish economy.
The capital is the site of many of Ireland's most important historical moments and monuments. The Dublin Lockout of 1913 and the 1916 Rising took place on the streets of the Irish capital. The central venues of Liberty Hall and the GPO are key markers in Dublin City Centre. Kilmainham Jail, Glasnevin Cemetery, Christchurch Cathedral and the Garden of Remembrance are among the plethora of other historic landmarks of national importance located in Dublin. The history of Ireland is intertwined with the history of Dublin
What is missing is the ambition to strive for coherence and accountability in the management of the city if all parts of this island are to prosper economically, socially and culturally – and if we are to fully respect the historical development of Ireland and nurture its future growth. Allowing the people of Dublin to vote for a directly-elected executive mayor is seen by Let Dublin Vote as a vital step in securing and enhancing the future of us all.
We plan to do this by:
Mobilising signatories to our petition at www.letdublinvote.ie, which we intend presenting to Phil Hogan later in 2014, bringing our case for a plebiscite to elected representatives at local, national and European level, and mobilising support across business, trade union, arts/culture/heritage and civil society organisations.
We are appealing to An Phoblacht readers to support the 'Let Dublin Vote' campaign by signing the petition and we very much appreciate the fact that Sinn Féin's Dublin Member of the European Parliament, Lynn Boylan has committed to do so. Please ask your friends and colleagues at work to do so and in any organisations you happen to be a member of.
Dubliners deserve to have their city run by someone who is answerable to them.