2 June 2014 Edition
Sinn Féin's most historic elections since 1918
Editorial • Eagarfhocal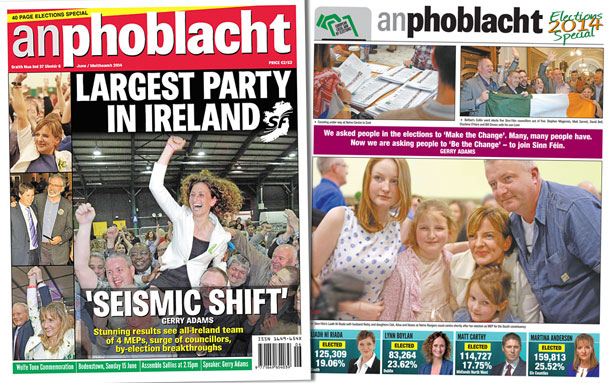 By any yardstick, these have been remarkable results and anyone who stood or worked or voted in these elections for Sinn Féin should be proud of and share in this success
SINN FÉIN has rocked the vote across the island.
Almost half a million EU voters have made Sinn Féin the biggest party on the island of Ireland.
The May 2014 EU and local government elections and Dáil by-elections have produced the most sensational results for Sinn Féin since the 1918 elections. Now that republicans have won the support and confidence of the people, how Sinn Féin elected representatives use that power is critical to securing the republican goal of a united Ireland based on social justice and equality.
Voters have endorsed Sinn Féin's message that there is a fairer way.
The island-wide election results are also an endorsement of Sinn Féin's message of the need to reinvigorate the Peace Process and for an agreed, united Ireland.
By any yardstick, these have been remarkable results and anyone who stood or worked or voted in these elections for Sinn Féin should be proud of and share in this success. Now the campaigns and the counts are over, the work begins again.
•  Lynn Boylan and a host of newly-elected Sinn Féin councillors arrive at the RDS count centre in Dublin to hear the first round of European results. Pictured are Ballymun Councillor Noeleen Reilly, Dessie Ellis TD, Lynn Boylan (now MEP), Mary Lou McDonald TD, Crumlin-Kimmage Councillor Críona Ní Dhálaigh, North Inner City Councillor Janice Boylan, Rathfarnham Councillor Sarah Holland and Political Programme Manager Olive Sloan
The Establishment parties and their cheerleaders and propagandists in the mainstream media, angered by their own failure to derail the republican project, are already trying to belittle this stunning achievement and the voters' democratic choice.
The answer to the mainstream media's carping is for Sinn Féin representatives at all levels to demonstrate that when we say we want a new, radical form of politics we show it by delivery on the ground.
We must deliver it not just through being voices against austerity and cuts but also by being courageous and innovative in devising practical initiatives (in co-operation with other parties) to improve the lives of the communities weserve, including those who did not vote Sinn Féin this time out.
Communities across the 32 counties of Ireland have put their faith in Sinn Féin. We must repay that trust by putting republican politics into practice on our journey to achieving an Ireland of Equals.