30 March 2014 Edition
Real representation for Irish citizens worldwide
Sinn Féin launches policy and Bill for voting rights for North and diaspora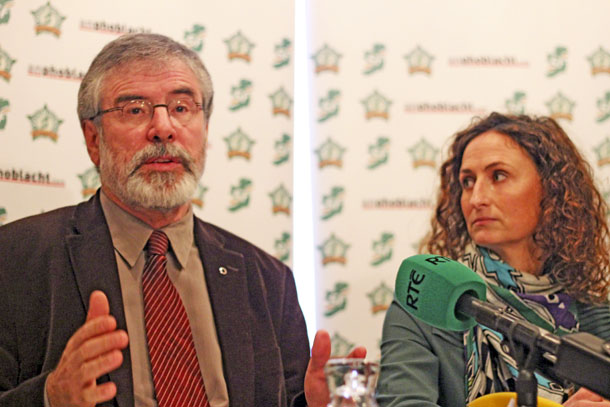 AS MILLIONS of people of Irish descent across the world celebrated St Patrick's Day on 17 March, Sinn Féin launched its 'Moving Forward Together' policy document which aims to improve the relationship between the state and Irish citizens living overseas.
Key proposals:
Extend the right to vote in Presidential elections to Irish citizens living and working outside the state.
Extend the right to vote in Dáil and Presidential elections to all adults of voting age and legally resident in the country for at least five years.
Introduce appropriate diaspora representation in the Dáil by way of reserved constituency, with voting rights subject to a valid passport and regular registration requirement.
 Reform of the Seanad and provide diaspora representation.
Appoint a Minister of State for Diaspora Overseas.
Establish a Government task force on emigration.
Provide permanent provision for diaspora representation on the Council of State.
Launching the proposals in Dublin, Sinn Féin President Gerry Adams TD said the proposal allowing citizens living outside the state to vote in Presidential elections is not unusual:
"The European Commission has said it is a denial of rights for citizens not to have the right to vote in those kind of elections."
Gerry Adams also said it was important to ensure those living in the North have a vote in the Presidential election, pointing out that President Mary McAleese would not have been able to vote had she remained living in Ardoyne in Belfast.
As well as the policy document, Sinn Féin has also brought a Bill before the Dáil which would provide voting rights for Irish citizens living outside of the state — a key recommendation of the Constitutional Convention.